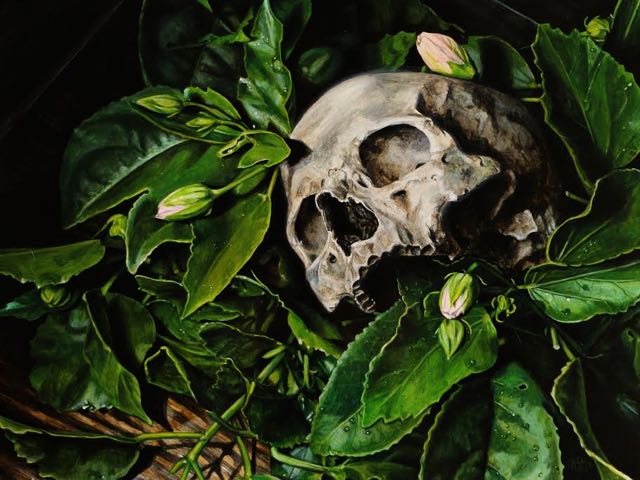 On Saturday evening local painter Kristin Forbes-Mullane's fine art exhibition will open at the sevenminusseven art cooperative and gallery space on St. Thomas.
A self-taught painter working primarily in acrylics and watercolor, Forbes-Mullane describes her work as "dark and macabre." Her eerie pieces are capable of stirring wonder about the stories behind them and have been displayed in galleries around the United States and featured in a number of publications.
Forbes-Mullane recently opened Salt of the Earth tattoo parlor and her personal art studio in downtown Charlotte Amalie after relocating to the island last year with her husband. In advance of her new exhibition, The Source spoke with Forbes-Mullane about her artwork and new tattoo parlor, as well as what she hopes to contribute long term to the St. Thomas community.
The Source: Of all the places you could have relocated to last year, what made your husband and you decide to move to St. Thomas and where was home before?
Forbes-Mullane: My husband, Toby, and I had been vacationing in St. Thomas for the past 15 or so years. Toby's parents lived here for a while and once they left island, they kept their condo, so it was always our go-to vacation spot. After having lived in Phoenix, Arizona, for 40 years, we decided it was time for a change. We sold our home and most of our belongings and headed to St. Thomas.
The Source: Painting and tattoo art are your specialties. Which came first for you and what style of painting do you work primarily in?
Forbes-Mullane: Painting definitely came first for me. I would say my paintings are more of a realistic style. I use my own photos as reference and work to recreate the image on wood with more depth and feeling, a certain something that can't be captured with a camera. There are so many different styles of paintings – I've never really known which my work fits into.
The Source: You taught yourself to paint in the early 2000s. What was it like starting out with no formal instruction and what advice would you give to others who have always wanted to paint but are hesitant to pick up the brush?
Forbes-Mullane: Starting out with no formal instruction was really just about having fun. There were no expectations, nothing to really achieve, just put paint on canvas (which is what I mainly painted on in the beginning) and see what happens. At that time, my husband and I had recently purchased a home and I finally had a place of my own to paint without the distractions of roommates. I would just lock myself in the extra bedroom, turn up the music and paint. I would finish a painting in just a few hours. My paintings were more abstract back then. Over the years, the few hours to complete a painting turned into a few (or more) months to finish a painting.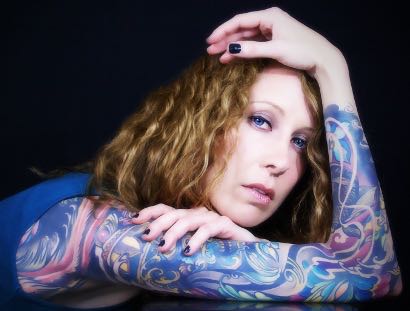 If you are want to get into painting and are hesitant, I guess my advice is, don't be. Don't worry about what your painting will look like, don't worry about what other people may think, just do your thing. Have fun and don't think about what comes next. I think its also important to not get caught up in what style your paintings will be. If you can put all of that out of your mind, your own personal style is allowed to come through.
The Source: How would you describe your fine art work and are there any particular themes you commonly work into your pieces? Without giving too much away, what sort of work will people see at your exhibition if they check it out?
Forbes-Mullane: I think my artist statement really sums it all up. "My acrylic paintings have always been mainly portraits and still life, I gravitate to themes of the dark and macabre. Working to blend the beautiful and the ugly to create a narrative of wonder and curiosity."
The Source: Do you have a favorite piece in the show? What's the story behind it?
Forbes-Mullane: My favorite piece in the show is called "Crown of the Damned." It's a portrait of my twin sister, Shelby, in black lace, holding a skull wearing an ornate gold crown. This is not only my favorite painting, but also the one that I'm the most proud of. It's the second painting I've done of her with the lace and the crown and I just really love how the final painting turned out. The story behind it, for me, was really about the technical challenge. I'm always trying to push myself as an artist to be better than I was before.
The Source: How did you get connected with sevenminusseven? And, what value do you think an art collective like this brings to St. Thomas?
Forbes-Mullane: I had just landed on-island and was in search of space to tattoo. A mutual friend suggested checking out sevenminusseven to see if they had anything available and I'm so happy we were able to connect. The space wasn't quite right for me to tattoo in, but I was so happy to see the high caliber of art and the amazing creativity of their collective members. This kind of collective is so valuable, especially on a small island where people don't have a lot of extra space where they live to create. This wide open space and like-minded people really fuel artist inspiration and creativity. Everyone I've met there has been so friendly and so passionate about what they do and is so open to share with others.
The Source: Your tattoo shop Salt of the Earth recently opened in the Royal Dane Mall in downtown Charlotte Amalie. What inspired you to locate it there and how long did it take to open the business?
Forbes-Mullane: Once we looked at the space in the Royal Dane Mall, there was no question that I had to have my studio there. It, in my opinion, is one of the most beautiful locations for a business on-island. The rich history, beautiful architecture, as well as friendly people make it a truly enjoyable place to work. There's this amazing vibe happening in the mall and I really feel so lucky to be a part of it. I moved into the space in March 2016 – the construction took around two months. It was a quite a project for my husband and I. We did almost everything ourselves, from sanding down six or more layers of old paint on the wood floors to refinishing the ceiling. Once construction was finished it was just a matter of waiting for all the licensing to complete. That was the hard part. After about four months everything was finally in place and we were able to officially open the doors to the public.
The Source: In addition to the tattoo shop, you also built a personal art studio in the space. What do you like most about painting in a 200-year-old building not far from the childhood home of Impressionist painter Camille Pissarro?
Forbes-Mullane: If I have to choose a favorite part, I'd have to say the stone walls and beautiful arches. The walls themselves seem to be a living, breathing account of history in the Virgin Islands. My studio is open on both sides and there is this amazing Caribbean breeze that blows through on a pretty constant basis. Combine that with the flow of people through the alleyway, many on their way to and from work or on vacation adventures and I have to pinch myself daily to make sure it's real. Being close to the childhood home of an amazing painter like Camille Pissarro is really just icing on the cake. It's easy to see where a lot of his inspiration may have come from.
The Source: Is there overlap in terms of styles between the painting and tattoo art you do? And, have your paintings ever inspired a tattoo or vice versa?
Forbes-Mullane: I think my tattoo style is more graphic than the paintings. The paintings are more about creating a realistic image that has a lot of deep layering of paint and creating an environment within the painting. When I am drawing for a tattoo, I'm thinking more about how the tattoo will look 10 years down the road and how it flows with the body. Tattoos are more of a collaboration between myself and my clients, which is a pretty sharp contrast to painting, where it's just me and my thoughts. I'm definitely interested and inspired by the same imagery as my paintings, but they translate to the body in a much different way.
The Source: As an artist and business owner, what do you hope to contribute to the St. Thomas community as a whole? Do you plan on staying here permanently?
Forbes-Mullane: I'm hoping to maybe bring a new perspective on art to St. Thomas. Ideally, I'd like to start a monthly "First Friday" event in my studio where other local artists and crafters can display their art and crafts for sale. I think it could be a great opportunity for other artists to show their work as well as a place for everyone to come together, share ideas and make new friends and connections. I remember when I first started out in Arizona, their First Friday events were where I sold some of my very first paintings. For now, and the foreseeable future, St. Thomas is our home. We just celebrated our first year on island and are so excited to see what the future holds for us here.
__
The exhibition opens Saturday at sevenminusseven from 7 p.m. till midnight; it will run through Nov. 19 with a closing reception planned for the final day from 7 p.m. till midnight. Food and drink will be available at both events.
sevenminusseven is a St. Thomas based 501-c3 nonprofit organization, providing resources and programming in arts and education. The warehouse art-space accommodates an artist studio cooperative with shared utilities, fine-art exhibitions, workshops and classes, and free film screenings every Tuesday and Saturday evenings. The organization regularly performs youth outreach programs in conjunction with local schools and other organizations.
Directions to sevenminusseven: From downtown Charlotte Amalie, head towards the airport and the University of the Virgin Islands. Stay straight and after passing the turnoff for the airport you will pass Community Motors on the right, make a right turn at the signs for Caribbean Battery and Broadband VI. Make another right turn after Boyne's Gas into a warehouse complex. Make an immediate left turn after Cyclone Fencing and Le Bleu. The exhibit is in the last warehouse bay.