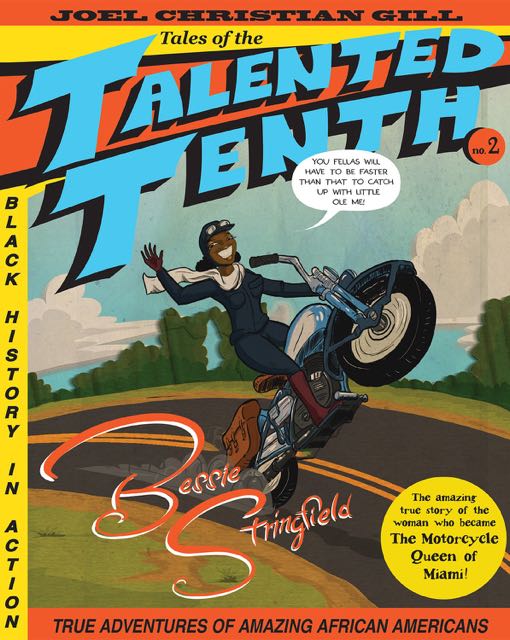 "Tales of the Talented Tenth: Bessie Stringfield" by Joel Christian Gill
c.2016, Fulcrum Books $23.95 122 pages
It's a great big world out there. So many things to see, so many places to visit. You can find pictures of those spots but photos aren't enough. You want more and you aim to touch as much of the world as you can.
It's a common desire and, as in "Tales of the Talented Tenth: Bessie Stringfield" by Joel Christian Gill, you might make history while you're doing it.
Bessie Stringfield didn't remember much of her childhood.
She did, however, recall how her father saved to bring Bessie and her mother to America. They boarded a big ship for the journey from Jamaica to Massachusetts and for the whole trip, Bessie's mother was ill. Once they reached Boston, her mother died; overwhelmed, Bessie's father abandoned his little girl.
Taken to an orphanage, Bessie was cared for by kindly nuns but she longed for a family of her own. She was still a young girl when she was adopted by a white lady who gave her a good home and a fine education. Bessie grew to be a proper young lady but she had one desire that was unusual for girls then: she wanted a motorcycle. She'd seen boys on bikes and she wanted to be "free and happy" like them.
On her birthday one year, her mother had a surprise for her…
Almost by instinct, Bessie embraced the bike and rode it everywhere. As an adult, she traveled across the U.S. eight times. She did "Penny Tours" by dropping a coin on a map for her next destination. Married six times, she was more in love with the road than she was with any man but there was one thing that baffled Bessie: the South.
Unused to Jim Crow laws, Bessie learned to take care of herself with speed and tricky maneuvers on her bike. Those fancy moves helped her get jobs with sideshows where she became The Motorcycle Queen of Miami; she entered races and got work with a courier service during World War II. And when that was over, she traveled around the world before settling down to teach.
"Man," says author Gill, "she was something!" And he's right: "Tales of the Talented Tenth: Bessie Stringfield" is a pretty amazing story.
Set at a time when women (Black women in particular) had few rights, this book tells the true tale of a pioneer on two wheels. What makes it so appealing is that it's entirely illustrated and formatted like comic books of yore, which enhances the story and its teen-friendliness. Young readers get a great sense of Stringfield's importance in history and if they want more information, Gill helpfully offers websites and further information at the end of this book.
This is a great biography for readers 12 and up, and could be a good gift for a Motorcycle Mama of a higher age. For them, or for anyone who wants to learn about an interesting, little-known story, "Tales of the Talented Tenth: Bessie Smith" is the book to see.
__
The Bookworm is Terri Schlichenmeyer. Terri has been reading since she was 3 years old and never goes anywhere without a book. Her self-syndicated book reviews appear in more than 260 newspapers.