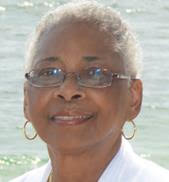 Lineth L. Joseph Sylvester died on Wednesday, Oct. 12, in Clermont, Florida. She was 75 years old.
Lineth is survived by her husband, Lawrence A. Sylvester Sr.; sons: Lawrence A. Sylvester Jr. and Lecaldo A. Sylvester; daughter, La Verne J. Sylvester; grandchildren: Jasmyne Carter, Omari Carter and Delani Carter; sisters: June Laborde and Lucille Baptiste; brother, Alexander Joseph; uncles: Ira Baptiste, George Baptiste Jr. and Leslie Baptiste; aunts: Edith Kean, Eugena Rivera and Beatrice Benjamin. She is also survived by many other nieces, nephews, relatives, friends and family too numerous to mention.
Relatives and friends are respectfully invited to attend her viewing from 5-7 p.m. on Thursday, Oct. 27, at Turnbull's Funeral Home. Funeral Services will be held on Friday, Oct. 28, 2016 at The Cathedral Church of All Saints as follows: Tributes at 9 a.m. to 10 a.m. and a Funeral Mass at 10 a.m.
In lieu of flowers, please make a donation in honor of Lineth Sylvester to the "Steward Helpers" at The Cathedral Church of All Saints, P.O. Box 1148, St. Thomas, Virgin Islands 00804-1148.
Arrangements are under the care of Turnbull's Funeral Home. Interment will be at Western Cemetery No. 3.