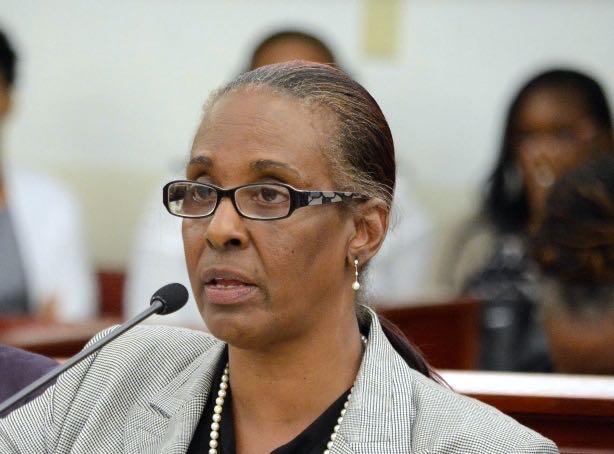 Acting Human Services Commissioner Anita Roberts apologized for how moving 10 residents of St. Thomas's Sea View Nursing Home was handled and continued to insist she did not make the decision on her own, during a Senate oversight hearing Thursday.
The nursing home owned by Dr. Alfred Heath lost certification by the Centers for Medicare and Medicaid Services earlier this year, and Medicaid and Medicare reimbursements, accounting for 55 percent of its funding, ceased July 30. The other 45 percent of its funding is from the V.I. government.
The loss of funding dealt a blow to its already wobbly financial condition, putting it in default on its mortgage, which is through the U.S. Department of Housing and Urban Development.
On Sept. 24, Human Services received a letter demanding a plan for moving the residents of the facility within 24 hours. On Sept. 26, ambulances arrived and 10 residents were moved; three to Schneider Regional Medical Center and seven to the Queen Louis Home for the Aged, without prior notice to the residents, their families or Sea View.
Roberts told senators that "the lessons are learned" from the experience and the department is now moving forward in consultation with the families.
"I am sorry for any distress that I caused any family members. That was not my intention," Roberts said.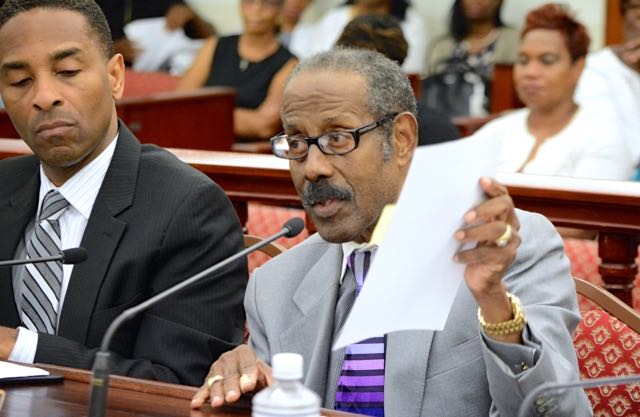 At the same time, she continued to insist the patients needed to be moved immediately.
"It was and is my position that the seriousness of this letter of demand called for immediate action," she told the Health, Hospitals and Human Services Committee on Thursday.
"After much consultation with the attorney general, Claude Walker, and the commissioner of health, Michelle Davis, over the weekend, I immediately arranged for a conference call on Monday with the various entities," including HUD and some members of her "executive team" during the weekend. Roberts said they approved a plan and "that plan of action was approved and sanctioned by the staff of HUD that participated on the telephone call."
Sen. Nereida "Nellie" Rivera-O'Reilly asked, "The letter (from HUD) says they are asking for a plan … . Did you interpret the letter from HUD to mean you needed to move the patients immediately?"
Roberts said, "I interpreted the letter to mean to move the patients with a plan immediately."
Sen. Janette Millin Young asked how it was legal to move the residents without their consent and without notice.
Roberts said, "I was advised that I did not need consent."
Asked who advised her, she said the attorney general told her she had the authority.
Walker confirmed that he advised her she had the authority. But he also insisted he did not direct her to do so and that he did not have the authority to direct her.
"As I said, senator, the commissioner has the authority under the law to make decisions for the safety of patients," Walker said. At another point, Walker said the commissioner of Human Services "has jurisdiction concerning programs for low-income elderly."
Walker also said the action was "based on the fact that CMS has cut off funding as of July 30 and has said that the facility is in disrepair and has failed to meet CMS standards but it wants to be a skilled nursing home facility for rehabilitative care."
Sea View's owner and chief executive officer attributed the facility's problems with CMS and HUD to a conspiracy to take over the facility. Heath said CMS made him hire a temporary manager and that HUD officials told him they were going to send down a person they trusted who would see about buying Sea View.
The man was "rude, crude and unprofessional," Heath said. According to Heath, the person offered a lease-purchase agreement, under which the buyer would assume the HUD loan.
"Incidentally, HUD told him they would cut the interest rate for him by 50 percent from 6.6 percent to 3.3 percent," while leaving Heath responsible for "the rest of the expenses" to fix up the facility, "which would be about $6 million," Heath said.
"I said, 'If you think I'm stupid, you are wrong. This will not be a toxic takeover.' It will not be a leveraged buyout," Heath said. He said the purchaser was a friend of the manager CMS directed him to hire and "that was not a coincidence. They wanted to takeover Sea View for whatever reason."
Millin Young asked Heath, "Do you really believe there is a widespread conspiracy to takeover your facility?"
"I know there is a national one. I don't know about a local one," Heath said.
Senators were broadly critical of the way the situation was handled.
"This was not good judgment," Sen. Almando "Rocky" Liburd said.
Sen. Novelle Francis compared removing the residents to criminals arrested in the middle of the night. "What crime did these seniors commit?" Francis asked.
Sen. Kenneth Gittens said, "What you did was wrong. This was an eviction." He also urged Roberts not to defend the action but "apologize and move forward."
Roberts said she does apologize.
Sen. Justin Harrigan latched onto officials' claims that their actions were taken to "protect" residents and in turn asked them explain what residents needed protection from. Harrigan asked if residents' family members had raised concerns about patient safety with the Department of Human Services.
Officials said that no concerns had been raised by family members.
Sen. Myron Jackson referred to what occurred as a "travesty."
"It is evident that the Department of Human Services could have done better," Jackson said. "The bottom line is we have an institution and it's the only institution of its kind," he said. "Sea View is worthy of being sustained."
Walker said while he understood the position of lawmakers, Sea View's receipt of federal funding holds the institution to a higher set of standards.
Sen. Kurt Vialet, committee chairman, asked Heath if he would be willing to sell the facility.
Heath said he would sell Sea View in "half a minute" for a reasonable price. Heath said that he had received a "nebulous offer" from Gov. Kenneth Mapp but would be willing to renegotiate.
Vialet said, "In the interim, the plan should really be to maintain the patients at Sea View, maintain the present staff that is there at Sea View."
He said the V.I. government will try to get into a purchase agreement to purchase the facility from Heath and transfer the private Sea View employees over to the Human Services Department.
"We shut Queen Louise down and relocate all of those patients up there and then we seek to get back CNS certification. That is the path I see," Vialet said.
"We do need to find the monies to purchase Sea View if we're going to be floating any type of money for anything. Sea View needs to be a priority because we need to make sure that the elderly population on St. Thomas has a home where they can go," Vialet continued.
By the end of the discussion, lawmakers and officials expressed approval for the positive turn the discussion had taken.
"I can sleep tonight," Heath said.
Senators present were Vialet, Harrigan, Francis, Liburd, Gittens, Jackson, Rivera-O'Reilly, Millin Young, Sens. Sammuel Sanes, Marvin Blyden, Jean Forde, Positive Nelson and Tregenza Roach. No votes were taken at the information-gathering oversight hearing.