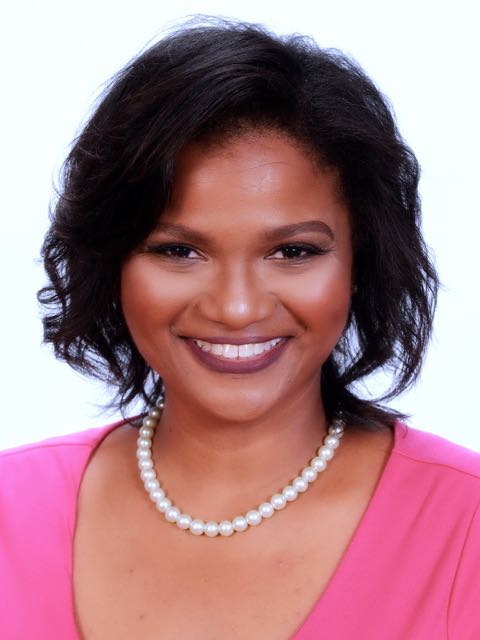 Jewels of the Virgin Isles is a monthly feature series profiling Virgin Islanders in the diaspora who are excelling in their respective fields and/or positively representing the USVI abroad.
Zenzilé "Zenzi" (Sewer) Hodge is what you might call an analytically creative individual or what some might describe as professionally ambidextrous. Her analytical, left-brained persona powers her career as a human resources executive, where she aids organizations seeking to maximize their human capital. However, she also feeds her creative, right-brained side as an author, a mother and an entrepreneur.
Born and raised on St. Thomas, Hodge attended Ulla F. Muller Elementary School, Addelita Cancryn Junior High School and the Charlotte Amalie High School, from which she graduated in 1989. Throughout her youth, the arts were an integral part of her upbringing. Whether playing clarinet with the CAHS band and Interlochen Arts Camp, performing in summer theatre productions at Reichhold Center for the Arts, writing poetry, or inventing crafty projects as a girl scout, Hodge unknowingly awakened a side of her that would later return in adulthood.
Hodge currently serves as the director of the University of the Virgin Islands' Institute for Leadership and Organizational Effectiveness, and she designs and delivers customized services to increase the leadership capital within the Virgin Islands and the larger Caribbean region.
After high school, Hodge obtained a bachelor's degree in political science from Florida A&M University and a master's degree in human resource management from Clark Atlanta University, fields that highlight her knack for strategic planning and leadership. Interestingly, Hodge says that she "stumbled into" her work in human resources management rather unexpectedly.
"In 1994, my friends became president and vice president of the Student Government Association [at FAMU] and asked me to help staff their cabinet. I took the responsibility so seriously because it showed the trust they had in me," she says. "Also, since I was graduating, I wanted to set them up for success."
Hodge learned to value work at a young age, taking on summer jobs in her aunt's and uncle's businesses respectively. Both experiences revealed that work could and should be purposeful and enjoyable. "I recall my uncle telling me that he did what he liked (his job), so that he could do what he loved (his passion)," Hodge states.
She recognized how to identify roles that fed her and understood early on that student employment should be more than stapling and collating paperwork. This knowledge would play an important role for Hodge, when, at the beginning of her career, the opportunity came to develop and implement a summer youth program. "I knew that students wanted meaningful experiences in their jobs. I just did not know that it was called workforce development or strategic planning," says Hodge.
"I had no sexy title for it. I just knew that giving people a sense of purpose in their profession was important." After a rewarding career in human resources in Georgia and Colorado, Hodge returned to the Virgin Islands to contribute her skills locally in 2005 and now resides on St. Thomas with her husband Aaron and her son Rafael.
Since her return to the Virgin Islands, she has reconnected with her creative and entrepreneurial sides, and in 2014, she debuted her first book, The Never Snowy Christmas, a children's holiday tale set in the Virgin Islands. Being able to create a published work that instills pride in local children when they recognize island landmarks on each page is also a source of pride for Hodge. She has long had a thirst for creating her own destiny, a desire she fills through her business ventures, which include her consulting practice and publishing company.
Her love for the Virgin Islands was instilled as a child by her parents Larry Sewer and Ruby Simmonds Esannason, both retired educators and public servants. Having now been back in the territory for over a decade, Hodge has developed a different perspective now that she is a parent. "I love that this is home. This is where I'm from and where my family is."
"The memories that I hold dear about my childhood began here, and I love that my son can have the same memories of playing in my grandparents' house with the same toy blocks that I played with as a kid," Hodge said. "You can be planted anywhere in the world, and this is where I was planted and allowed to grow and blossom. How can I not love that?"
Hodge wears many hats that keep her on the go, including board member of the Virgin Islands Children's Museum, on-island coordinator for Girl Scouts of America overseas, member of Delta Sigma Theta Sorority Inc., entrepreneur and wife. However, it is her role as a mother that is her most impactful.
She says she draws inspiration from her son, her mother, and her own name. "My son genuinely inspires me to be my better self every day because I made a commitment to be his mother. … As a woman, my mother has accomplished so much and makes me yearn to be like her. Also, after meeting Miriam Makeba, the woman for whom I am named, I learned that Zenzilé means 'creator of my destiny,' which has been a key factor in all I have accomplished thus far."
Three elements of Hodge's success are family, faith, and failure. Her close-knit family is always supportive and encouraging and she credits her grandparents with laying the foundation on which she walks. They also taught her to have faith. "No matter what, I've always believed that God has given us all that we need to work things out. He pours into us what we are designed to be and do," she says.
Hodge also has benefited from failure. "As a child you learn how to balance [on a bicycle] when you fall down. Everything is not always a success. Throughout life, failure teaches you, fuels you, makes you hungry, and tests whether or not you believe in yourself."
Hodge is committed to doing her part to make the Virgin Islands better for the next generation. "We have to face our fears because you can never land if you're afraid to fly."
Nugget for V.I. Youth: "Don't be so afraid of failure that you become afraid to fly."
Little Known/Fun Fact(s): "I'm a recovering adrenaline junkie. I used to have an annual 'Zenzi Adventure,' which once included skydiving, snowboarding and snowmobiling.
__
Loán Sewer is a marketing and tourism branding consultant and proud Virgin Islander who resides in Charlotte, North Carolina. Follow her on Twitter @LoAnSewer or e-mail her at info@gobiconsulting.com.