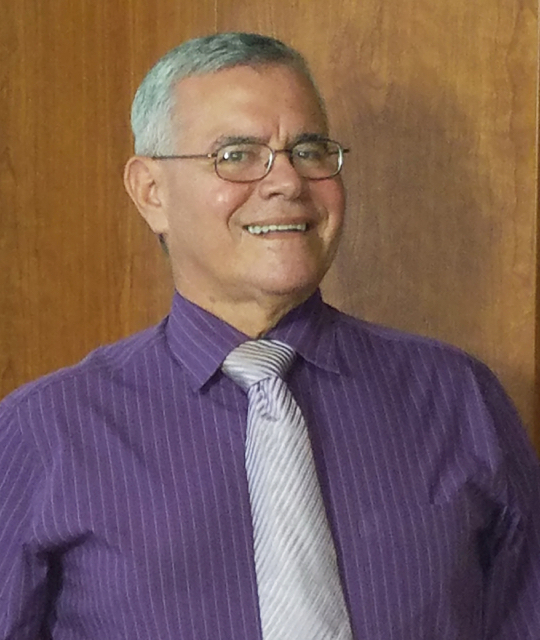 The day had been unusually hot. Charles Wright, first vice president of what was then the College of the Virgin Islands, was entertaining dignitaries and potential donors at his home when the young man he had recruited away from CVI's student aid office to its development division approached him, looked him in the eye and placed his hands firmly around Wright's wrists.
Barely interrupting the social flow, Jose Raul Carrillo kept smiling as he led Wright from the room. But he squeezed his boss's wrist to signal him that the situation was serious and required his immediate attention. In another room a guest had fainted.
More than 30 years later, Carrillo still remembers the compliment Wright paid him once the crisis was resolved:
"That was super smooth," he said.
The unflappable Carrillo has had plenty of occasions to exhibit his social finesse since then, especially in the years he worked as the V.I. government's chief of protocol, in two administrations. He served first under Gov. Roy L. Schneider. More recently, he served with Gov. John P. deJongh Jr. and especially with first lady Cecile deJongh.
He's back now at the University of the Virgin Islands, where he is working in the Institutional Advancement division with the title of capital campaign manager.
He's also well known for his volunteer work with several island non-profit groups. He's president of the board for the Family Resource Center and chairman of the boards for WTJX Public Television and the V.I. Council on the Arts.
A Virgin Islands native, he's spent his life in the territory, attending Sts. Peter and Paul School and then going to CVI, where he earned a bachelor's degree in business administration, with a concentration in accounting.
Both of his parents came from Puerto Rican islands, his mother from Culebra and his father from Vieques. They met on St. Thomas, where Carrillo's maternal grandfather owned the Gonzalez Grocery on Main Street. Later, his father bought the now legendary Red Ball Grocery in Savan.
"It stayed in the family for approximately 70 years," Carrillo said. He worked in it during the summer when he was a student.
Carrillo comes from a large family.
"It's seven of us, and the two girls bookend the five boys," he said. All the boys bear his father's first name, Jose. And each is better known by his middle name.
According to family lore, it all started by mistake when a friend entered "Jose" on the second son's birth record, although the first son was already named Jose. The idea grew from there. And don't worry about which son is the official namesake. No one's middle name is the same as the father's (Ismael) so there is no actual "junior."
Carrillo said his first two jobs – the assistant to the financial aid officer and then the director of financial aid at CVI – involved "lots of numbers and lots of people." He conducted workshops at high schools and helped students find a way into college. Many were the first in their families to pursue higher education.
"I learned how to help people," he said. "I did my job and I helped my people, and I promoted the college" at the same time.
He enjoyed the work, but when he had the opportunity to become the coordinator of special events in institutional advancement, he took it.
"It was a new challenge and a new skill set," he said.
Wright gave him a book to read: "The Amy Vanderbilt Complete Book of Etiquette." It was the first of many he read to educate himself on the finer points of proper social behavior.
But he already knew the basics.
"My mother was a very social person and I grew up in a house that always had people there," he said. Besides, "it all boils down to good manners and treating people right and with respect, and, after all, I'm an old St. Thomian."
Still, once he got into government service, he had to step up his education on diplomacy.
"United States Protocol: The Guide to Official Diplomatic Etiquette," was helpful since the governor hosted federal officials, U.S. senators and congressmen and ambassadors and counsel generals from all over. There was even the occasional member of royalty.
Carrillo remembers the young king of the Royal Bafokeng Nation, a small county in the northwest province of South Africa, and the Queen Mother. Schneider had met the king at Howard University and invited him to the territory for the celebration of 150th anniversary of Emancipation. The Queen Mother "was like anybody's grandmother" and she liked the Virgin Islands so much she visited another time or two.
When Schneider traveled internationally, Carrillo got a copy of Terri Morrison's "Kiss, Bow or Shake Hands," which covered some of the intricacies of protocol in 150 nations.
In some countries, it's proper to present your business card with two hands, for instance. In others, you will want to be careful not to wrap a gift to your host in blue paper, because that's the official color of mourning. And in one country, Carrillo learned, it was illegal to chew gum.
With or without visiting dignitaries, official entertaining can be stressful. It's the governor's party, or the first lady's, and, rather like a stage manager, the protocol officer is just in the background – as long as everything goes smoothly.
"When something goes wrong, it becomes your event and you take responsibility," Carrillo said. "My goal was to be sure it never became mine."
Working for the Office of the Governor was "extremely rewarding and for the most part a lot of fun," he said. "You get to see the government at the highest level. No two days are the same, just as no two governors are the same."
Although Carrillo said he's got a lot of interesting stories to share in conversation, there will be no tell-all book.
"I'm loyal and faithful. It's the governors' book to write." Although, he added, he might consider contributing a chapter, if asked.
The down side of his protocol and events-related positions was the long hours. He said he gauged his time by the eight-hour security shifts at Government House.
"My goal was to make it through the first shift and leave before the third shift started – I wasn't always successful," he said.
Much of his career has been spent in positions that entail long, irregular hours. But that hasn't stopped him from being one of the island's most stalwart volunteers.
He traces his community service to a conversation he had at a social gathering decades ago. He was talking about the practice of tithing with Alene Kean, the artist, and Alice Hamilton, the first director of the Family Resource Center (known then as the Women's Resource Center.)
Kean made the point that people shouldn't just tithe money; they should give of their time. That struck a chord with Carrillo, and a couple of months later he began volunteering at the Family Resource Center. He helped with fundraising and with planning the organization's signature event, the annual Peacemaker's Gala.
He says he'll never forget the four-year-old boy he met on one of his first visits to the Center's shelter for victims of domestic violence. The child's face and much of his body were black and blue. His mother was also battered.
"All of these blows came from his dad, her husband," Carrillo said. "It was a life-changing experience for me."
He's been a board member at the center for more than 20 years, doing what he can to help in its efforts to protect and advocate for victims and to break the cycle of violence with counseling and anger management training.
He's also served many years on the public television board of directors and the VICA board. He's active on both and serious about the responsibilities entailed in being a board member. At the same time, he's careful not to intrude in the actual administration.
"My philosophy is you do not get involved with operations. It doesn't matter which board," he said. "You do have to know the finances and you are in charge of policy. So you know what's going on, but your only employee is the executive director. Do not go below that … It's a fine line and good board chairs never cross the line."
Carrillo has a propensity for the positive. He's got a reputation for getting along with just about anyone, and he says he never had a job he didn't love.
If there is something he doesn't like, you may never know. Because he may just keep smiling anyway.