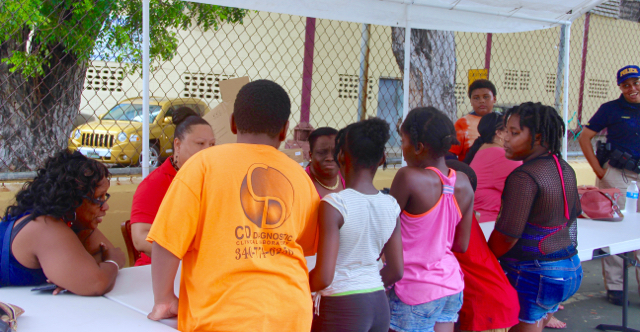 On Sunday afternoon the basketball courts at the Winston Raymo Recreation Center on St. Thomas were full of fun and games, as children and parents from across the island came together to promote inclusion of students with disabilities.
The back-to-school event was part of the Office of the Governor's campaign to include those with disabilities in more activities with a focus on sports. According to Jamila Russell, the V.I. coordinator for the Americans With Disabilities Act, about 10,000 Virgin Islanders have disabilities that fall under the act, including autism, down syndrome, cerebral palsy and hearing and sight impairment.
Russell explained that children with disabilities aren't always included in sports and other games by other children due to stigmas against their playing skills.
"When children with a disability can't participate in school games, it has a very negative effect on them and just because their skill level might not be advanced, it doesn't mean they're not trying their very best," Russell said. "That's why we have to support cultivating inclusion for all."
During the festivities, students competed in basketball dribbling and shooting games to earn prizes, with top winners receiving a tablet computer. Food and drink were provided for attendees, as were school supplies for all of the children.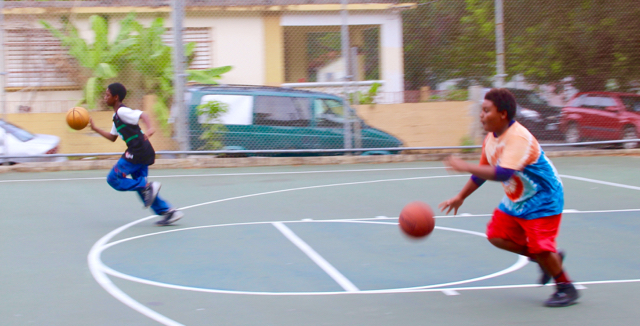 "This event is to ensure that children with disabilities get to interact with other children, so those without disabilities can learn about empathy and understanding for those who are different than them," Russell said, adding that it's also an opportunity for disabled students to learn how to play sports they might not otherwise be exposed to.
Debbie Rodney's children do not have disabilities, but she thought it was important for hers to attend the event to educate them on the issue.
"I want them to know they should support children with disabilities and not leave them out – I want them to know those with disabilities can do the same things they can do," Rodney said.
Rodney continued that, "The community needs to do more to teach kids how to treat those with disabilities and how to not look down on them."
A similar event was held Saturday on St. Croix at the Tropical Ten Pins Bowling Alley. About 20 children and their parents attended the Sunday event on St. Thomas, and several dozen more were at the St. Croix gathering.
"The St. Thomas parents that have children with disabilities are more reluctant to come out, since they're just getting acclimated to people advocating on behalf of their child. That's why we're going to be holding more events on St. Thomas in the future," Russell said.
On October 19, Russell is planning a territory-wide Disabilities Awareness Day to promote inclusion and to help end bullying.