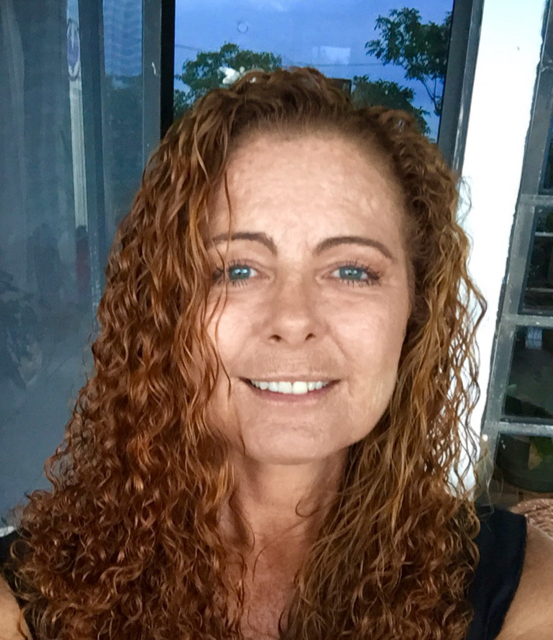 She might be working quietly in the background, she might be in the thick of the action, or she might be up front leading the effort. These days, if it has anything to do with the marine environment, Valerie Peters is there.
Over the past decade or so, the talented marketing maven has segued from the hotel industry to ecological advocacy and she's taking the Virgin Islands tourism industry with her.
If you're thinking anti-development or a sort of ocean-themed version of tree-hugger, forget it.
"I'm not that person," Peters said.
Rather, she's the one promoting ways to make good business in a healthy island environment, and the importance of protecting marine resources.
"It's all about sustainable development," she said.
Except for her six years in college and graduate school, Peters has lived on St. Thomas since she was six weeks old. Her love and respect for the sea came early. Her father was a diver, boater, fisherman, conservationist, and she says "I was a daddy's girl. I tagged along everywhere."
After graduating from Antilles School, she attended school in Florida and South Carolina, earning degrees in marketing and hospitality. She wasted no time getting back home to St. Thomas, where she held a succession of jobs before going into business for herself.
She worked at Marriott Frenchman's Reef "on and off" from 1986 to 1999, was general manager for Patti Coons' island production company for three years, then worked as the convention manager at the Westin Resort for about five years.
"That's when I decided to quit corporate and go independent," she said.
Working for herself has allowed her to get involved in a number of projects and to be the catalyst for others.
"I like the variety of the work. I have a lot of interests and I get to satisfy them … There's a lot of overlap," Peters said.
"I'm a consultant for Coral World and it is my main client," she explained. "I do the marketing for them."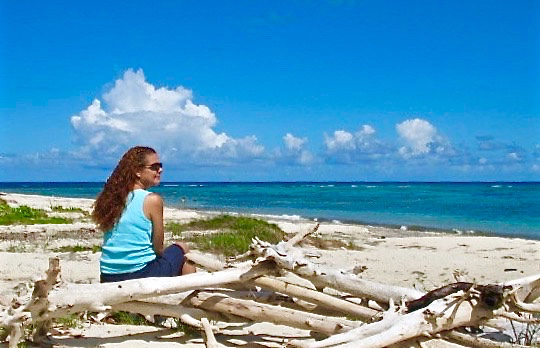 She represents the marine park, handles community outreach, manages events, communications, advertising, contract negotiations and wholesalers and just about all relations, with the major exception of agreements with cruise lines, which another person manages.
Her other projects parallel her work at Coral World, and some grew out of her work there.
She really caught the attention of the conservation community in 2006 when, in what she calls a labor of love, she helped hoist Blue Flag USVI; she has continued ever since as its coordinator. An international initiative with the backing of the United Nations, the Blue Flag program is established in nearly 50 countries to recognize quality beaches and marinas. About 4,700 sites worldwide bear the certification, and for the last few years that includes several in the territory.
In most places it's the local government that introduces Blue Flag, but in the Virgin Islands, Peters said she challenged the hotels to get involved. Now it's a private-public sector venture, like many of the projects with which she is involved. And the Tourism Department and the islands' Hotel and Tourism Associations use the Blue Flag designation as a way to enhance the territory's status in the eco-tourism market.
Across a range of projects, Peters works closely with a wide spectrum of both governmental and non-profit entities, including the Environmental Protection Agency, the National Oceanic and Atmospheric Administration, the Department of Planning and Natural Resources, the University of the Virgin Islands and the VI Marine Advisory Service, the Nature Conservancy and the Caribbean Oceanic Restoration and Education Foundation. If a group is engaged in coastal conservation, Peters is engaged with it.
And one association begets the next. The annual Reef Fest, a marine educational event, is led by VI MAS at UVI but with Blue Flag support. This November it will be held at Coral World, as it often has been in the past. The annual beach clean-ups of Coastweeks will run this year from Sept. 17-Oct. 3, and again, Peters will be there as the Blue Flag coordinator.
For the last two years, Peters has been laying the groundwork for another project, possibly her most ambitious to date. An educational program, it has the potential to impact generations.
Peters described Eco-Schools as a sister program to Blue Flag. The intention is to integrate environmental education into the public school system, in part by making it a theme throughout the curriculum. There's also a direct approach involving students setting a goal – such as reducing the school's energy use by 10 percent – and figuring out how to reach it.
"It involves everybody in the school community," from the principal to the teachers to the maintenance personnel, she said.
There's still a lot of work to do – including raising $100,000 (the Community Foundation of the Virgin Islands will manage the fund) but Peters said the pilot program is ready to launch this fall. She has lined up one school on each of the three main islands to be the test Eco-School, but she declined to name them just yet.
Not all of Peters' interests are primarily preservation-driven, but you could say they are all environmental.
For years she helped organize the community party for the St. Thomas International Regatta (formerly the Rolex Regatta) and now she's assistant director for the race and the weekend of activities.
"Preparation starts months ahead of time," she said, but the main push lasts about two weeks and it is intense. She works with the St. Thomas Yacht Club, handling marketing, assisting with accommodations for participants, organizing VIP boats – "Whatever comes up at that particular moment, wins."
In about 25 years worth of experience in event planning, both on her own and at various jobs, Peters says she's organized just about every kind of occasion, including conventions, conferences, weddings, and bar mitzvahs. One of her most memorable was a youth summit. Some 30 students were to spend the week with several environmental experts, camping and engaging in outdoor activities. Everything was prepared, and then the rain started.
"It was a monsoon for a week," Peters said. "It was completely flooded everywhere." With a few tweaks, the week turned into a golden opportunity; the students were able to observe the significance of water source pollution and track the kinds of human-generated debris that washes down guts into the sea.
In yet another venture, as valevents.com, Peters puts her events experience to work in the destination weddings market – with a twist. Besides the usual beach or sailboat ceremony, she can arrange for an "adventure" wedding, with the couple exchanging vows in a helicopter, under water, or basically wherever they want.
"I'll do just about anything," she said. "I don't know that I've done anything really crazy. They all seem to be normal to me."
Be it business or community activism, her innovative ideas aren't always appreciated, or immediately embraced. There have been, she says, "a lot of slammed doors in my face." But rejection doesn't bother her.
"It fuels me," she says. "I love it when people give me a challenge. 'Oh yeah? Watch this.'"