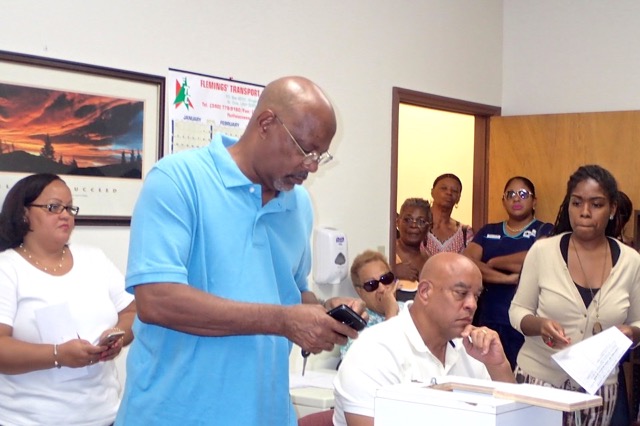 *Updated: Comments from Elections Supervisor Caroline Fawkes added at end.* Candidates in the 2016 General Election or their representatives drew numbers Thursday for placement on the ballot at the Elections System offices on St. Croix and St. Thomas. On St. Croix, the process took only minutes but, because there were not enough numbers for each candidate, the St. Thomas casting has been rescheduled for noon Friday.
By law, V.I. candidates for election determine their ballot numbers by drawing lots from one to however many candidates there are in a given year. The numbers are placed in a box and candidates take turns pulling a number out of the box.
Candidates prefer a lower number, on the theory that having a low number provides an advantage, although it is not clear this is true.
Genevieve Whitaker, deputy supervisor for the St. Croix district, explained that the top vote getters in the Democratic primary will be listed first on the November ballot. For that reason, Delegate to Congress Stacey Plaskett will hold the No. 1 slot in the delegate race and Brian Smith, the At-Large candidate, will be the first name in the Senate race.
The drawing went smoothly on St. Croix but two candidates on St. Thomas, Bruce Flamon and Margaret Price, both of whom are running without a party affiliation, said after all the lots were cast, four candidates remained without numbers. The omitted numbers were determined to be 2, 3, 4 and 19. Flamon drew 17 and Price 12.
"I am happy with 17, but the process should be fair," Flamon said. "We care because it should be a fair system where everybody gets a chance. I would like a lower number. Everybody likes a 1, 2 or 3. By the time you get to 17, everybody has picked their favorites."
On Thursday evening, Supervisor of Elections Caroline Fawkes rescheduled the St. Thomas drawing of numbers due to "an error with the numbering system" for the senatorial and Board of Elections contests.
Fawkes said she didn't know what happened to cause the snafu.
"We'll verify 15 envelopes. We did it for the primary and there were no problems. We'll do it again," she said.
The lottery results for St. Croix were:
Legislature (St. Croix)
1. Brian Smith (At Large) (Democrat)
2. Positive T. A. Nelson (ICM)
3. Norman Jn Baptiste (No party)
4. Kurt Vialet (Democrat)
5. Sammuel Sanes (Democrat)
6. Danny Emmanuel (No party)
7. Terrance D. Joseph (Democrat)
8. Robert Moorhead (Republican)
9. Alicia Hansen (No party)
10. Patricia James (No party)
11. Kenneth Gittens (Democrat)
12. Nereida "Nellie" Rivera-O'Reilly (Democrat)
13. Duane Howell (No party)
14. Novelle Francis, Jr. (Democrat)
15. Neville James (Democrat)
Board of Education (St. Croix)
1. Mary Moorhead (No party)
2. Martial Webster (No party)
3. Susanna Callwood Smith (Democrat)
Board of Elections (St. Croix)
1. Glenn Webster (Republican)
2. Jevon Williams (Republican)
3. Epiphane Joseph (No party)
4. Lisa Harris-Moorhead (No party)
5. Lilliana Belardo de O'Neal (Republican)
It would take a more thorough statistical analysis to determine for certain if there is any mathematical correlation at all between ballot position and chances of election, but looking at the results of the last two senatorial elections, there does not appear to be one.
In 2014 on St. Thomas, Marvin Blyden received the most votes of any senatorial candidate in the district, yet was No. 24 on the ballot; the highest ballot number of any senatorial candidate in the district. Second place in 2014 went to Sen. Myron Jackson, who was No. 8; third place went to Sen. Clifford Graham, No. 21; and fourth to Sen. Tregenza Roach, No. 11.
In 2012 on St. Thomas, Graham received the most votes in ballot position No. 8; Jackson came in second with No. 33; former Sen. Shawn-Michael Malone came in third with No. 23 and Sen. Janette Millin Young was fourth with No. 9. Again the ballot number does not appear to reflect the results, suggesting voters were making their voting choices on other factors besides ballot number.
*Update* Fawkes has responded to a request for comment, saying the territory's new voting machines do not operate by choosing numbers, unlike the older machines used prior to 2014:
"Candidates are selected based on their names. The DS200 don't recognize numbers," Fawkes said Thursday evening.
"That's why I recommended they obtain the consensus of the Candidates based on the situation described to me. Three members of the staff sweared all the numbers were there, I'm in St. Croix, so I can't attest to anything. We are recasting lots tomorrow at noon for the Legislative and the Board of Elections Contests."