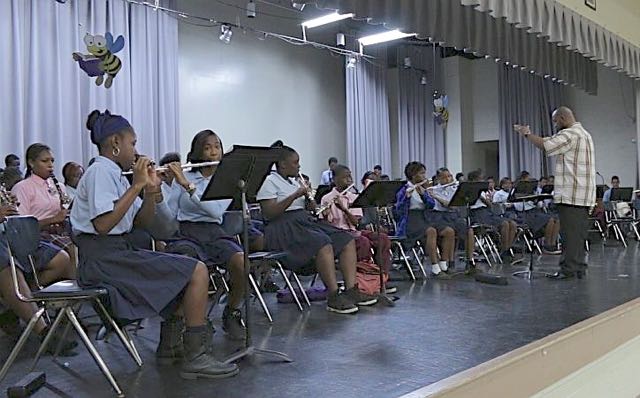 Following a tradition started on St. Croix more than two decades ago, the V.I. Education Department convened a "cultural band day" on St. Thomas that gave students from across the district a chance to work and learn together through music.
Held at the Bertha C. Boschulte Middle School, the students from different public and private schools were broken up into high school, junior high and elementary levels with individual instructors skilled at working with both advanced and beginning players.
Participating in the clinic Friday were concert band members from Gladys Abraham and Lockhart Elementary Schools, along with BCB and Addelita Cancryn Junior High, Ivanna Eudora Kean and Charlotte Amalie High School, whose students all performed different selections under their band directors.
"The students from all different levels get to perform with each other and meet other musicians like themselves," said Valrica Bryson, State V.I. Cultural Education Director at the Education Department. "That's the purpose: one, playing music and two, getting to meet colleagues that like to play music and will encourage one other to do the same. "
Friday's clinic was the first of its kind organized by the Education Department on St. Thomas, but Bryson said that the St. Croix district has been holding them for several years.
"In St. Croix, prior to being a band director, our own Mr. William Howell and some of the other band directors started 'band day' almost 30 years ago, and after becoming director of cultural education and knowing that I wanted to continue the tradition on St. Croix, I knew I also wanted the students on St. Thomas to have the same experience. So we held meetings with the band directors here and they were all enthused about the project."
Bryson said the band directors were also excited to work with students other than their own. High school band directors, for example, were asked to oversee the junior high school groups, while the junior high directors worked with the high school students.
"This definitely gives the band directors a chance to meet students on all different levels, to maybe see how their style works with that higher or lower level, and it puts someone else in the students' faces, telling them the same things that their own directors may have said, but maybe in a different way so that they can appreciate it more," Bryson added.
Students said Friday that they also appreciated the chance to have some time with band members from other schools.
"It's really nice how everything has been organized today," Charlotte Amalie High School freshman Josiah Emmanuel said. "To have all of us come together, it's really a great experience and I know it's helping many of us learn more about the music and how it's played."
Bryson said eliminating the rivalries between the students was one of her major goals.
"In music, there's only rivalry up to a certain point," she said. "But when it comes to just sitting and playing, it should be something enjoyable for all the kids, and that is what we hoped to do by giving them the opportunity to meet other musicians and perform together as one."
All of the bands Friday gave an ensemble performance of steel pan musician and played composer Francis Callwood's "Rufus Story," a song composed for Stanley and the Ten Sleepless Knights.