Scientists studying environmental and marine issues across the territory met this week at the University of the Virgin Islands on St. Thomas to present their research that's been largely funded by a grant from the National Science Foundation.
Titled the Virgin Islands Experimental Program to Stimulate Competitive Research, the territory was first awarded this grant in 2003 to fuel nationally competitive environmental and marine science research that could be used to inform policymaking, conduct educational outreach and develop partnerships.
The annual conference brings together research scientists primarily from UVI, where the conference is held, personnel from the national EPSCoR office in Washington, DC, and interested members of the public.
In recent years, scientists have used the funding to complete local research on hawksbill sea turtle habitats, ecosystem health in Brewers Bay, invasive sea grasses, climate change's effects on coral reefs, oceanographic processes, gut habitat species and STEM education.
Currently on its third EPSCoR grant titled "Mare Nostrum Caribbean: Stewardship Through Strategic Research and Workforce Development," the Virgin Islands is one of six jurisdictions nationwide that received a Research Infrastructure Improvement grant in 2014.
With 20 million dollars being distributed between 2014 and 2019, it's the largest EPSCoR grant the Virgin Islands has received.
According to Carrie Jo Bucklin, outreach and education program coordinator at UVI, "EPSCoR has helped us take research in the Virgin Islands to another level, especially in terms of infrastructure improvement."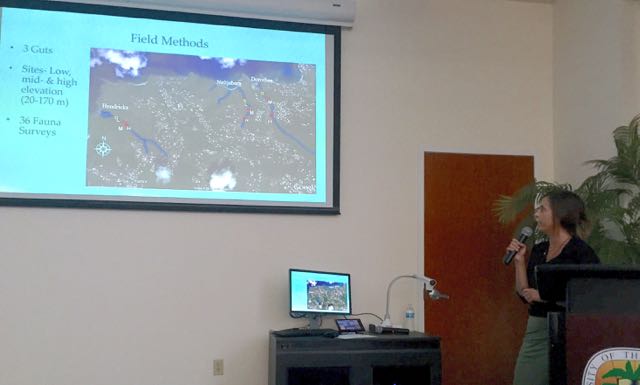 "Scientists here are now able to do complex projects that let members of the Virgin Islands' research community shine as experts in their field," Buckin said.
Sennai Habtes, a research assistant professor of biological oceanography at UVI, explained how these types of grants can attract people to small institutions like UVI that don't generally receive as much funding as larger universities.
Habtes, who grew up on St. Thomas, said there's a need for educated Virgin Islanders to come home to the territory and that grants like this help support it.
A handful of the funded research projects focus on Brewer's Bay, the cove that's adjacent to the UVI campus on St. Thomas.
Marilyn Brandt, a research assistant professor at the Center for Marine and Environmental Science at UVI, and her colleagues studied the long-term effects of the St. Thomas airport's runway extension, which was completed in 1979.
Brandt and her team found that coral cover and species diversity throughout most of Brewer's Bay dropped significantly in the years since the runway extension, in part due to the degradation of water quality.
Submerged sections of the same runway have also served as an artificial reef for developing hawksbill turtles.
Paul Jobsis, the director of the Center for Marine and Environmental Studies at UVI, and his colleagues used funding from the grant to purchase acoustic receivers that listen for hawksbill turtles in order to study their habitat preferences.
The grant also helps fund research on climate change's effects on the territory's marine environment. Dan Holstein, a marine biology and fisheries professor at UVI, studies how coral reefs could be affected by warming oceans.
"In the next 30 years many reefs throughout the Caribbean could experience annual bleaching," Holstein said. "My research helps identify areas of resiliency so we can potentially focus protection efforts there."
EPSCoR encourages citizen science too. Renata Platenberg, assistant professor of natural resource management at UVI, and her colleagues used citizen science to collect recordings of frog calls, a method that cut down on research time and costs.
Since frogs are an important ecosystem health indicator, Platenberg said this data could potentially help guide land use and development plans.
Students from Addelita Cancryn Junior High School and Lockhart Elementary School attended some of the presentations, during which they were encouraged to get involved in the research and visit labs. EPSCoR supports the public taking part in research through activities like collecting samples.
"We want to share the great research people in the Virgin Islands are doing with everyone else in the community, because this work has a direct impact on all of us," Bucklin said.