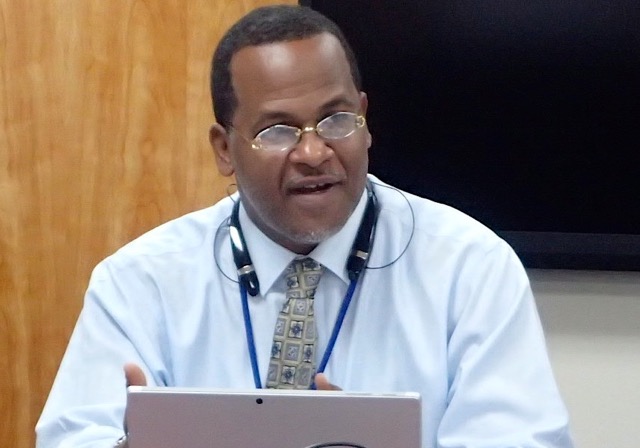 Julio Rhymer, interim chief executive officer of the V.I. Water and Power Authority, told board members Thursday that the territory's conversion to liquid propane gas will be completed by the end of the year and the board authorized another $225,000 for contingencies to complete the LPG fire protection system on time and other expenditures.
St. Thomas LPG conversion is 75-80 percent complete, according to Vernon Alexander, director of special projects. Most of the remaining work involves electrical, controls, instrumentation, vaporizers and the offshore tank mooring.
St. Croix's system will be complete in August or sooner, Alexander said. Tanks that have been converted were tested for leaks last week and conversion has started on the last two tanks on St. Croix.
Operators will be retrained at the end of March.
There were questions before the board approved a time extension and additional funds for the fire protection system installation. Board member Marvin Pickering, Internal Revenue Bureau director, said the request is 60 percent higher than the original contingency request.
Gabriel Dore, engineer with the St. Thomas propane conversion project, said the deadline extension is necessary to monitor and detect fire potential on three gas turbines waiting to be converted to burn propane. So far invoices and estimates for the system are $491,467 and, due to WAPA caused delays and changes in procedure, the contractors, ESI Inc., are behind schedule.
Rhymer said, "Additional time will also compensate for delays the contractor has experienced with other onsite contractors and entities coupled with the unavailability of the units to perform the upgrades. The work will coincide with the unit's conversion to burn liquefied petroleum gas in generating electricity."
Licensing and Consumer Affairs Commissioner Devon Carrington, also a board member, asked, "Are we paying for situations we shouldn't be paying for?"
Another reason for the high contingency amount is that the final costs were not fixed when the contract was finalized, because the RFP's were extended in stages. Dore said the cost of the system "would definitely have been higher that what we're paying for."
Board Chairman Gerald Groner said there would have been a two-year delay in getting the project started if the requests for proposals were included in one package and added that the cost of power was 52 cents a kilowatt hour at the time.
The request was approved by all members present: Groner, Pickering, Carrington, Gustav James, Noel Loftus, Juanita Young and Cheryl Boynes-Jackson.
The board also approved up to $512,500 for inspection and waste removal after cleaning four fuel tanks by RG Engineering Inc. to meet requirements by the Environmental Protection Agency and the American Petroleum Institute.
Another $670,700 was approved to purchase two bucket trucks and a hotline insulator wash down machine from PECO International Inc. that will be used for all three islands.
The board voted to rescind a contract with V.I. Paving to install a waterline on Company Street in Christiansted. According to Shaunelle Samuel, WAPA legal counsel, another bidder received the wrong requirements to bid properly on the project, so the RFP will be reissued.
Rhymer and Clinton Hedrington, director of transmission and distribution, updated the board on smart metering, the Automatic Meter Infrastructure that records and communicates data directly to WAPA and provides real-time customer account information.
Smart metering was begun in 2014 on St. Thomas and installation on that island is 98 percent complete, according to Hedrington. Towers are still needed on St. Croix, but meters have been replaced and 75 percent of the island is ready to go online.
Customers will be able to use their smart phones to "ping" information from their meter in a few months, Hedrington said.
One component of the AMI is an outage management system, which when operational will notify WAPA dispatch of outages of more than 20 seconds and the locations. With five outages, the system will predict where and what the problem is. Eventually WAPA trucks will have computers to read the system and will be able to respond quickly, he said.
"Before you call it in, we'll know," Hedrington said, adding that "kinks" are still being worked out before the system is operational.
Rhymer was named acting CEO at the end of January when Hugo Hodge was terminated suddenly. Groner said Thursday that a search firm has been retained and a job description and requirements are being formulated to search for a new CEO. The job will be posted locally, he said.