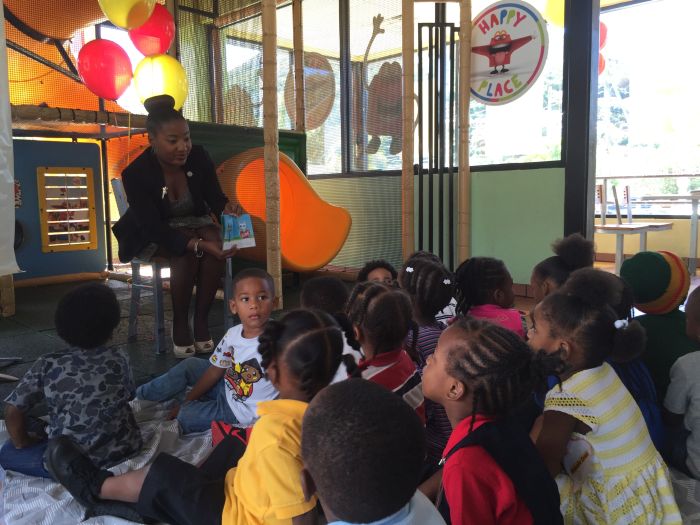 A partnership between McDonald's USVI, Harper Collins and the local Division of Libraries, Museums and Archives is helping to promote literacy by putting 5,000 books in the hands of children throughout the territory.
McDonald's kicked off its second Happy Meal Books collection effort on St. Thomas Friday with a reading at its restaurant in Lockhart Gardens. Library representative Kim Blackett and Education Department attorney Alvincent Hutson were on hand for the kickoff, and spent the morning sharing stories with students who came out for the event.
"I think it's important to read to the kids because sometimes we don't show enough support for the students in the community, and especially for government officials to be able to give back in a capacity like this is a rewarding experience," Blackett said Friday.
Harper Collins provided the books, which come with each Happy Meal and feature popular characters such as Paddington Bear, Clark the Shark and Pete the Cat. According to McDonald's representatives, each book is Valentine's Day themed.
"This is a national effort and we in the Virgin Islands got involved because we saw the need for our students to be able to read at their own grade level and to improve their literacy overall," Alecia Hodge, operations consultant for McDonald's USVI, said Friday. "It is always important for them to be involved from a young age in any kind of positive learning experience and we wanted to have another avenue, as a company, to reach out to the kids and promote learning."
McDonald's also will be donating $500 to the VI Department of National Resources Division of Libraries, Museums and Archives to enhance library collections in both districts.
"The Division of Libraries, Archives and Museums is pleased to join McDonald's for a second year in this national literacy initiative," Ingrid Bough, the division's territorial director, said. "McDonalds' partnership with 'Reading is Fundamental' makes the local collaboration a natural fit. Reading is so important and aids not only in the early development of our children and their future, but also in life-long learning for us all. The McDonald's $500 donation to the V.I. public library system will help us to continue to promote literacy in the Virgin Islands. "