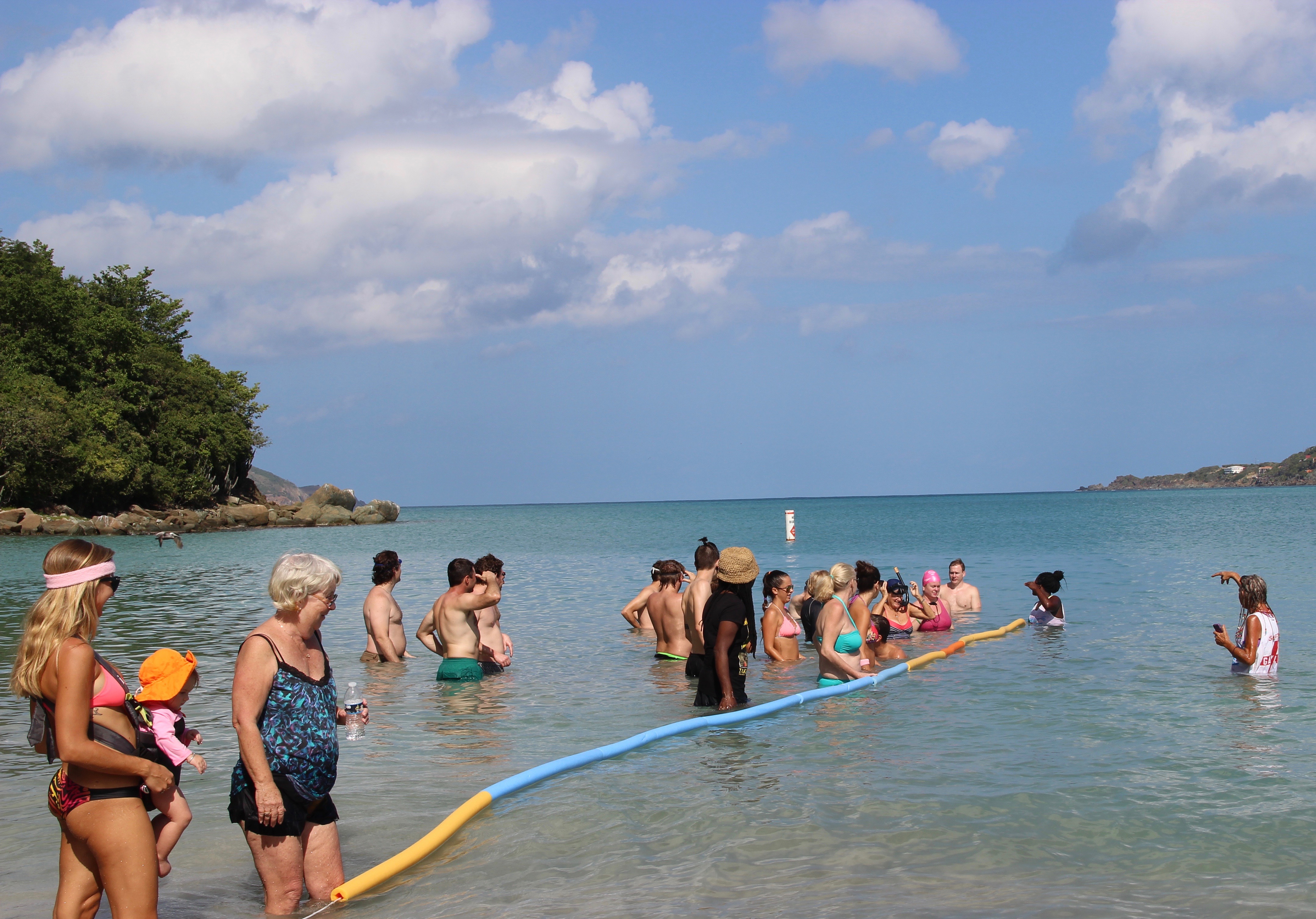 The waves at Magens Bay were calm and the beach was crowded with cheering sunbathers as competitors in the 13th Annual "Against the Tide Swim" for Breast Cancer raced toward the finish line on Saturday morning. 

About 25 people participated in the race to help raise funds and awareness of breast cancer in the territory. There were also a number of volunteers who helped register, keep times and lifeguard during the event.
Retired local schoolteacher Gayle Deller started the race as a way to support cancer patients in the Virgin Islands. With decades of physical education teaching and sport coaching under her belt, creating the race was an extension of Deller's lifelong passion for fitness and health.
"The first event was on my 50th birthday as a gift to our community. Many of my friends were coming down with breast cancer, so I wanted to do a little something," Deller said.
Deller wants the community to know that the sooner breast cancer is detected, the less life threatening it is, and that men as well as women can get it.
About half of the racers swam or used fins, while the others waded along the entire shore of Magens Bay, which stretches for about three-quarters of a mile.
With participants as old as 84 and as young as six months taking part in previous events, Deller felt that allowing people to choose to race as swimmers, swimmers using fins or waders would work best.
Adults paid 10 dollars to register for the race with the cost for children set at five. The money raised from those fees and community sponsors will be given to the Community Foundation of the Virgin Islands, which distributes the funds to cancer patients who apply for assistance.
Deller said sponsors are dwindling and that she doesn't partner with any other organizations to hold the event.
"In the past I have had $2,000 donations for t-shirts, trophies, medals, water and lifeguards. This year I have $300," Deller said.
Shane DeGannes, registered nurse and athletic director at the Virgin Islands Montessori School and International Academy, volunteered as a lifeguard for the event to show his support for breast cancer patients in the community.
"I try to volunteer for all the athletic events that are tied to a cause," said DeGannes, who is an avid runner himself.
For Andia Chaves Fonnegra, who took first place in the adult female swimmer category and recently moved to St. Thomas to work at the University of the Virgin Islands as a marine science researcher, competing in the event had personal significance for her.
"My mother just finished going through chemotherapy for ovarian cancer, so I know how important this type of support is to someone who's fighting cancer," Fonnegra said.
Fonnegra's boyfriend, Graeme Fiser, who is visiting from Fort Lauderdale, raced in the event and took first place in the male adult swimmer category. He said it was difficult to swim straight because of the curvature of the bay but that a slight current made the race a little easier.
First place finishes and times were as follows: Maela Lemen, female youth wader (22:01); Jailyn Juluke, male youth swimmer (21:45); Quinacey Pentrack, female adult wader (22:01); John Gilpin, male adult wader (22:25); Andia Chaves Fonnegra, female adult swimmer (21:30); Graeme Fiser, male adult swimmer (16:07); Becky Luscv, female adult fins (20:44); and Frank Kirwan, male adult fins (38:21).
The Hook, Line and Sinker restaurant in Frenchtown won an award for sending the most participants from one establishment with 13 of its employments competing. All competitors received medals for their participation and VI Chiropractic offered free pre and post race stretching services.