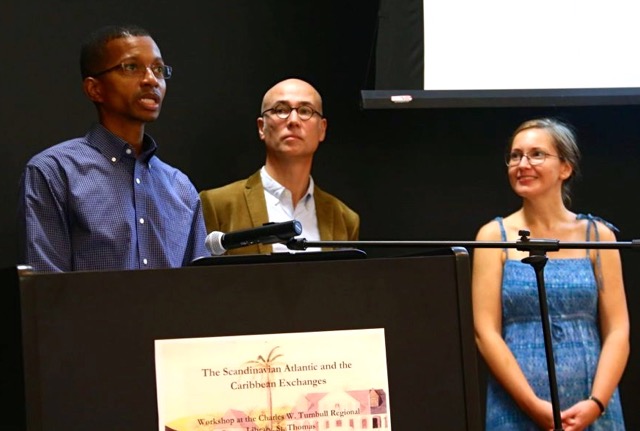 A set of cultural workshops that kicked off Tuesday at the Charles W. Turnbull Regional Library is just the start to a series of historical presentations and activities meant to teach Virgin Islanders about their history as the territory approaches the 100th anniversary of Transfer Day, according to officials.
The free workshops, which finish Wednesday afternoon, are not open to the public but State Historic Preservation Office Director Sean Krigger said Tuesday that they are being recorded and aired on local television stations such as the Government Access Channel.
The Division of Virgin Islands Cultural Education under the Education Department has been tapped to tape the sessions and Krigger said local students will be given the chance to see them.
Historic Preservation and the Division of Libraries, Archives and Museums under Planning and Natural Resources are partners in this week's event, which they called a "two-day information exchange" meant to highlight the Caribbean's role in the triangular slave trade and how they served as a hub for the movement of not only people, but goods and ideas.
Funded by the Riksbankens Jubileumsfond of Sweden (The Swedish Psychotrauma Society) the sessions also look at the colonial relationship between the Caribbean islands and countries such as Sweden, Denmark and Scandinavia.
"Three months ago, the group contacted us to organize a tour of the fort (Ford Christian) and when we heard what they were proposing to present, we knew we had to partner with them," Krigger said.
"This is something that is definitely important to the community. We have a shared history and a shared interest and we felt that we needed to help bring this information to the public's attention."
For organizer Jonas Nordin, associate professor at the Swedish History Museum, the workshops also give researchers from across the world a chance to come together and share the information they have been gathering about European interests in the region and their influence on everything from health care practices to the exchange of money and other commodities brought over.
Nordin said that for years research into these topics has been conducted separately and forums such as this give the researchers a chance to come together, present their findings and come up with other platforms for discussion.
"The Virgin Islands was a Danish colony for such a long period and looking at issues on the exploitation of the Caribbean will bring in narratives, stories about the symbiotic relationship with Sweden and other nearby countries," Nordin said. "That's why it is advantageous to have it here, where there are also resources available that we can use and share."
Organizers selected historians, archaeologists, anthropologists and scholars from around the world to participate, Nordin added.
The workshops continue through Wednesday on St. Thomas and Krigger said DPNR and Historic Preservation will be looking to partner or co-organize more events as 2017 Transfer Day ceremonies approach.