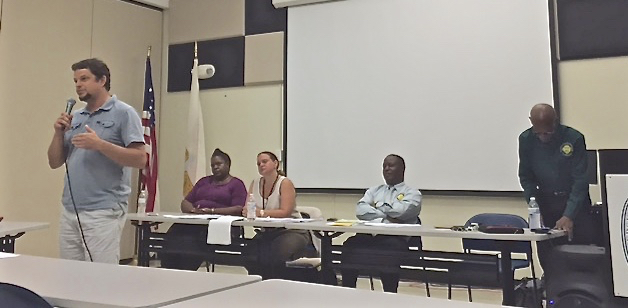 Local business owners called on government for increased access to the fuel supply and investment in a skilled labor force Thursday during a town hall meeting at the University of the Virgin Islands.
The forum on UVI's St. Croix campus was organized by the Department of Licensing and Consumer Affairs, in conjunction with the Department of Labor and the Office of Sen. Nereida "Nellie" Rivera O'Reilly.
One of the main issues facing gas stations is that they no longer have access to a local fuel supply, said Mike Ziegler, owner of Ziggy's Island Market Gas Station.
While St. Thomas has a pre-established fuel supply chain that predates the Hovensa closing three years ago, St. Croix has none.
"Since then, not one government agency, no branch of government, has done anything to procure a supply of fuel for St. Croix." said Ziegler.
Gas prices were just one of the issues addressed during the Town Hall meeting.
The island needs a skilled labor pool, stressed Joe Hollins, a construction industry veteran. He said workers from outside the territory are being employed before locals. The cause, he said, is an outdated prevailing wage schedule.
"I could work at the McDonald's drive through and make more than these skilled labor trades. So there is a problem here." Hollins said.
Department of Labor Commissioner Catherine Ann Hendry said the government doesn't have the last word in hiring.
"We advocate hiring local residents. We can put forth best efforts in enforcing what we can, but as to final decision on who they hire, we do not have the last say. That is overreaching."
Hendry stressed, however, that her department was committed to workforce development. A viable workforce is vitally important for economic health of the territory, she said.
"We want employers to succeed, especially in this economy." she said.
The Department of Labor used the meeting as an opportunity to outline its services and programs. Through the department, workers and employers have access to unemployment services, workers compensation assistance, employer vacancy database and more.
For DLCA Commissioner Devin Carrington, the message was for consumers. The purpose of the meeting was to educate, inform and be informed. He advocated community participation on local boards and meetings. The consumer has a lot more power than they actually realize, Carrington said.
"It is important for consumers to know that they have the power to affect change and be more effective or as effective as anything this department can do." Carrington said.