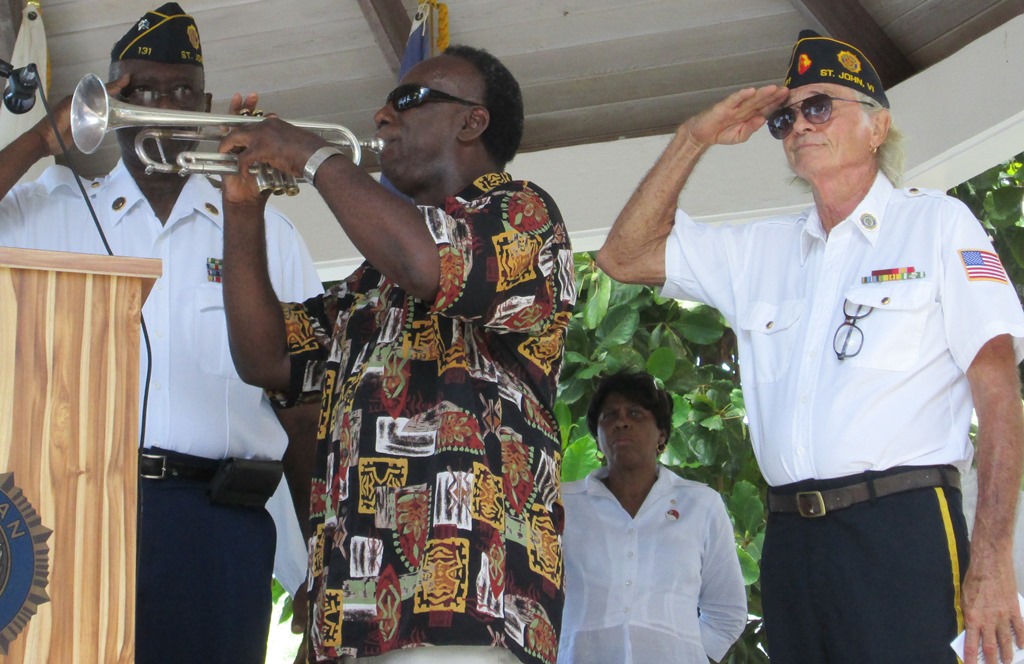 Across the territory Friday, American Legion members saluted the flag as they observed Patriot Day, an event designated in 2002 to honor those who died in the Sept. 11, 2001 terrorist attacks as well as others who died in the fight against terrorism.
On St. John, Vigo E. Sewer, American Legion Post 131, led the ceremony held in Cruz Bay Park.
"It was a terrible day for first responders," Deputy Fire Chief Ernest Matthias said in his remarks.
He said that 343 fire firefighters and 72 police officers were among the 2,996 people who died that day.
Another speaker, EMT Emmett Petersen, said those emergency responders paid the ultimate price when they responded to a call for help.
According to the program, six of those who died had ties to the Virgin Islands — Sgt. Maudlyn A. White, Felix "Bobby" Calixte, Claudia S. Sutton, William Henry Jr., Christian Maltby and Chris M. Kirby.
Matthias read a chilling account of the events that unfolded on that terrible day.
"At 9:37, the hijackers crashed the plane into the Pentagon," he said.
Keynote speaker Clive Rivers, a St. Thomas-based attorney, called on the small knot of people who gathered for the event to not only remember those who died that day but to be tolerant of others.
"Be more tolerant of those of different faiths and different religions," Rivers said.
Rivers spoke about the American Legion's origins, noting that it was formed after World War I by war-weary veterans.
He said that on Sept. 12, 2001, the day after the terrorist attacks, the American Legion activated its family support network to provide support and comfort for veterans injured on Sept. 11.
"The challenge to you is what can you do to improve the lives of veterans in your community," Rivers said.
The ceremony was filled with patriotic symbols such as the singing of the National Anthem, and ended with the playing of taps.