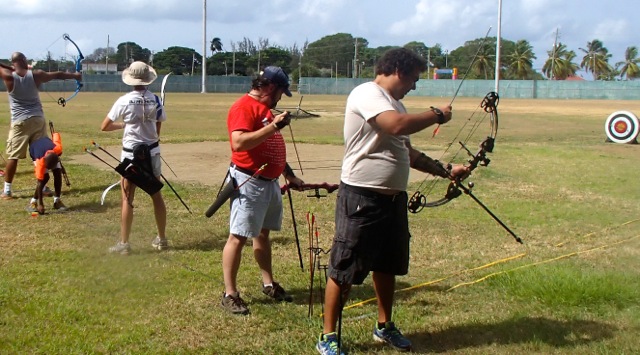 On any given weekend, a small band of aspiring athletes can be found testing their rudimentary skills, twanging away at targets, practicing one of the most ancient of pastimes known the world over.
Unless he's out of the territory, William Coles will be there with them. If he's not there, he's probably either attending a training workshop or participating in a regional, national or world competition.
Coles is one of what seems to be an increasing number of toxophilites (archers or archery enthusiasts) and, along with a handful of others, he is responsible for stirring up interest in the sport in the Virgin Islands.
"I have been teaching archery 13 years to the youth," Coles said.
His avocation grew out of his job with Fish and Wildlife, a division of the Department of Planning and Natural Resources. One of DPNR's many responsibilities involves hunting education, Coles said. He didn't think it was a great idea on a small island to have inexperienced hunters shooting guns.
Then he says, "I learned I could use federal money for archery."
Starting on St. Croix, where he lives, and soon expanding to the St. Thomas-St. John district, Coles has introduced a wide swath of the territory's youth to the challenges of archery. He's worked with middle school students, high schoolers and college students, and with special needs students.
Coles said he believes the demands of archery translate into better performance at school.
"It really helps them with their concentration and focus," he said. "They see immediate results with archery and their parents see improvement with their school work."
There's no definitive age at which a person should start the sport, Coles said. "It depends on the child."
He said a child must be prepared mentally, emotionally and physically. "Some sixth-graders aren't ready; some fourth-graders are." And some who are mature enough still need a little help drawing the bow.
There is also no upper age limit. In recent years, Coles has been working with adults too.
Inspired by people like retired Olympic competitor Ruth Rowe, the Team V.I. archery coach, and Anne Abernathy, who got to several Olympics representing the Virgin Islands in luge competitions and recently took up archery, local enthusiasts have formed the Virgin Islands Archery Federation.
The group was officially recognized as a federation in November 2013, Coles said, and the World Archery Federation has given the V.I. group considerable equipment to bolster its training and membership.
Coles continues to work with students at school-supported archery programs. But there are also sessions open to the general public.
From 9 to 11 a.m. Saturdays, would-be Robin Hoods gather at the Arthur Richards School to practice with bows and arrows and targets placed as they would be for national or international competitions. On Sunday, the action takes place from 3 to 5 p.m. on a range at the Montessori School and Peter Gruber International Academy.
"My goal is to be sure everyone learns something every time they go out to shoot," Coles said.
He's taken a lot of training himself.
"I'm a national judge and a national judge instructor," Coles said, adding that he has trained others to be range officers and to be instructors for the weekend sessions. Range officers set up the equipment to international specifications and maintain the order and safety of the range, he added.
Coles has also started competing in regional and international competitions. While he's sharpening his own skills, he says, "It helps me to know what to do for the kids."
The V.I. Archery Federation has sent entrants to numerous competitions in its first two years, including the Central American and Caribbean Games Qualifier in Guatemala in April 2014, the XI Copa Enrique Barries tournament in Puerto Rico in June 2014 and the IV Torneo de Ranking Mundial (World Ranking Event) in Santiago, Chile, in February 2015, when Abernathy and Coles won a bronze for mixed team.
This summer Coles went to the World Championship in Denmark. Coles says while he was there he talked to people about the feasibility of holding an archery contest in 2017 as part of the commemoration of the Centennial Anniversary of the Transfer of the Virgin Islands from Denmark to the United States.
Naturally he has his eye on the Salt River landing site of Columbus, also known as the Cape of the Arrows.
Clearly local interest in archery is growing. Coles said a recent demonstration at the University of the Virgin Islands St. Croix campus brought out 50 curious students. He expects to conduct a regular class at UVI this semester. There are also efforts under way to increase offerings on St. Thomas.
Meanwhile the weekend workshops are drawing more and more children and adults.
"I didn't expect it to go this way," Coles said, "but it's brought a lot of families together."
There is a cost to join the federation: $55 per year for an individual and just $25 for each additional person who is a member of his/her family. There are also needs-based waivers of fees available, he said.
For more information, call Coles at (340) 643-0811.