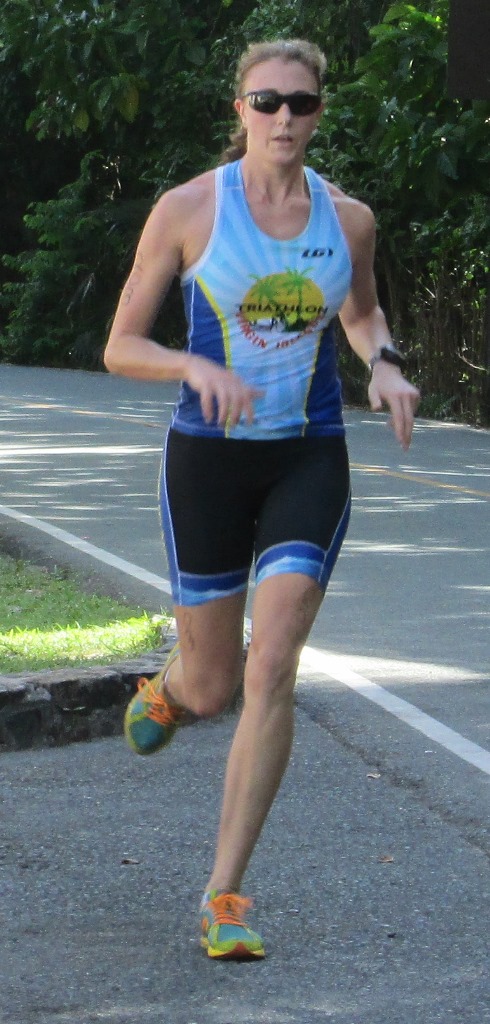 St. John residents Mary Vargo, 31, and Matt Crafts, 37, have become the island's new athletic power couple. A duo in life as well as sports, the two organized Sunday's Love City Triathlon and won the women's and men's triathlon events.
"Splash and dash, that's my secret," Crafts said.
Crafts said he and Vargo spend every Saturday swimming and running at Maho Bay to prepare.
Vargo was a bit more specific. She said this year she has a new bike, and pushed herself.
"And I was able to stay on my bike," she said.
Crafts had a time of 1 hour, 47 minutes and 49 seconds and Vargo, 2 hours, 11 minutes and 58 seconds.
Discussing the organization of the 16th annual event, Vargo said they learned from people like Jeff Miller and his wife, Jude Woodcock, who have been prime movers and shakers for many years, as well as others.
With a megaphone in hand, Miller was on hand to keep the 43 triathletes, aquathloners, standup paddle boarders, and relay participants in line.
"I do it so people can be active and have an excuse to do something outdoors," Miller said.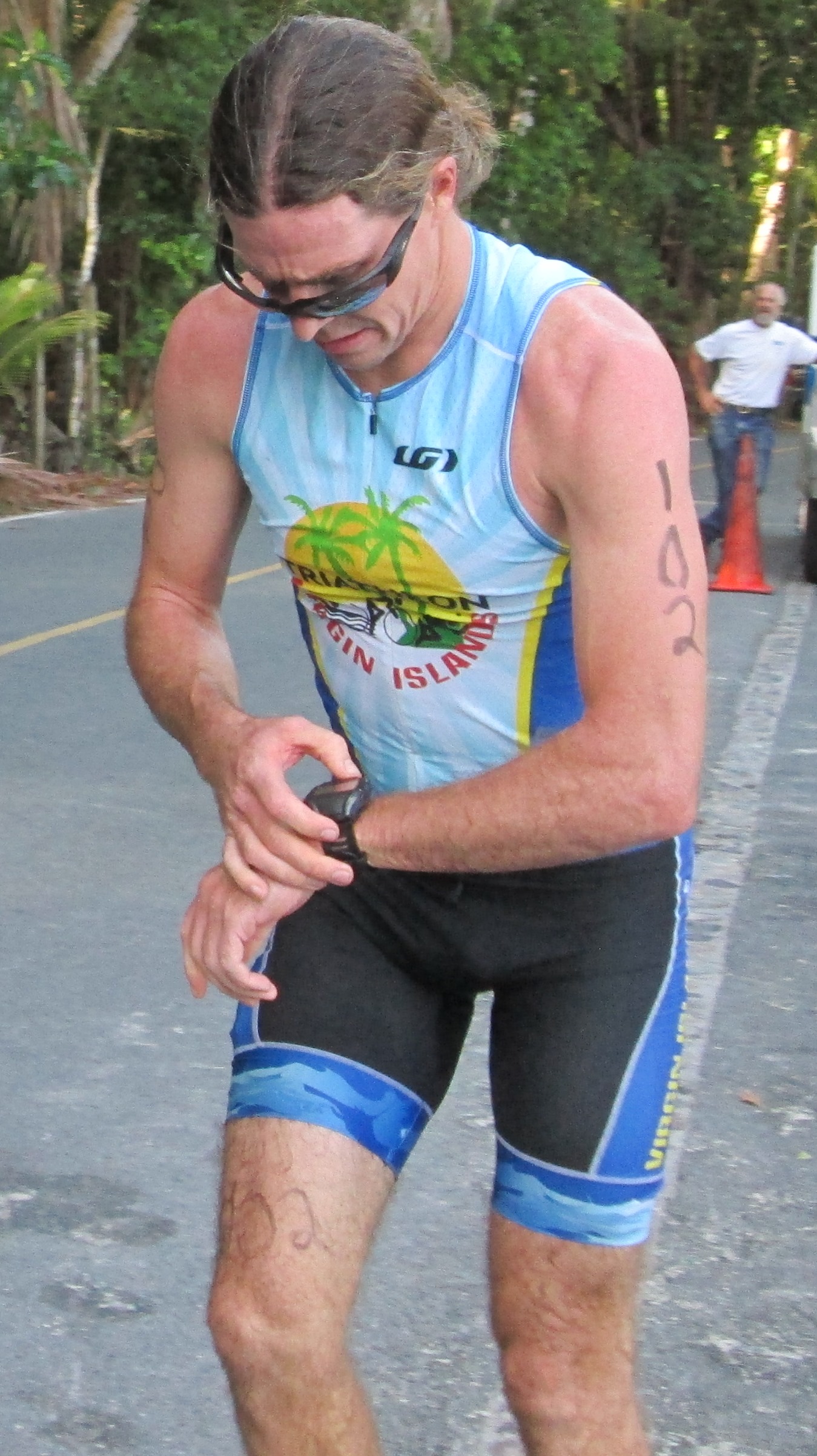 Much of the event takes place within V.I. National Park, and Superintendent Brion FitzGerald was on hand as a volunteer.
"It's a beautiful day for folks in the local community and surrounding area to get out to enjoy the park," FitzGerald said, clipboard in hand.
The event runs on volunteers, and there were many busy with various tasks as the event unfolded.
"If they can train and get up for it, I can get up," volunteer Lanny Roberts of St. John said of the 7 a.m. start.
Stacie DiNello has lived on St. John for only three weeks but came out to help set up for the event.
"We just moved down and wanted to get involved," she said.
While many mingling around the finish were volunteers, a few were there to root for their friends.
"I'm the first-place fan," St. John resident Alex White said as he stood with a group of friends along the course to cheer.
The triathlon course included a half mile swim in Maho Bay, a bicycle ride from Maho to Cruz Bay and back and a four-mile run to Annaberg and back to Maho.
Vargo and Crafts were the first across the finish line at Maho Bay Beach after swimming, biking and running their way to success. They were followed by St. John residents Jodie Tanino, 56, for the women and Brent Lynn, 36, for the men.
"I bike a lot, but I need to swim and run more. That's where Matt takes me," Lynn said.
Tanino said she trained only a little bit but it was enough to make her feel comfortable that she could do it.
Lynn had a time of 1 hour, 56 minutes and 12 seconds and Tanino, 2 hours, 22 minutes and 35 seconds.
The aquathloners swam and ran the same course as the triathletes.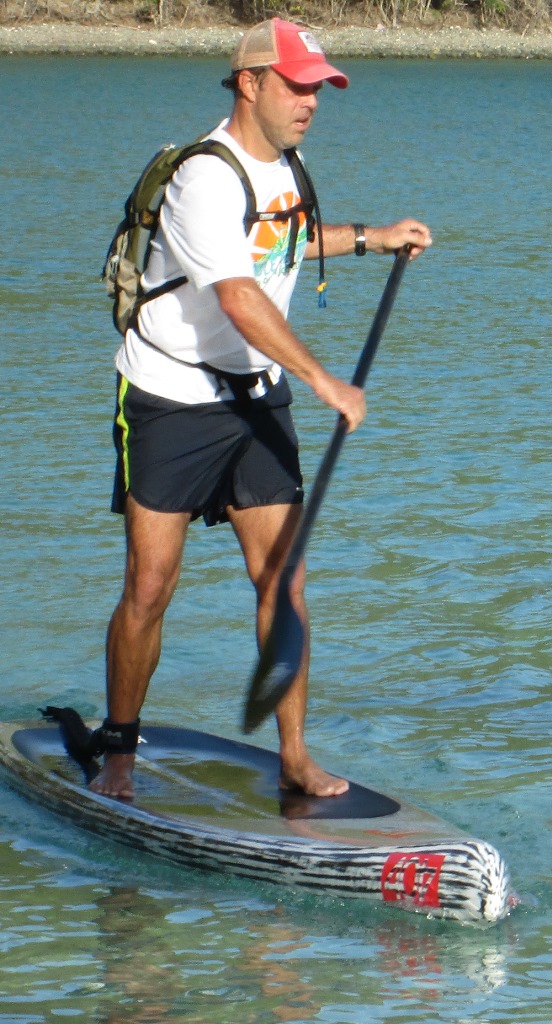 St. Croix resident Theresa Harper, 49, was the first woman across the aquathlon finish line at Maho. Her time was 56 minutes and nine seconds.
Harper has participated in the triathlon for many years, but this year she switched to the aquathlon.
"I haven't spent any time on my bike so the aquathlon seemed like a good option," she said.
Cassandra Contreras, 36 of St. John, was the second woman to finish in the aquathlon. Her time was 1 hour, 13 minutes and 45 seconds.
"I was pacing myself so I didn't blow all my energy at the beginning," she said, explaining why she did so well.
For the male aquathloners, St. John resident Evan Jones, 16, smoked the competition. His time was 50 minutes and 52 seconds.
"I did terrible on the swim but made up for it on the run. I'm not a very good swimmer," he said, adding that he does cross country, which is good training for the run portion.
Aaron Gardner, 34, of Tortola was the second aquathoner across the finish with a time of 54 minutes and 51 seconds.
He said he was chasing another participant in the swim, but he "held on for the run."
The event also featured a competition that included the swim, twice around Maho Bay on stand-up paddle boards and the run to Annaberg and back to Maho. It was called the Heptathlon
St. John resident Adam Thill, 49, was the first stand-up paddle boarder across the finish.
"I was following Arthur most of the way but I caught him at the transition," Thill said, referring to fellow paddle board racer Arthur Jones.
James Peen, 27, of St. John was the second male across the aquathlon finish.
"I don't drink," he said, attributing the fact that he didn't have any toxins in his body as the secret of his success.
Thill had a time of 1 hour, 42 minutes and 11 seconds and Peen a time of 1 hour, 46 minutes and 59 seconds.
Savannah Monticello, 20, of St. John was the first female stand up paddle boarder across the finish with a time of 2 hours, 2 minutes and 17 seconds.
"I do this course all the time," she said.
She said she leads stand-up paddle board tours from nearby Cinnamon Bay Campground so she's very familiar with the area.
Adrian Baird was second on the stand-up paddle board with a time of 2 hours, 11 minutes and 18 seconds.
The team of Eric Bauman, Pretlow Majette and Margaret Majette won the relay event with a time of 2 hours, 7 minutes and 41 seconds.
St. John won the inter-island award, given to the island with the top three combined times.
Full results are online at www.stjohnlandsharks.com.