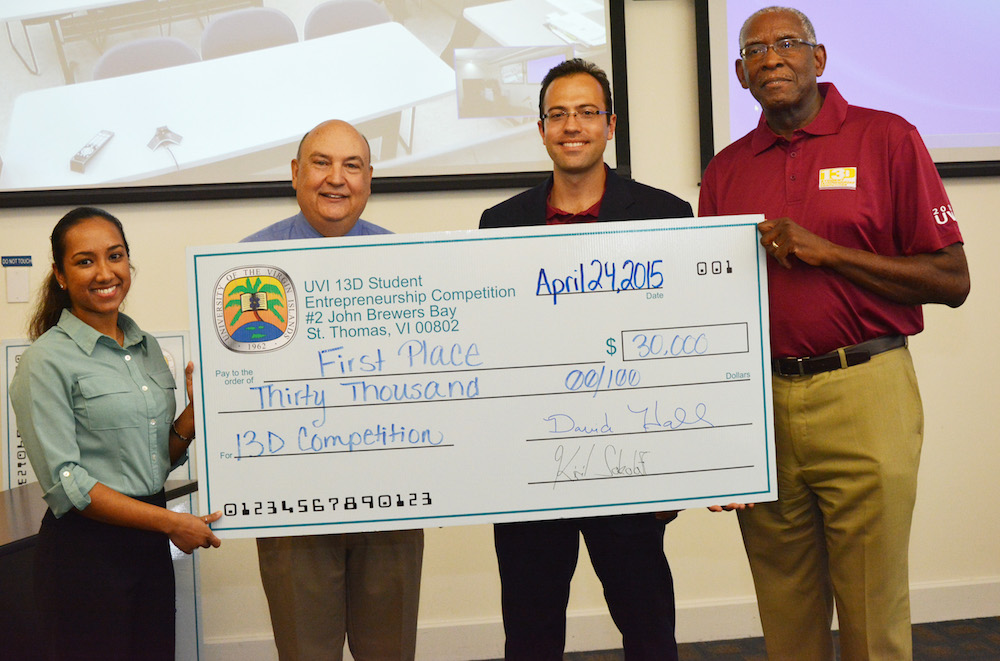 Three student entrepreneurs from the University of the Virgin Islands were awarded $60,000 during the 4th Annual 13D Entrepreneurship Competition on April 24 at the St. Thomas Campus, according to UVI.
The 13D Competition awarded Annalee Peru the $30,000 first prize for "Forever Fresh," which will produce local organic hydroponic lettuce to be distributed to local restaurants and grocery stores.
Peru, who will graduate from UVI on May 14 with a bachelor's degree in business administration and a concentration in management, will continue to seek investors to start her business.
Second prize winner Gelise David, a UVI master's in business administration major, was awarded $20,000 for her business "David Enterprises," which is focused on building a family entertainment center on St Thomas. This 6,000 to 7,000 square foot center will provide a variety of indoor activities to local residents and tourists. The center, planned for the East End of St Thomas, will include attractions such as an indoor rock climbing wall and Putt-Putt miniature golf. Additional gaming, food, and video entertainment will provide a fun, safe environment for children ages four and up, as well as adults.
Kambia David, a UVI master's in business administration major with a concentration in finance, won third prize for "Fun and Sun Adventures" and received $10,000. "Fun and Sun Adventures," a tourism-based company, will provide water rides, water activities, and rentals of water equipment on several beaches on St. Thomas that are frequented by tourists from cruise ships and resort properties.
"All three of these businesses are ready to launch," 13D Competition Coordinator Glenn Metts said to the winners after the competition. "It is now up to you. You have more work to do."
Six students participated in the final round of the 2015 13D competition, which began in October 2014. Dr. Metts said that all of the final round businesses are ready and encouraged students to continue to build their businesses.
The student entrepreneurship competitions were made possible by a $5 million gift to UVI from investment strategist and entrepreneur Kiril Sokoloff, the founder of 13D Research on St. Thomas. The gift supports the 13D Student Entrepreneurship Competitions, a Distinguished Professor of Entrepreneurship Endowed Chair and the Entrepreneurial Speaker Series at UVI. The 13D Competition is sponsored by Innovative Companies, which has made a long-term commitment to giving $50,000 a year to support the entrepreneurship effort, according to UVI.