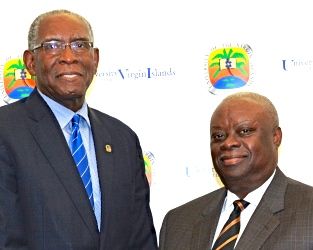 A multi-island Charter Day kickoff event on Tuesday celebrated the role the University of the Virgin Islands has continued to play in improving the quality of life in the territory, with speakers looking closely at the institution's advancements over the last 53 years and what it must now accomplish for the future.
Charter Day is observed annually on March 16 but celebrations this year also helped kick off UVI's Pride Week, which brings everyone from current students to university alumni and local officials out to campuses on St. Thomas and St. Croix for a range of workshops, athletic events, pep rallies and social activities.
Those gathered for Tuesday's Charter Day events on St. Thomas and St. Croix reflected on the mission and vision of the university and the "investments" its administrators must continue to make in order to develop the "leaders and thinkers of tomorrow."
"UVI is more than an institution to educate our children; it is an investment in the future of the Virgin Islands," university President David Hall told the crowd on St. Thomas. Hall added that Charter Day gives the community a chance each year to reaffirm its commitment to UVI and to look for answers "today" that will help solve the challenges "that we presently face and the challenges that will be even greater in the days ahead."
In 1962, when the university received its charter, its founders focused solely on creating an institution that could advance the territory and, in recent years, Hall said administrators have kept the torch burning with programs promoting entrepreneurship, hospitality and tourism, nursing and education and, most recently, the creation of a medical school that "will help improve the quality of health care" in the territory with homegrown doctors and medical staff.
"We are working feverishly to be relevant to the needs of the territory and to improve the quality of life in the process," Hall said.
In his keynote address, Gov. Kenneth Mapp built upon Hall's words by showing how UVI fits in to his administration's vision for the territory, specifically in the area of economic development and growth.
Despite the government's fiscal challenges, Mapp spoke of a bright future for territory, which he said hinges upon developing a skilled workforce of individuals that will return home to contribute and help develop a "vibrant" private sector based in technology, medicine, science and engineering.
UVI plays an integral role in creating "that new paradigm," he said.
"We need to ask you for your help and continued guidance in carrying the curriculum and courses to help make this happen," Mapp said, asking Hall and other officials for their commitment in reaching out to students that have "fallen through the cracks."
"We have a lot of young folks sitting on the corner, some that haven't finished high school, and some that have but aren't able to make it into university, that we must create some gateway for so they can get the technical training or vocational training they need and build the skills so they can be part of the new paradigm moving through the Virgin Islands," the governor added.
These students can then serve as an example to others and inspire younger generations to work hard, focus, commit to a dream and, one day, own their own businesses.
"The University of the Virgin Islands must be a central hub for that," Mapp said. "Keep marching toward that vision that you have created."
UVI was chartered on March 16, 1962, as the College of the Virgin Islands. According to the establishing act passed by the Fourth Legislature of the Virgin Islands, the goal of the university is to provide for "the stimulation and utilization of the intellectual resources of the people of the Virgin Islands and the development of a center of higher learning whereby and wherefrom the benefits of culture and education may be extended throughout the Virgin Islands."