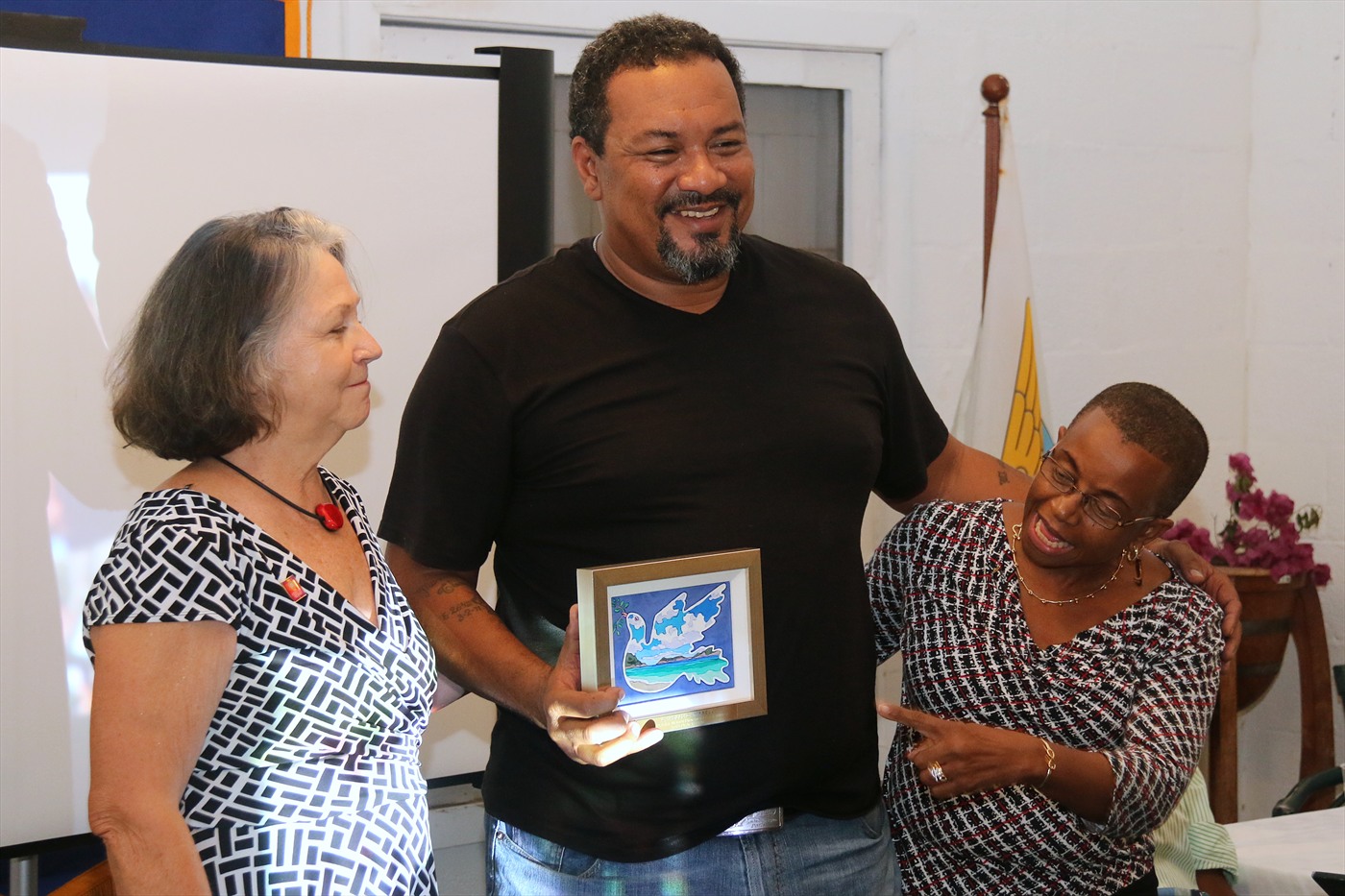 When LaVelle Campbell headed for the Rotary Club of St. Thomas East meeting on Wednesday, he thought he was only going to talk about gangs, guns and drugs. The gang expert did not know he was also getting an award for doing what he is most passionate about: educating the public on gang-related violence.
"I was shocked, amazed," said a surprised Campbell. "I'm one who tries to be behind the scenes until it's time for me to talk."
Campbell is the first recipient of the Rotary Practice Peace STAR Award. It recognizes Campbell's relentless campaign to expose gang activity on St. Thomas, giving the community the knowledge it needs to curb the offshoots: turf wars.
The Practice Peace Star Award was awarded by the Rotary Sunrise-led Practice Peace Initiative. Founded by LaVerne Ragster, former University of the Virgin Islands president, and Shaun Pennington, V.I. Source publisher, the initiative aims to reduce violence in the community by 75 percent by 2023.
Since 2013, Rotary Sunrise has invited community leaders to speak at club meetings about the effects of violence in their sphere of work. In February 2014, Practice Peace held the largest ever antiviolence summit in the territory, where hundreds of community leaders and stakeholders pledged to achieve the initiative's goal within 10 years.
The call for peace elicited community response. In October, Pop-Up Art curator Priscilla Hintz dedicated one of her shows to peace-building and called the exhibit "Defending Paradise." Acclaimed local artist Shansi Miller created three special pieces of art for the show, which she dedicated to the initiative.
Pennington and Ragster acquired the three pieces, each depicting doves surrounded by Virgin Islands scenery. They said they knew, along with Miller, the pieces had to be used for a peace-related award.
"We wanted it to go to someone who rarely is acknowledged for the work he or she is doing," said Ragster.
After canvassing Rotary U.S.V.I. North – a group of five clubs across St. Thomas and St. John – Pennington and Ragster decided the first award should go to Campbell.
Campbell has worked most of his life in law enforcement, holding positions in the private sector and the government, including the departments of Justice and Education. He served in Project Safe Neighborhoods, the V.I. Anti-Gang Committee, and is currently working with My Brother's Workshop.
In 2010, Campbell led the making of the documentary "Gangs in Paradise." Using interviews and hundreds of photos he himself accumulated, Campbell drove home the existence of gangs in the Virgin Islands. The documentary has since won five National Telly Awards and was screened in the 2010 Bahamas International Film Festival.
"Eradicating the scourge of violence stemming from turf battles, lust for material things and teenaged angst gone very bad is clearly his passion and his life's work," said Pennington, who has worked with Campbell on several projects, including Practice Peace.
"He has trusted relationships even with the people whose behavior he is trying to curb by spotlighting it," she added.
Campbell said his upbringing helps him relate to young people who get involved in gang activity. He and his three brothers were raised by a single mother and a grandmother.
"I can understand the broken home syndrome, if you would call it that, and why youths go that way," he said.
Now Campbell works in school security and deals with young people on a regular basis. On top of dealing with juvenile delinquency, he still keeps track of gang activity on the island, an effort that visibly pays off, according to Campbell.
"I have seen a change because we have educated the masses about what's going on," he said, referring to a reduction in graffiti and gangs signs, including bandanas and colors representing certain groups. He said the parents that he deals with are also more aware about the behavior of their youngsters that could indicate gang involvement.
All this work was not lost on Practice Peace organizers.
"He's out there working on turning this around all the time. He cares in a way few people do," said Pennington.
As for Campbell, he said the work is the reward itself.
"I know my heart is in it," he said. "I'm just about getting the quality of life of citizens in the Virgin Islands back to what it used to be."