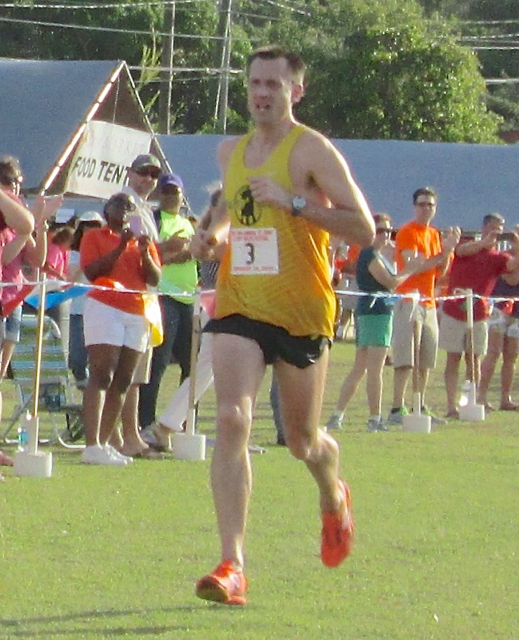 For the second year in a row, Jessica Rice, 39, of Needham, Mass., was the first woman across the finish at Saturday's 8 Tuff Miles race. A total of 1,046 people ran the course.
Rice clocked 57 minutes and 39 seconds when she crossed the line at Coral Bay Ballfield. She was a tad slower than her 2014 time, when she set a course record for women with a time of 56 minutes and three seconds.
"It was hard," she said of the 8.375 mile course from Cruz Bay to Coral Bay.
She said all the snow in the northeast cut into her ability to train outside so she took to a treadmill to get ready.
Ruth Ann David, 41, of St. Thomas, said she hasn't trained much but with a time of one hour and 19 seconds she was second across the finish line for the women.
"But the course is wonderful," she said, echoing the remarks of others.
Emily Eglehoff-Whalen, 23, a former St. John resident who now lives in Asheville, N.C., didn't train either, but she was the third woman to finish, with a time of one hour, six minutes and 22 seconds.
She said the cool weather made for a nice run.
"I surprised myself," she said.
The 2014 third-place finisher took top honors for the men this year. Paul Jones, 39, of Apex, N.C., had a time of 52 minutes and 34 seconds when he crossed the finish.
He said he trained by running in North Carolina's hills, but the course was still challenging. Jones said the hills at the top of the course were hard.
"But what gets you is the last half mile," he said.
Second place men's finisher, Shane DeGannes, 42, from St. Thomas, said he did a lot of speed work to prepare for the race.
When asked if the course was hard, he had a quick answer.
"It's eight tough miles," he said, just after crossing the finish with a time of 53 minutes and 28 seconds.
Javan Lapp, 27, of Asheville, was third for the men with a time of 53 minutes and 37 seconds.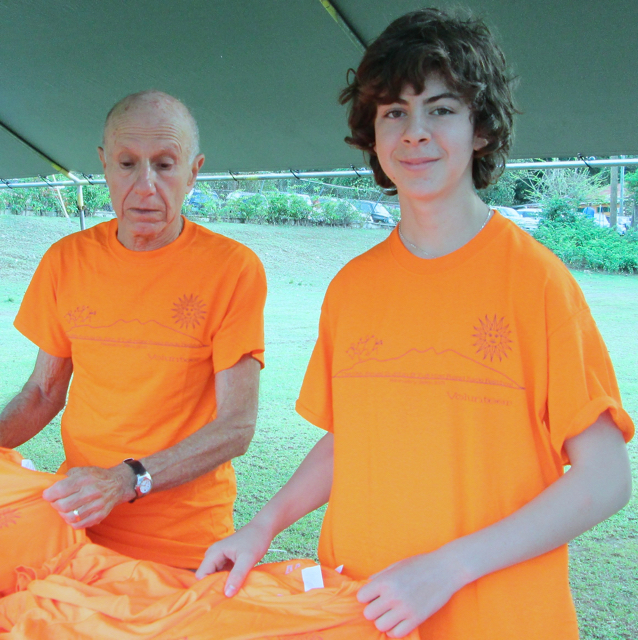 "The course was hot and the downhill was worse," he said.
The course record for men, a time of 45 minutes and 46 seconds set in 2013 by Dave Riddle of Cincinnati, still stands.
Knots of people gathered along the course to cheer on their friends, family and other participants. Slews gathered at the finish for the same purpose.
Donna Miller of Valdosta, Georgia, was on hand with her family to root for her sons, Richard Miller and Dutton Miller.
Don Dygert of Framingham, Mass. was at the finish to support his wife.
At Mamey Peak, a group of visitors who were staying in a nearby vacation villa stood along the road to cheer folks on.
"It's a great thing people get out and exercise and stay fit," said Richard May of Louisville, Ky.
This event runs on volunteers. Most are local or winter residents but Hyim Savel, 14, of Westminster, Vermont, was busy at the T-shirt table. While his father, Dan Savel, was running the event as part of their of St. John vacation, Hyim said he came to help so he could spend the day with his grandparents, winter residents Kent and Paula Savel. They also worked at the T-shirt table.
St. John Rescue was also on hand to help out if needed.
"People get hot and overheated," Rescue member John Fitzgerald said.
Jeff Miller, a member of the organizing committee, said after the race that St. John Rescue responded to a call for a woman who suffered heat exhaustion. He said a Rescue member who was running the course had emergency response supplies with him and helped out until Rescue's vehicle got there.
The event also brought out the Make a Wish Foundation of the Virgin Islands. Cheryl Rink said the organization set up their tent to bring awareness to the group's effort to fill wishes for children with life threatening diseases. She said the group currently has no children waiting for their wishes to be granted so she urged people to advise the group if they know of anyone.
Full results are available online at the race's website, www.8tuffmiles.com.