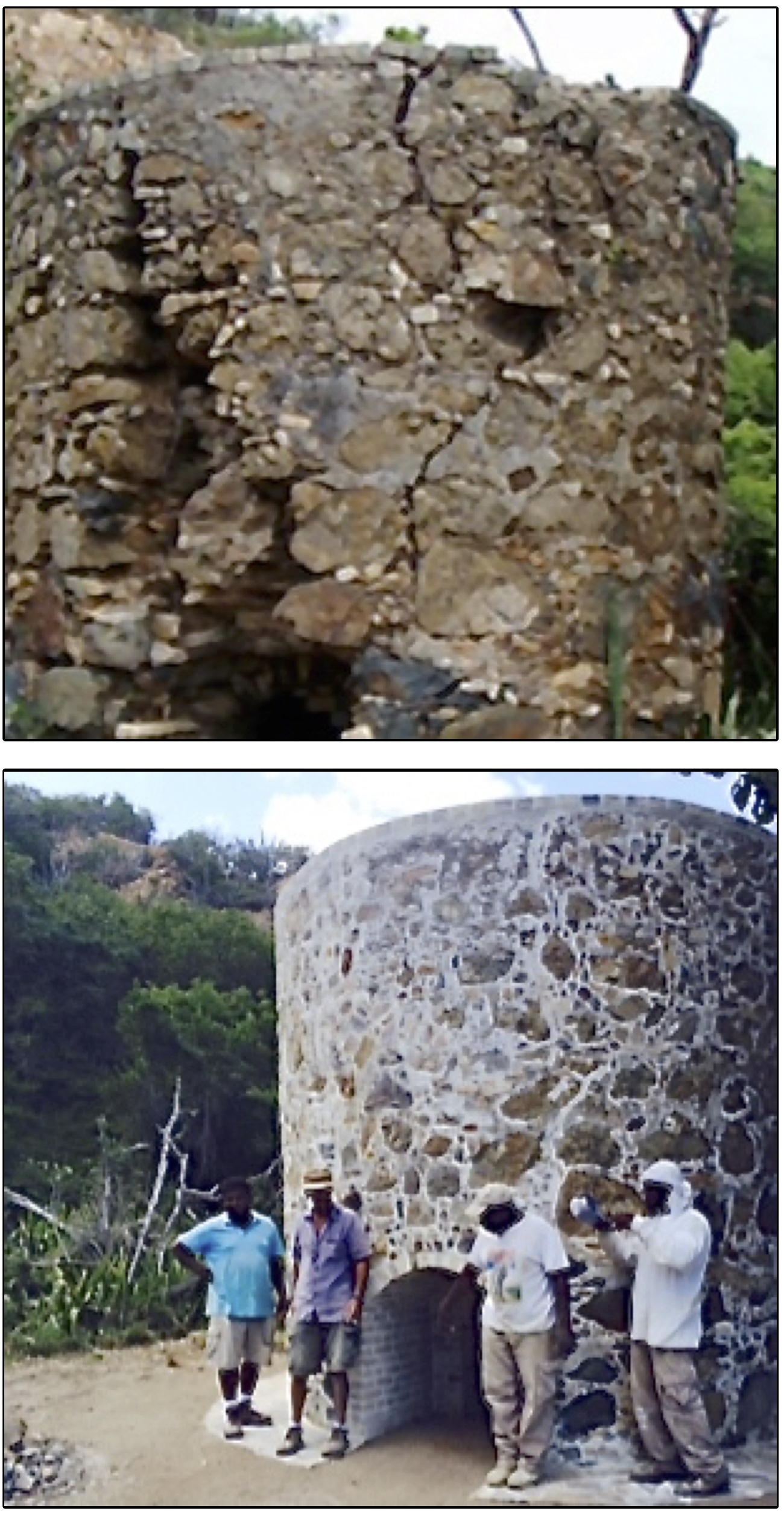 In little more than 12 weeks, the 19th century lime kiln on Hassel Island has been restored from an abandoned, crumbling structure to the island's newest cultural treasure.
The restoration was carried out through the St. Thomas Historical Trust via a $126,900 grant from the United States Department of the Interior, Office of Insular Affairs, with Charles Consolvo, Hassel Island Committee chairman, as project director.
Consolvo said the National Park Service was integrally involved with the project. Its senior archeologist, Ken Wild, supervised the excavations, which were conducted by Stone Masonry LLC staff.
Consolvo is clearly thrilled with the project.
"No question. It's the best project I've ever worked on," he said.
"We found the masons locally, on St. John," Consolvo said "They came highly recommended. They are the only qualified historic restoration stone group in the islands, and they finished in record time, less than three months, and under budget. They started in November last year and finished this month. It's a great job."
The restorers had their work cut out for them, undoing the ravages of time, Consolvo said.
"Any kind of earth tremor, would have collapsed the structure. In its long life, the lime kiln had been subjected to numerous destructive forces such as hurricanes, earthquakes, erosion, and plant growth. The restoration project was conducted by repointing the existing masonry, replacing loose and fallen wall segments, strengthening the top portion of the kiln, and laying a reinforced concrete and masonry footer to ensure the structure's long-term conservation," he said. "Now, it is a sterling example of restoration."
The island, one of the territory's key archeological treasures, finally got the attention it had so desperately needed in 2007. When the project began, the island was covered in massive overgrowth. Groups such as Friends of the National Park had started cleanups before, but lack of funding had generally cut the efforts short.
In 2007, a coalition – consisting of the National Park, Friends of the Park, St. Thomas Historical Trust, Ricardo Charaf, Office of the Governor, Community Foundation of the V.I., the Cassinelli family and Trudie and Neil Prior – with the necessary financial clout to make progress, got things moving.
First, Consolvo said, they removed almost 40 tons of garbage and overgrowth from the island.
The work has been a labor of love, not easy sledding. Work on the many historic sites continues. Now, trails have been opened to all the major historic sites, and tours are available.
Further information is available on the Historical Trust site.