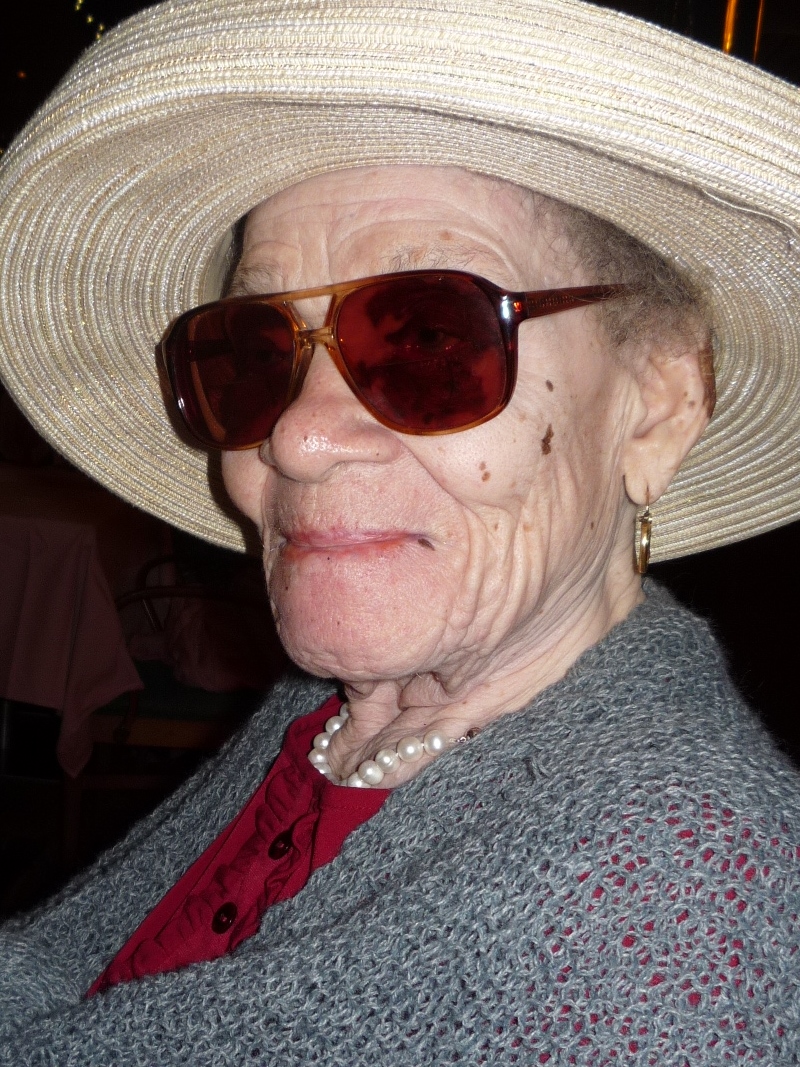 Louisa Monica Hilaire died on Saturday, Feb. 7, at the age of 102 years 7 months. Known as "Mama" or "Granny," she was born on Dominica on June 26, 1912. Her favorite greeting was "Right On." She enjoyed great health, and she will be remembered for her jovial spirit and her love of dancing.
She leaves to mourn her only child and daughter, Janice Joan Hilaire Popo; granddaughters: Dr. Onika Ayodele Popo-James and Alnesah Kamelah Popo-Febres; grandson: Khalil Oluwa Popo; great-granddaughters: Kennia N'Dira James, Kianya Ajia James and Oorja Saba Popo; great-grandsons: Eduardo 'Kito' Febres III and Enrique 'Rique' Febres; sister, Agnes Guiste; son-in-law, Ahmed Obatayae Popo; grandsons-in-law: Eduardo "Eddy" Febres and Arthur A'jey' James; nieces: Rhona Wells, Joyce Dupuis, Lee Ormonde, Patsy Bruney and Bimbla Felix; and nephews: Joseph Guiste, Rhonnie Shillingford, Clarence Ormonde, Fitzroy John and Alleyne Wells;
She is also survived by grandnieces: Eleanor, Leslie-Ann, Celia, Lisa, Alison and Megan Wells, Catherine and Chenize Morgan, Joycelyn Christian Hart, Alma Darroux, Karen Dupuis Defoe and Audrea Jackson; grandnephews: Derrick Ormonde , Caleb and Brandon Ormonde, Marcus Dupuis, Craig Dupuis and Desmond Bruney; and Cousins: Amanda James Harrison, Donnielle and Danita Harrison, Desiree Peters, Larry Kirnon, Ruthine Hill, the Egbert James family, Catherine James, the Frank Green family, Noline Bellot, Anthony Bellot, Daphne Hilaire and Selby-Ann Augustine.
Other surviors include friends: Merle and Brad Thomas, Verneta Seaton, the Gina Febres family, the Iris Dottin family, the Carrillo family, Kibwe and Zolie Belle, the David and Mary Popo family, Tony Gordon, John and Farida Aubain, the Lisa Pearl-Edwards family, Cecil George, Collins Joseph, the Dr. Natalie Johnson family, Dr. Albert Heath, Hilary Hamilton and AnnMarie Dusuzay; and special dance partners: Ade' Richards, Caleb Ormonde, Clarence Ormonde, Michael William, Randy Dupuis, A'jey James, Larry 'Binky' Kirnon, Egbert James and Ricky Morales.
Kudos to the staff of Continuum Hospice Care: Tammie Creque, Donna Guttersohn, Masica Hodge, Toni Gillman, Rick Mercer and Minister Rebecca McDonell. Kudos to Vernice Skeete and staff at the STRIVE Senior Center; special thanks to the Dominica Association.
The first viewing will be held at the Celestial Chapel at Hurley Funeral Home from 5-7 p.m. on Monday, Feb 23.
A Celebration of Life Service will be held at 9 a.m. on Tuesday, Feb. 24, at Holy Family Church, Anna's Retreat. There will be a second viewing held followed by a Mass at 10 a.m. Cremation will follow.
Ladies are asked to please wear bright colors or Madras outfits and head wraps. Men are asked to wear plaid or flowered shirts, vests and sashes.
In lieu of flowers, donations can be made to the American Cancer Society, St. Thomas.
Arrangements are under the direction of Hurley Funeral Home.