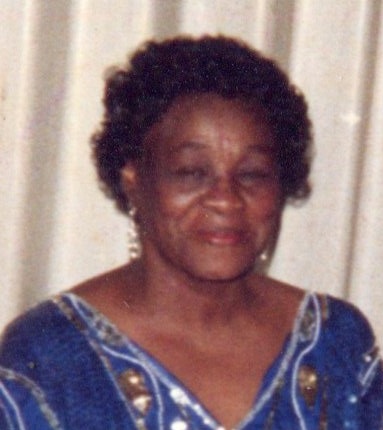 Elizabeth A. Vessup Stagger died on Jan. 17 at Schneider Regional Medical Center. She was 92 years old.
She was preceded in death by her children: Linda Stagger-Goodluck and Austin Stagger Jr.
She is survived by her children: Era Vicars, Alben "Albeon" Stagger, Ava Stagger and Carol Stagger; daughter-in-law, Olivia Stagger; grandchildren: Arthur Vicars Jr., Barbara Vicars, Gregory Vicars, Richard Vicars, Ronald Vicars, Audra Stagger, Sharodka Stagger Tofte, Kai Stagger, George Goodluck, Crystal Goodluck, Alanzo Stagger, Elizabeth "Liz" Stagger and Vincent Stagger; great-grandchildren: Timothy Best Vicars, Yazmin Vicars Sweedle, Sade Saeed-Vicars, Kyla Vicars, Shaya Vicars, Nia Reid-Vicars, Ronald Vicars Jr., Rachael Vicars, Rose Vicars, Alea Goodluck, Niyoki Vicars, Ryan Vicars, Miles Tofte, Jade Tofte and Randall Vicars.
She is also survived by great-great-grandchild, MiKyla Ingram; grandsons-in-law: Michael Tofte and Phillip Yearwood; longtime companion, Oswald "Roy" Young; brothers: Alfred Jackson, Ishmael Jackson and Mario Jackson; sister, Jane Johannes; sisters-in-law: Emelda Stagger-Harley, Eileen "Miss J" Jackson and Wilma Jackson; and nieces and nephews: Faithe Jackson, Ishmael Jackson Jr., Annette Jackson, Alfred Jackson Jr., Charles Elvis Jackson, Mario Jackson, Deveral Jackson Alfred, Joiel Jackson Woods, Alvin Newton, Darwin Newton, Leona Smith, Winston Smith, Juanita Johannes and Angel Joseph.
Other survivors include special friends: Una Abraham, Daisy Callwood, Emelda Nicholsen, Mrs. Williams, Medina Scatliffe, Mrs. Miller, Ina Stagger Lee and Julia; caretakers: Jean Quetel, Nabriska Pennyfeather, Dora Huggins, Berenice Rabsatt, Marvlin St. Jean, Sherilyn Richards, Debrah Fleming, Ann Henry and Muriel Adams; adopted daughters: Eleanor Garcia, Aloma Abbott Blake and Eleanor Terner Thompson; other family: Small-Davis Family Reunion, Vessup, Stout, Christian, Sewer, Testamark, Stagger, Matthias, Bastian, Harley, Benjamin and Roberts families; as well as many other relatives and friends too numerous to mention.
There will be a fist viewing held from 5-7 p.m. on Thursday, Feb. 19, at Celestial Chapel at Hurley Funeral Home. A second viewing will be held at 9 a.m. followed by a funeral service at 10 a.m. on Friday, Feb. 20, at Memorial Moravian Church. Interment will follow at Memorial Moravian Cemetery.
Funeral arrangements are under the direction of Hurley Funeral Home – 774-1464.