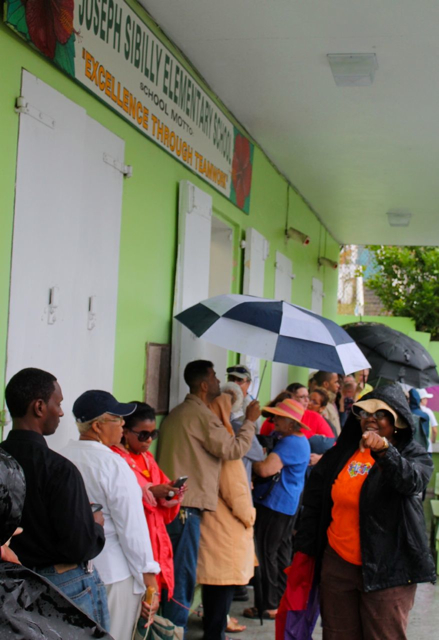 Some voters who tried to beat the storm by going to the polls early Saturday morning got caught in the weather anyway when a malfunctioning device at the Joseph Sibilly Elementary School site pushed back the opening of the polls by more than an hour.
Voter Francia Brin, who arrived sometime past 7 a.m. at Sibilly School, said she was met with news that "the machines were not working."
Iver Stridiron, executive director of the V.I. Legislature who also went to vote, said it was not so much the machines that were not working, but that "they did not have the materials."
"Shortly after I got here, I saw ballots being brought in," said Stridiron, who arrived at 7:15 a.m. "Maybe an hour later, I saw them bringing replacement equipment for the machines."
The delay frustrated many voters. Brin said she saw around 60 voters clustered by the door or standing to one side, but many started leaving the premises around 7:30 a.m.
"I would say approximately 30 to 40 people left," said Brin. "Some were saying they'll be back, and some said they won't be back."
Another voter, who refused to be identified, said the number of voters who left upon learning of the delay was closer to 60. Stridiron said he himself saw four voters leave, and only one came back.
At 8 a.m., a line of some 30 voters remained outside the door of the polling place, while others huddled under an adjacent shed. The line grew longer by the minute to a point where it had to loop once within the narrow corridor, causing some confusion on where the line began. At 8:20 a.m., a poll worker finally opened the doors to voters.
Once the polling place was opened, the process seemed efficient enough, with voters taking five to 10 minutes to vote from the moment they set foot inside the polling place. However, the earlier technical problems did not inspire confidence among some voters.
"They put in the newspapers that everything was working … and it should be an easy process," said voter Robert Ba-at. "Now I question the integrity of it because it wasn't working, now it's working, but what if we get another 60 people here wanting to vote and the machine is down again?"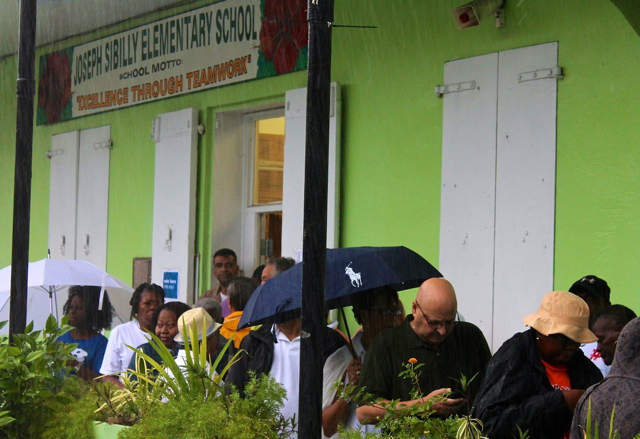 Election Supervisor Caroline Fawkes reported in a text message around 10:30 a.m. that the malfunction actually occurred in the Express Poll 5000 Poll Book, the electronic ledger that voters sign, not the DS200s tabulators that scan the ballots. There was "an error in the first screen," according to Fawkes, so the polling place resorted to having voters sign manually using old-fashioned ledgers.
Tropical Storm Bertha posed an added challenge, with heavy rains hitting St. Thomas around 8:30 a.m. The crowd waiting their turn in the corridors hugged the walls in a futile attempt to escape the buffeting winds and rain. Others waited in sheds or in their cars, taking advantage of short, intermittent periods of calm to rush closer to the polling place.
Some said they were not sure if they should even go to the polling places, with reports circulating Friday that the Board of Elections is considering postponing the primaries. St. Thomas-St. John District Board Chairman Arturo Watlington had indicated Friday that a final decision would be made around 3 a.m. Saturday.
At 6:28 a.m. Saturday morning, the Election System consulted with Attorney General Vincent Frazer and was "awaiting updates from VITEMA," according to Fawkes, who said he would provide an update at 7 a.m.
"It would be nice for the powers that be to tell us ahead of time, make that decision clear, whether it was going to happen or not," said Amber Knight, who had just finished voting. "Weather is definitely a factor. I hope it doesn't hinder people from coming out."
Ba-at said the responsible thing the Election System should have done was to postpone the event altogether.
"There are the elderly voters who are mostly not here because the weather affects their health. They can fall, they can slip, or catch pneumonia," said Ba-at.
Stridiron said he believes the Election System's decision was made "in good faith," saying they might not have been sure of the intensity of the storm, but added that if the weather got worse, there was going to be a problem with turnout.
"Normally, for a primary election where there are gubernatorial and congressional candidates, and a whole slew of Democratic candidates, you would expect to see a much, much larger turnout," he said.
"I think this weather system is going to have a profound effect on who comes out to vote and who goes beyond this process into the November elections."