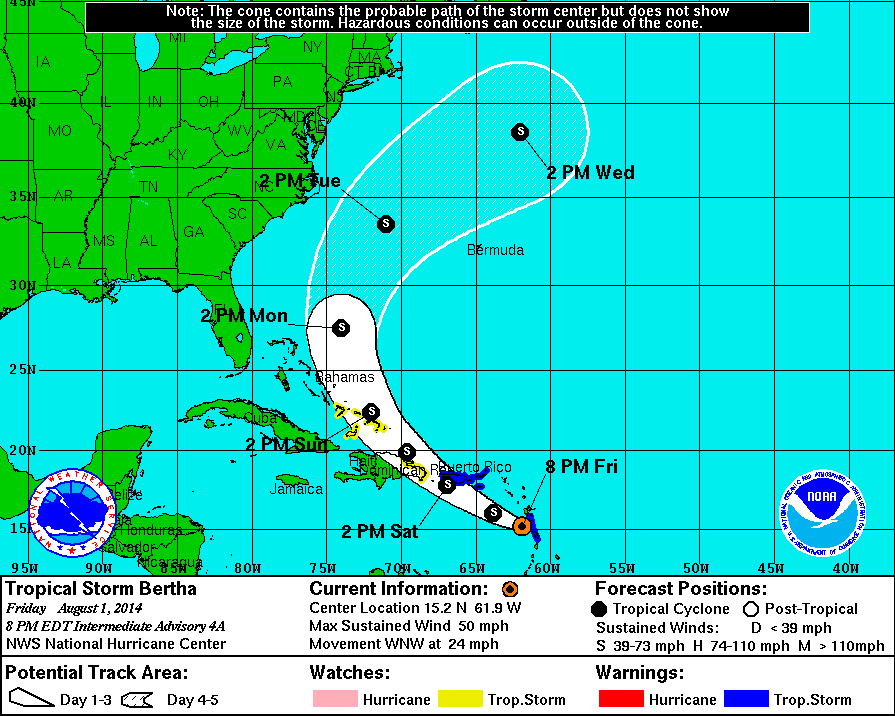 The territory remains under a tropical storm warning as Tropical Storm Bertha continues to head west-northwest at 24 mph.
Jose Alamo, a meteorologist at the National Weather Service in San Juan, said rain should start falling on St. Croix around 2 a.m. Saturday, with it arriving on St. Thomas and St. John a little later.
The storm's center is expected to pass 64 miles southwest of St. Croix at 8 a.m. Saturday. The center will be 100 miles from St. Thomas at 9 a.m. and 110 miles from St. John at 9 a.m.
Tropical storm force winds extend out 115 miles from the center.
Sustained winds are 50 mph. "You can expect up to that amount," Alamo said at 8 p.m. Friday.
All three islands can expect one to three inches of rain, with isolated areas receiving up to six inches, Alamo said.
The barometric pressure stands at 1007 millibars.
As of the 8 p.m. update from the National Hurricane Center, Bertha was centered at 15.2 degrees north longitude and 61.9 degrees west latitude. At 5 p.m., it was located about 310 miles southeast of St. Croix.
The V.I. Territorial Emergency Management Agency announced that U.S. Coast Guard will close the ports at midnight Friday. The ferries between St. Thomas and St. John will stop running at 10 p.m.
The Coast Guard will closely monitor storm conditions throughout the morning on Saturday and conduct port assessment in order to determine when it's safe to return to open port.
VITEMA also said the territory is not under a curfew.
As Friday progressed, various government agencies as well as some companies sent out advisories.
The Police Department advised residents to take care of their personal business as early as possible on Saturday. As the winds and rains intensify, road conditions in the islands can deteriorate causing hazards for the general public. It's best that residents remain indoors for their safety.
Residents should avoid areas prone to flooding and avoid driving through roads that are submerged under standing water. Additionally, residents should exercise extreme caution while swimming or partaking in other water related activities. During storms the waters surrounding the Virgin Islands can be extremely hazardous.
To report dangerous road conditions or other storm damage, residents are urged to call 911.
Gov. John deJongh Jr. sent out a press release with updates from government departments.
He said the Federal Emergency Management Agency sent a coordinating officer and an Incident Management Advance Team to the territory. Additionally, staff from the FEMA Caribbean Area Division will augment local efforts. Some FEMA officials will be deployed to both St. Croix and St. Thomas.
DeJongh indicated that the Public Works Department will make sandbags available. Gut clearing efforts was under way and emergency supply and work contracts are being reviewed. Staff is mobilized in both districts.
The V.I. Waste Management Authority has assessments under way or already completed of both solid waste sites and wastewater plants. Assets are being secured in anticipation of the tropical storm conditions.
The Property and Procurement Department is ready to provide drinking water and other supplies to the Human Services Department should the conditions require the opening of emergency shelters.
Human Services and American Red Cross are ready to provide emergency shelter if necessary as well as mass feeding operations.
The V.I. Water and Power Authority is readying power plants. Sufficient fuel is on hand and the potable water system is in good shape ahead of anticipated storm conditions.
The Bureau of Corrections suspended visits to Golden Grove Correctional Facility on Friday. The staff is likely to go on 12-hour or 16-hour shifts Friday night. The emergency operations plan is engaged.
V.I. Police Department canceled leave and officers began 12-hour shifts on Friday.
The Tourism Department indicated that approximately 5,000 visitors are on-island in both districts. Internal protocols are in place. There are no flight cancelations or disruptions as of Friday afternoon. Messaging is being prepared for distribution at the hotels, resorts and inns.
The Department of Sports, Parks and Recreation is securing facilities.
Commissioners and directors of the Bureau of Technology, departments of Finance, Justice and Health, Fire Services, Office of Management and Budget, Casino Control Commission, and Bureau of Internal Revenue all reported being in a state of readiness in both districts.
The Planning and Natural Resources Department anticipates negative environmental impacts will be caused by Tropical Storm Bertha. The department advised the public to refrain from using the waters throughout the territory until these effects subside.
Planning also advised parents to instruct their children to keep away beaches impacted from storm water as well as areas with manholes and storm-water flooding.
There may be an elevated health risk to anyone swimming in areas impacted by storm water as a result of increased concentrations of bacteria. Storm water runoff may also contain contaminants or pollutants harmful to human health.
Planning reminded residents with wind turbines installed on their property to lower their towers before the impending storm.
AT&T reminded residents to keep their cell phones charged at all times. In case of a power outage, have alternate means of charging your phone available, such as an extra battery, car charger or device-charging accessory.
Keep cell phones phone dry by storing them in a plastic bag or some other type of protective covering such as a water-resistant phone cover.
Program all of your emergency contact numbers and e-mail addresses into your mobile phone. Numbers should include the police department, fire station and hospital, as well as your family members.
Have a family communication plan in place. Designate someone out of the area as a central contact, and make certain that all family members know who to contact if they get separated.
Forward your home number to your cell phone number in the event of an evacuation. Because call forwarding is based out of the telephone central office, you will get incoming calls from your landline phone even if your local telephone service is disrupted at your home.
Camera phones provide assistance. If you have a camera phone, you can take, store and send photos — even video clips — of damaged property to your insurance company from your device.