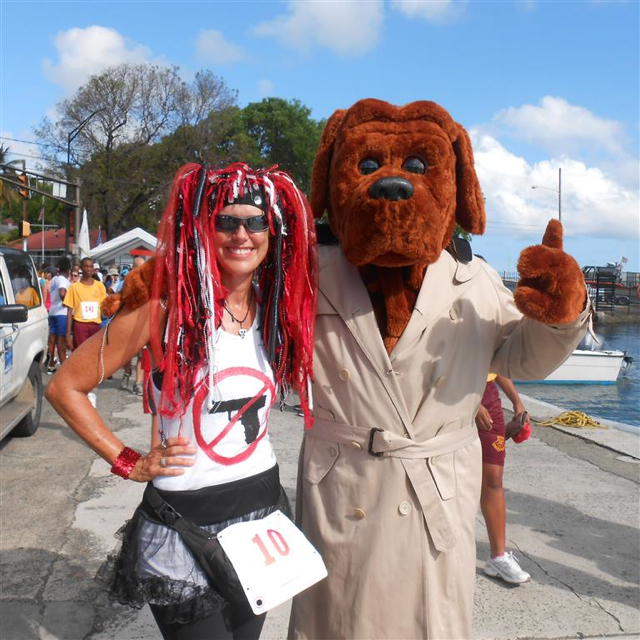 With pleas for peace from Celia Carroll and pastor Lenox Zamore and a full-throated blast on the shofar by Joel Gift, the11th Annual Walk/Run Against Violence set off at 4 p.m. Sunday along the Charlotte Amalie waterfront.
The run was preceded by the Addelita Cancryn Junior High School Dynamic Innovations Drumline, a spirited group that marched from the Legislature grounds to the waterfront, then directed their drumbeats to augment the beats of the runners on the two-mile course weaving through Frenchtown to Addelita Cancryn Junior High School and back, ending with a ceremony at Emancipation Garden.
The 320 participants ran to honor the memory of 18-year-old University of the Virgin Islands freshman Jason Carroll, who lost his life to gun violence 14 years ago on a nearby downtown street.
Jason was the son of Celia and James Carroll, who since their loss have the been the voice of the community in efforts to combat gun violence. Months after their son died, Celia Carroll started a chapter of Mothers Against Guns in the Virgin Islands, with James' full support.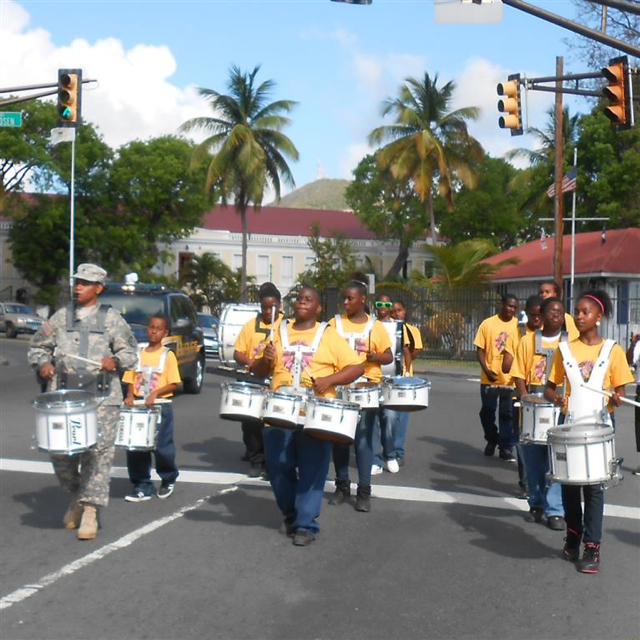 Celia and James Carroll together established the Jason Carroll Memorial Fund, which offers scholarships to high school seniors planning to attend the University of the Virgin Islands. Proceeds from the run and from sponsors help fund a first-year, full-tuition scholarship at UVI for a Virgin Islands high school senior.
This year saw more than a dozen first-timers entering the event, including Brenda Silvia, whose costume was arguably the most colorful of the day. Most folks opt for regular runner's garb, but Silvia upped the ante with a black and white tutu over her running shorts, and a novel twist to her T-shirt, topping off the outfit with red, black and white dreads.
Silvia, who occasionally is a fire dancer, said, "This is my first time in the race. I heard about it and I wanted to draw as much attention as I could, get some energy going. The gun issue is important to me. I have a 24-year old daughter in New York, and I worry."
Marine recruiting Sgt. Olivier Civil brought along eight local recruits, all smartly attired in black T-shirts and shorts.
"We are so happy to participate in this," Civil said. "It's an important thing to be part of, and we'll be back next year." Presumably with a new bunch of recruits.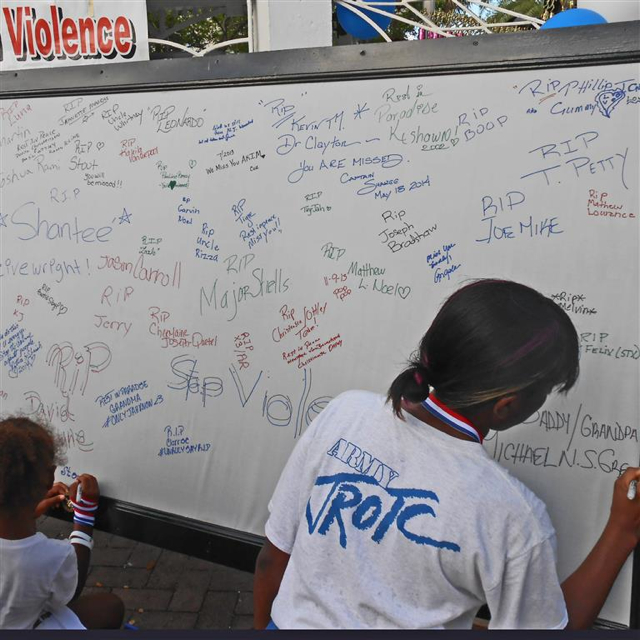 After the runners took off there were a few moments of relative quiet as veteran race director Therese Hodge and her crew set things up for the finish. That quiet broke into cheers as fans, friends and families greeted their returning heroes and heroines.
Shane DeGannes came in first at 10:44, followed by Michael Thomson one second later. Both collapsed into the arms of friends. That's a grueling ten something minutes on hot pavement under a late afternoon but relentless sun, with almost no breeze.
But DeGannes would have it no other way. Or almost. This win maintains his record, unbeaten on St. Thomas. The V.I. Montessori School and Peter Gruber International Academy runner who wins everything he enters, had to sit out last year owing to his five-year-old daughter's ballet recital.
"Mike won last year," DeGannes said later in the afternoon, "and I really wish him well, all the time. We train together. One of these days, though, he's going to get me."
Ruth Ann David finished first among the women runners in a time of 12:13.
The Emancipation Garden awards ceremony took a dramatic turn this year. Before calling all the youngsters in the audience to take the non-violence pledge as she does every year, Celia Carroll unfurled a very,very long printout on white paper, which, though folded in front of the gazebo, could have stretched to the rear of the garden. It was a list published on the V.I. Source listing every V.I. homicide victim Since 1999 with a known identity.
The audience was suddenly quiet, when looking at the printed evidence of loss stretched before them.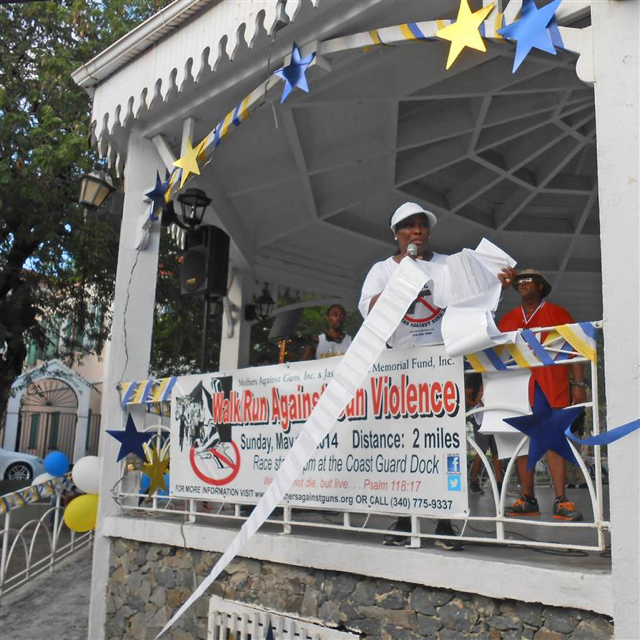 "This cannot continue to happen," Carroll said. "Repeat after me: 'I will never bring a gun to school; I will never use a gun to settle a dispute; I will use my influence with my friends to keep them from using guns to settle disputes. My individual choices and actions when multiplied by those of young people throughout this country, will make the world a safer place. Together, by honoring this pledge, I and other young people of society can reverse the gun violence, and make the world a safer place.'"
A memory board, constructed by My Brother's Workshop, of those killed by gun violence in the last year continued to grow in names and remembrances including: "Rest in Peace Grandma, only Jah know,' several for Shantee Seivewright, and one reading simply "KJ, RIP."
Charlotte Amalie High School student Kajani Gibbs, standing in front of the board, tapped a reporter on the arm. "I wrote that," he said. "He was my friend. He was 15-years old."
Celia Victor, administrator of Residential Services for Department of Human Services, prepared for the run all year. Panting after she crossed the finish line, she said, "It's important that lots of youngsters are here today. It shows they value one another and what can be done together."
Victor backed her remark with some grim statistics.
"Violence among youths is an important public health problem," she said. "Between 1985 and 1991, homicide rates among youths 15 to 19 years of age increased 154 percent and remain, today, at historically high levels."
Celia Carroll introduced this year's UVI scholarship winner, CAHS senior Jabari Alexander. A separate honor went to UVI student Sean Benjamin, allowing him to work with Mothers Against Guns initiatives as well as UVI anti-violence project.
Speaking later about the list his wife had unfurled of the 595 homicides, James Carroll said, "A visual impression is important. This is how high it really is. People don't really listen. This shows them. You don't know the effect this is having on all the kids."
The event is sponsored by Fintrac LLC, My Brothers Workshop, St. Thomas Radiology Associates, the 284 Connection, Sunrise Leadership Foundation, V.I. Department of Human Services, M2M, and the St. Thomas Association of Roadrunners.
Results of the 2014 Mothers Against Guns 2-Mile Walk/Run:
Overall male: Shane DeGannes, 10:44
Overall female: Ruth Ann Davis. 12:13
Oldest participant: Bill Delone, 67
Youngest participant: Kamar King, 15 months
Most participants from a single school: Charlotte Amalie High School ROTC and Ivana Eudora Kean High School ROTC
Most participants from an organization: Junior Firefighters and Fintrac
Age group winners
Males 6 and younger
1 – Kibwe Belle 21:14
2 – Malachi Webbe 22:27
3 – Sonny Gonzalez 25:35
Females 6 and younger
1 -Devin DeGannes 26:50
2- Ellis Weishart 38:09
Males 7 – 12
1 – Skyler Ansphere 14:38
2 – Tegan Kappel 14:39
3 – Leodanis Matos 15:33
Females 7 – 12
1 – Shaiah David 19:22
2 -Ava Jayne Parfitt 20:09
3 – Tinyah Noel
Males 13 – 15
1 – Eleury Rosario 13:33
2 – Jonathan Xavier 13:50
3 – Grant Farrell 14:33
Females 13 – 15
1 – Allison Bartsch 16:032
2 – P'Azhae Harrigan 18:54.2
3 – Sian Abraham 18:54.8
Males 16-19
1 – Ateniah Roacher 11:55
2 – Josinio Andrew 14:12
3 – Eddie Calderon 14:19
Females 16-19
1 – Aaliyah Carbon 21:10
2 – Raquel Joseph 22:52
3- Tameka Stapleton 23:50
Males 20 – 29
1 – Michael Thompson 10:42
2 – Jamal Carroll 15:18
3 – Maxence Jeanty 16:51
Females 20-29
1 – Diandra Capdeville 16:57
2- Alexandra Holder19:47
3- Stephanie Wessells 20:00
Males 30 – 39
1 – Tom Dahl 12:45
2 – Corby Parfitt 13:50
3 – Mike Riely 15:07
Females 30 – 39
1- Tiarra Kappel 15:21
2 – Christina Questel 17:06
2 – Almaria Maduro 18:22
Males 40 – 49
1 – Eddie Butcher 12:12
2- Brad Kappel 12:45
3 – Jason Budsan 14:37
Females 40 – 49
1- Ali Slimming 16:54
2- Lisa Weishart 17:44
3 -Monique Simon 18:27
Males 50 – 59
1 – Roy Rogers 16:04
2 – Kent Breckenidge 17:42
3 – Lennoy Zamore 20:48
Males 60 and over
1 – Jack Hullings 13:18
2 – Roi Simmonds 19:53
3 – Neville Gonsalves 22:07
Female 60 and over
1 – Gloria Sanes-Lindquist 17:53
2 – Kerri Richins 18:33
3 – Shaun Pennington 27:10