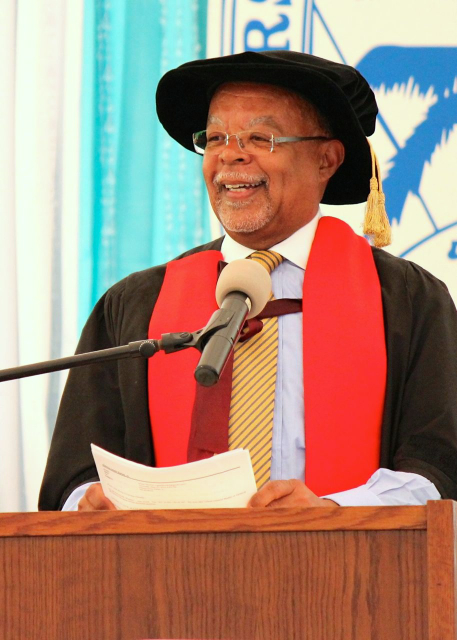 It was the closing of a chapter in their lives and the beginning another for University of the Virgin Islands graduates, who received their degrees Saturday and Sunday.
About 115 students took part in commencement ceremonies Sunday on UVI's campus on St. Croix; 207 degrees were conferred during Saturday's ceremony at the Sports and Fitness Center on St. Thomas.
Harvard professor Henry Louis Gates Jr. addressed the graduates at both commencement exercises. Gates is an award-winning filmmaker, literary scholar, journalist and historian.
"He is synonymous with academic excellence and achievement," said UVI President David Hall, enumerating Gates's many accomplishments, including receiving the 1981 MacArthur Foundation "Genius Award" and the 2008 Ralph Lowell Award, and making it to Time Magazine's 1997 list of the 25 most influential Americans.
Gates has created award-winning historical documentaries focused on the African American experience and enriched the study of African American history. It was therefore no surprise that he urged the graduates to appreciate history and heritage. He included a story about former slave Constantine Winfrey, who earned 80 acres of land from a plantation owner, and whose descendants include media mogul Oprah Winfrey.
"What I want you take away from my speech this afternoon is … you can't know where you're going until you know where you've been," said Gates. "You're ready to go where your dreams will take you because you have the strongest of foundations, and the tools with which to build them."
Gates was awarded an honorary degree by UVI – his 53rd honorary degree.
Two other recipients also received honorary degrees.
During the St. Thomas commencement, an honorary degree was awarded to Ron de Lugo, the Virgin Islands' first elected delegate to Congress, who, according to Hall, "devoted his professional life to improving the quality of the social, economic and political development of the U.S. Virgin Islands."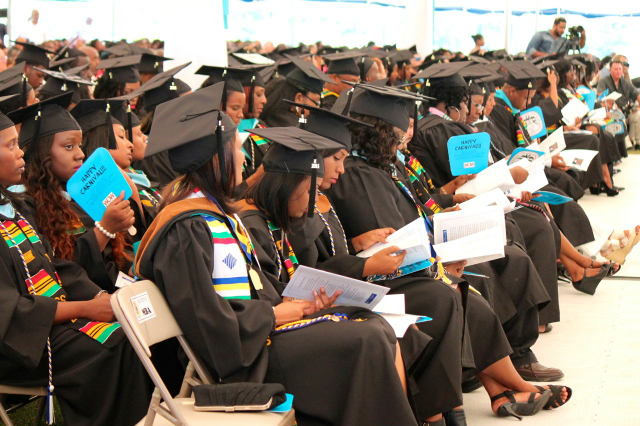 During Sunday's commencement on St. Croix, Crucian baseball legend and youth mentor Horace Clarke also received an honorary degree. Clarke, who was born and raised in Frederiksted, started nurturing his passion for baseball at a young age on the territory's baseball fields, eventually moving up to the big leagues as a regular second baseman for the New York Yankees from 1967 to 1973.
Clarke's honorary degree, according to Hall, was born not only out of his professional and athletic accomplishments, but the way he has mentored and contributed to the territory's youth.
UVI also awarded a posthumous nursing associate's degree to Natalie Fenton, who persisted in working toward that degree while fighting a battle with cancer, to which she finally succumbed April 18.
Following UVI tradition, the St. Croix class picked an acronym and called itself the "T.R.U.E." class of 2014 – talented, resilient and undeniably extraordinary.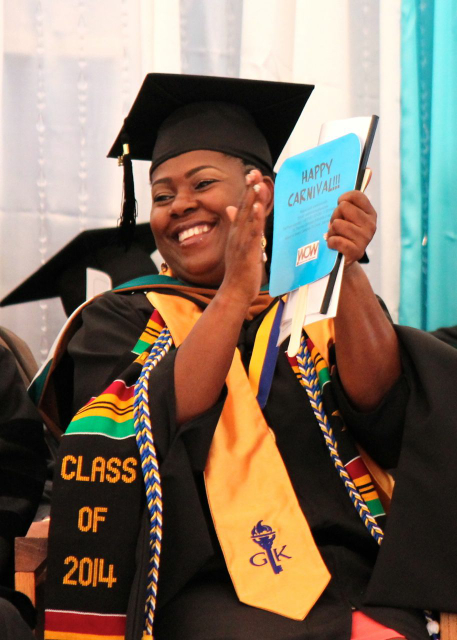 Allison De Gazon, the 2014 St. Croix class speaker, both rebuked and inspired both her fellow graduates and the gathered crowd of friends and family.
"UVI bred me for success … I took advantage of every open door that UVI had to offer," De Gazon said. Those open doors included her participation in UVI's Upward Bound program when she was in high school, her bachelor's degree, her experience as an exchange student through UVI's National Student Exchange program and, most recently, the $30,000 she won by taking first in the 2014 13D Entrepreneurship Competition.
De Gazon cautioned the class, however, against what she called "a serious issue that plagues us" – the issue of perception and perspective. Perception, she said, is "the way you think about someone or something," while perspective is "the way something is mentally viewed."
"We have to become more diligent in ensuring we have a positive perception of our experience at UVI and everything this institution offered us," explained De Gazon. "Then we have to be strategic as to positively affect the way others see us as graduates of UVI."
According to De Gazon, if UVI graduates are not happy with their job offers, or the way they are treated compared to those who graduate from the mainland, it could be because they did put much thought into perception and perspective.
"We represent the brand that Dr. Hall is selling to the world," said De Gazon. "We are all stars, so we must be that glimmer of excellence among the masses."
Hall was clearly pleased with De Gazon's speech, charging the 2014 graduates to "remember every word that your student speaker shared with you today because she captured the essence of what this university is all about."
Hall also charged the graduates to be dreamers and visionaries, to live up to the goals of UVI's strategic plan, and finally, to be happy in life.
De Gazon had strong ideas about how to achieve that final charge, which she shared with her fellow graduates.
"At the end of life, it doesn't matter how many degrees we've earned, how much money we've made, or how many material things we've amassed," she said. "What will matter is how many people we have served, how many people we have impacted and what our community has to say about out contributions, our affiliations, and our legacy."