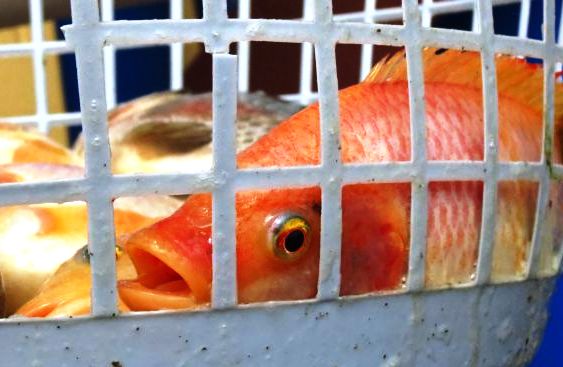 Ivanna Eudora Kean High School has won a 2014 EPA Environmental Quality Award honoring its tilapia aquaponics program, the V.I. Department of Education announced Wednesday.
The award notification came in a letter from the Environmental Protection Agency's Region 2 headquarters in New York City addressed to Kirk Lewis, chairman of the Kean's science project and the driving force behind the tilapia program.
The letter signed by regional administrator Judith Enck described the Environmental Quality Award as "the highest recognition presented to the public by the EPA," recognizing "those who have demonstrated an outstanding commitment to protecting and enhancing environmental quality and public health."
Kean's tilapia project is an aquaponics system in which the fish are raised in tanks; water from the tanks is circulated into a hydroponic system that uses nutrients from the fish waste to grow vegetables; and then the cleaned water is circulated back into the fish tanks.
Each year, the EPA's Region 2 honors individuals, businesses and organizations that have contributed significantly to improving the environment and protecting public health in New Jersey, New York, Puerto Rico and the U.S. Virgin Islands.
The EPA will honor this year's winners at a ceremony April 23 in the Region 2 headquarters in Manhattan. There will be a second ceremony May 12 in Puerto Rico.
Other winners from the Virgin Islands over the years have included Ridge to Reef Farms, St. John Recycling, the Virgin Islands Montessori School and International Academy, and the Biodiesel Project Group of the St. Croix Vocational Diesel Technology Program.
The EPA has not yet released other details of the contest, including other winners from the region.