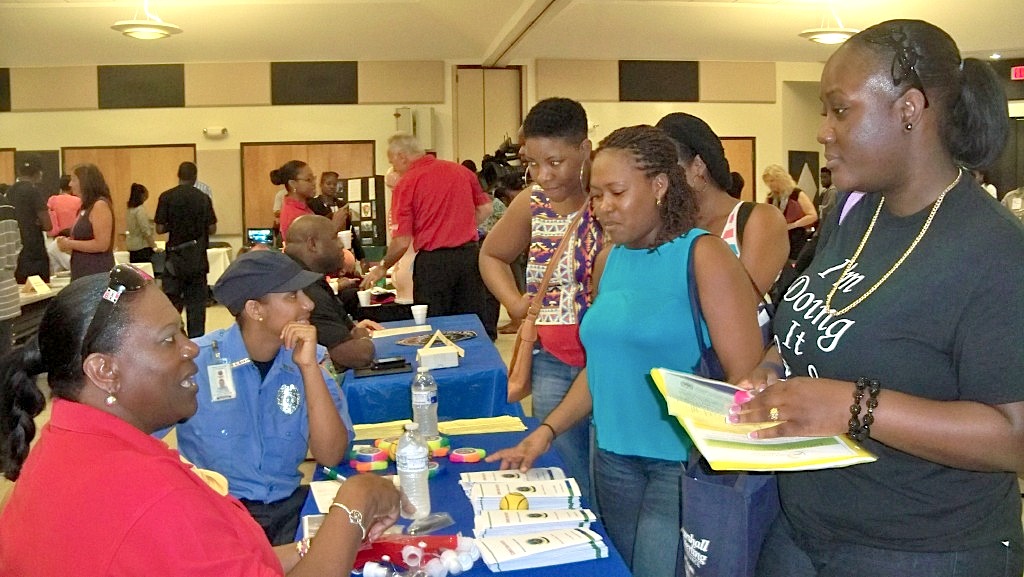 Job seekers, students and law enforcement professionals on Wednesday packed the Great Hall on the St. Croix Campus of the University of the Virgin Islands at the fourth annual Law Enforcement Career and Recruitment Fair. About 40 law enforcement agencies and local business were on hand to discuss career and job opportunities.
Attorney James L. Latham, the territory's district U.S. Department of Justice law enforcement coordinator, said the career fair is the perfect place for people to learn about the career opportunities in law enforcement.
"Law enforcement is a lot more than the cop on the street," Latham said. "The fair is to make people more aware of all the possibilities for employment and careers. It's a good outreach for exposure and to answer questions." He said the jobs making and keeping the islands safe give one a good feeling.
"Plan Your Future Today" was the fair's theme.
Janelle Royer, a freshman at UVI, said she was happy to see so many recruiters in one place. "I got a lot of good information on careers today," Royer said. "It made me think about all of the different possibilities in law."
A few agencies are hiring and some, such as the federal agencies, suggested attendees go to the their website to find employment opportunities.
Marsha Marcelle and Dwayne Richards, in human resources at the Virgin Islands Police Department, said they are always looking for police officers.
Corrections officer Sherryann Gilbert said the agency is hiring corrections officers that are young, strong and can pass certain tests.
Pamela Sanes, director of recruitment at Gov. Juan F. Luis Hospital said the health center has clinical and nonclinical employment opportunities. She added that volunteering at the hospital is a way for people to get their feet in the door.
Home Depot human resource manger Hermeian Leon said they are hiring cashiers and salesclerks, positions that can always advance through promotions. She continued to say they offer employees all sorts of benefits.
Carl Christensen, senior area manger of the Small Business Administration, was talking to young people about the importance of establishing and keeping good credit.
According to a news release about the event, law enforcement fields offer health insurance, retirement and career benefits. Careers in law enforcement encompass a range of jobs that typically welcome individuals with educational and professional backgrounds in criminology, criminal justice, intelligence gathering, political science, psychology, social work, information technology, engineering, as well as other liberal arts and science disciplines.
Participating federal and local law enforcement agencies included the Drug Enforcement Administration, Federal Bureau of Investigation, Internal Revenue Service, Virgin Islands Police Department, U. S. Coast Guard, Department of Planning and Natural Resources, Homeland Security Investigations/Immigration and Customs Enforcement, U. S. Postal Inspection Service Transportation Security Administration, V.I. Department of Justice, Bureau Of Corrections, V.I. Port Authority, Taxi Cab Commission, Superior Court, National Park Service, U.S. Marshal Service, U.S. Attorney's Office, Barry University and more. The V.I. Division of Personnel was also there to answer questions.