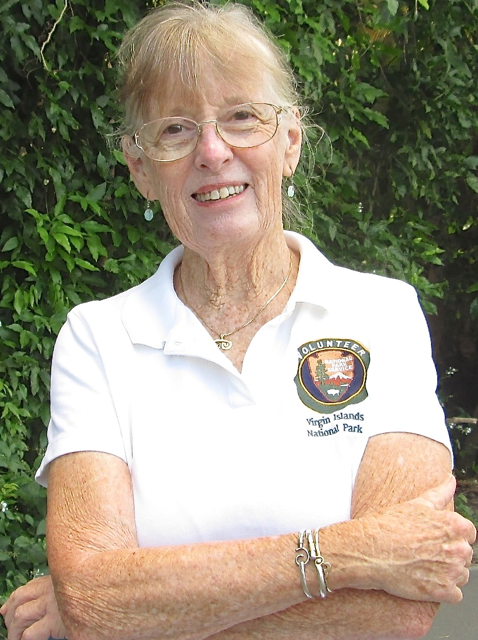 Winter-resident Pat Lodge was named V.I. National Park's volunteer of the year award last month at the Friends of the Park annual meeting last month, but she's also a keen volunteer for the park itself.
Mondays she volunteers as a docent for the Friends at Annaberg Plantation. Fridays she works in the Friends store, and Tuesdays she volunteering for the park at the Visitor Center.
"She brings a deep love of the park and its natural and cultural resources and she brings years of experience, which translates into exceptional service to our visitors," park Superintendent Brion FitzGerald said.
Lodge, 75, connected with park's and Friends' volunteer opportunities because she is an enthusiastic birder. She started filling in for park ranger Laurel Brannick on the park bird walks, and her efforts grew from there.
"It's nice to be recognized for volunteer work but even greater is the opportunity to give back to the national park and to the island I love," she said, sandwiching an interview between a morning walk with friends and her Monday stint at Annaberg.
Like many people on St. John, Lodge fell in love with St. John while on vacation. After her initial 1999 trip to the recently-closed Maho Bay Camps, she returned in 1999/2000 as one of Maho's four-hour workers, a volunteer job that provides room and board. She signed on full-time at Maho in the fall of 2000, working a year in housekeeping before becoming the activities director.
She left Maho in 2005, and she and her life partner, Dave Poole, moved to a rental house in Bordeaux. They still spend about five months a year at another house in Bordeaux, returning in the spring to North Carolina.
"I find it hard to leave the island. St. John feels like home," Lodge said.
However, she continues her volunteer endeavors in North Carolina, working all four days at the Merlefest, a popular country music festival with 120 different performers.
When she's not volunteering somewhere, she gardens at her North Carolina home and, in both locations, creates beautiful pottery that is starting to sell. While the sales are nice, she said she likes it even more that people thank her for enriching their lives with her pottery.
Lodge was born in Hartford, Conn., and grew up in nearby Bloomfield, where she graduated from Bloomfield High School. She went off to nearby University of Connecticut to get a bachelor's degree in physical education. She taught physical education in Litchfield, Conn., for two years, leading a group of 15 teenagers cross country by train and bike during the summer.
Marriage, a move to Royal Oak, Mich., and four children followed. Michael, 49, lives in London, Ontario, Canada and has three children. Daniel, 48, lives in Belleville, Mich., and has no children. Karen, 44, is on St. John and childless, and Andrew, 40, lives in West Orange, N.J. He has one child.
When her children were out of the house, Lodge went to work as a first-grade teacher in Detroit, a job she held for a dozen years until she retired in1999.
While working as a teacher, she spent the summer of 1993 biking across the United States with a group.
"I learned that anything I could set my mind to, I could do," said, discussing uphill climbs that lasted all morning.
She said that trip made her stronger physically and mentally.
She also bicycled throughout several eastern and western states as well as Canada.
Visiting Michael and his wife, Abby and children in Uzbekistan, where they worked as Christian missionaries, was an eye opener, Lodge said.
"It changed my outlook on life," she said.
She said that people living in the United States think that they are the most important people but when you step off the airplane in a place like Uzbekistan, where no one speaks English, she realized that just wasn't so.
"It made me think more globally and be open-minded to different people," she said.