Strange things happen in Felix Greaux's house. As he sat at his dining room table last week, talking with a reporter, a CD player on a nearby shelf suddenly began clicking, as if it had turned itself on and was rotating the mechanism that holds discs, looking for one to play. But no discs were loaded, and after a minute or two the machine stopped clicking.
This was nothing unusual, as it turns out. It happens pretty regularly, and the CD player isn't the only bit of alarming electronics in the home. A few years ago Greaux awoke at 4 a.m. to the sound of his TV blaring. He plucked up his courage and went to investigate. Nobody there. But the phenomenon happened again. And again. Eventually he moved the TV into his bedroom; the nightly phantoms ceased, and he and his wife could sleep again.
He has an explanation. His house, just below the pinnacle of Mountain Top, is situated between the airport below and a communications tower above, and seems to be on an aerial path between the two, where it might pick up electronic signals. Equipment in the direct line could be particularly susceptible.
Maybe, but here's another theory: Greaux's own kinetic energy can't be contained.
At 70, he's still one of the island's most active lottery dealers – though he says the days of his selling all day and well into the night are over. By the afternoon, he likes to be home, where he maintains a large garden devoted to ornamentals and vegetables and a menagerie that rivals a small zoo, and where he always has a home improvement project in the works.
He says he gets up every morning at six, but adds that's usually after he's been tossing and turning and "thinking about what to do next" while he waits for the day to start.
Born on St. Barth's in 1943, Greaux was just 17 when, like many of his countrymen, he emigrated from the French island to St. Thomas, looking for work.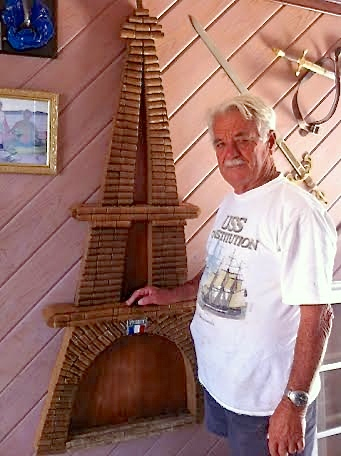 "When I come from St. Barth's, after my ticket was print, I had $5 in my pocket," he said. He had no close family on St. Thomas but did have some connections. "I had a job waiting for me."
He worked 55 hours a week in a Frenchtown grocery for $25, and he rented a place nearby. His enterprising landlady had acquired some of the giant wooden boxes that were used as shipping containers. She put two of them together, and – Voila! – a home.
A few years later, the young Greaux was working downtown selling hotdogs, when a group of tourists from Puerto Rico stopped in.
"It was a whole family of them, about 20, mom, grandma" – and one very pretty girl named Lillian.
"I blink my eye," he said. "She give me her address and a pack of matches." Luckily, he had a job that took him to Puerto Rico occasionally and he was able to court her. The couple has been married for 46 years.
They lived in Tutu, but in the late 70s Greaux began work on his home in the hills. He has no formal training, but has a knack for design and for hands-on handy work. He knew how he wanted the house to look and he had a pretty good idea of how to build it.
"I make a model and I bring it to the architect and he make the blue print," he said. Construction started in early '79 – with Greaux an active participant – and was complete the following November.
Well, complete, except that Greaux keeps thinking up things to add or alter, such as a decorative brick wall and an in-ground fountain in the front yard.
He still has some of the many plywood forms he crafted into molds for the 2,000 tiles that now line his sweeping driveway. He made the forms and tiles himself, though he did hire someone to lay them.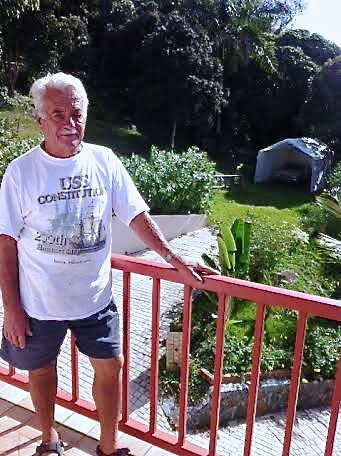 Why tile a driveway?
"It came to my mind, so I say, let's try something," he explains.
One of his creations has become a neighborhood icon, pointed out to tourists on safari buses as they ride up to Mountain Top. It's a replica of the Eiffel Tower about 20 feet high, installed on the front lawn.
He says a friend gave him a welding kit. He had no instruction in how to use it, but, he said with a shrug, "Things just happen to me, just like that" so he taught himself how to weld and his project was the Eiffel Tower.
Inside the house, hanging on the wall, there's another version of the French landmark, this one made of wine corks. His material was strictly Beaujolais Village, he said, adding, deadpan, that it took a long time to make because he had to drink the wine first.
Not far from the cork tower, a set of miniature folk art figurines are pinned to the wall. Those, Greaux said, he made out of sawdust and glue, then painted them.
One of his more practical projects was the installation of solar panels, which was handled by professionals. That was prompted by a $950 light bill from the Water and Power Authority (including a rental apartment in the house) and now, he said, some months "WAPA have to give me a credit."
The panels require little maintenance – unless someone shoots a hole in one. Last month, shortly after New Year's Eve and the dangerous celebratory gunfire that accompanied it, the solar company discovered a hole in one panel, he said.
"We find the bullet in the solar panel and the police went with it," he said.
If he had to replace the panel, it would cost him $600 or $700, but the immediate fix was duct tape and he's hoping that will last.
The back of the property is devoted to plants and animals.
To protect his garden from munching iguanas, Greaux enclosed it with fencing and galvanized metal sheeting to keep the reptiles from climbing in, and also trimmed overhanging limbs so they can't drop down into it from a nearby tree. He grows peas, squash, pumpkin, bananas and a little bit of everything. Much of his produce ends up in the soup pot that he likes to keep simmering.
Meanwhile, he has motley collection of wild "pets." He has a particular fondness for birds, and over the years has raised geese, peacocks, ducks and chickens. Current residents include parrots, island doves, diamond doves, parakeets, cockatoos, love birds and a macaw.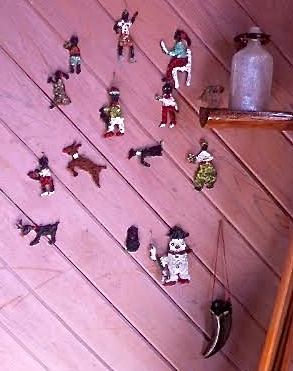 He said he's given up on the goats and rabbits he used to keep because they were susceptible to disease. But he has about 30 land turtles that roam across a wide swath of land. He has to watch them carefully, finding new laid eggs before rats do and putting them in protective cages until they hatch and develop shells hard enough to withstand attack.
The Greaux's had two children, a beloved son who died as a young man, and a daughter who lives next door. They also have two grandsons.
"They drive me crazy, but I love them," Greaux said.
When the older boy was little, he couldn't say "Grandpa" so Greaux became "Apa." When the second boy arrived, he picked up the nickname from his big brother.
"He's a real little man," Greaux said. "He likes to walk" and to follow Apa and to help with the project de jour. He's only nine, but, his grandfather says with obvious pride, recently he carried 20 bags of mulch from the road up the steep hill to the house, making trip after trip.
Some of Greaux's siblings followed him to St. Thomas, but he still has a brother on St. Barth's. He said he doesn't get back there often because he doesn't like to fly.
Things have changed, of course. When he left his native island, "The economy up there was bad, but now it's gone crazy." It doesn't tempt him to return, however.
"I spent three-fourths of my life in St. Thomas, so why I should change it now?" he asked.
Besides, he's got to finish putting in a new window in the new wall he just built at the house.