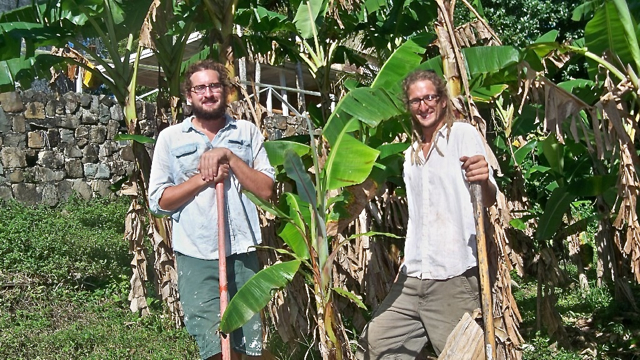 An enterprise might be successful because the right people come to the right place at the right time. That appears to have happened when Bush Tribe Eco Adventures met Discovery Grove.
In 2007, Ann Watchmeister, a public defender in Boston, bought Discovery Grove, an 18th century sugar cane plantation on 12 acres of pristine rain forest in Estate Canaan. Her idea was to help youngsters.
Bush Tribe was formed by friends Ty McRae and Adrian Rogers a little more than three years ago, with the idea of providing private customized eco adventures to young and old. The adventures include kayaking in mangrove bays, hiking mountain trails, snorkeling reefs, and collecting bugs.
The guys from Bush Tribe conducted a few eco tours for Watchmeister and children staying at Discovery Grove. McRae said Watchmeister was very pleased with the tours and the way they related to children.
So in 2010, Bush Tribe and Discovery Grove joined forces, describing the new entity as an experiential learning camp retreat and eco-retreat.
"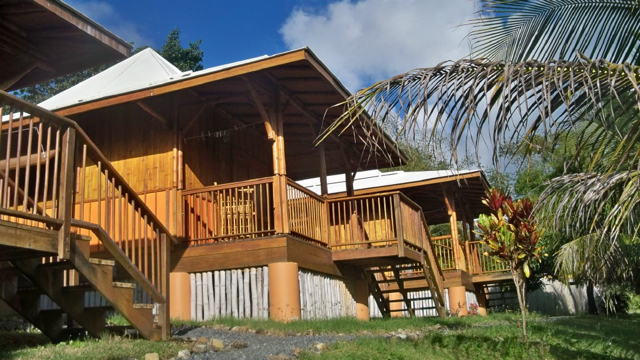 We have the same vision and we enhance each other," McRae said about the connection. "Watchmeister and Bush Tribe both have positivity and the same goals. Our goal is for visitors to have great experiences and share the beautiful aspects of the island."
McRae, 28 years-old, and his 24-year-old brother Travis, both work at Discovery Grove and Bush Tribe. They have the same bubbly personality, which relates well with youngsters, making learning fun. When they tell stories of pirates on night kayaking trips they seem to have a bit of childish wonder still inside themselves.
Ty McRae said he really loves kids and loves sharing what he knows with them, so working with them is a perfect fit.
He said he has done extensive research on the history, culture and the environment on St. Croix. He said he gets information from folks like Veronica Gordon, a well known local storyteller and bush lady.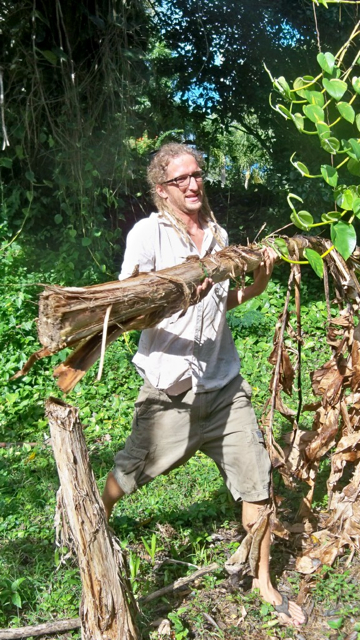 "I get into something and just do it and learn everything I can," Ty McRae said.
Ty McRae, a farm-boy from Idaho with a bachelors degree in environmental science from the University of Idaho, traveled to St. Croix in 2007 and fell in love with the island. A Jack-of-all-trades, he said since he was raised on a farm he learned a lot about carpentry, welding, plumbing, and mechanics.
With those skills he has been able to take on the job of caretaker at Discovery Grove.
Ty McRae lives on the grounds with his wife, Heather Weiler, and son Orion. He said he and Travis are doing all sorts of building projects, maintenance, repairs and upkeep of the huge orchard, buildings and grounds. He said they would like to eventually make Discovery Grove self sustaining, so he and Travis are planting fruit trees and gardening.
With four bamboo cottages, dormitory buildings, common kitchen and shared bathrooms, Discovery Grove is a setting for eco adventures and educational classes.
A couple of weeks ago, 15 Danish students stayed at the camp for a month. The camp can accommodate about 30 guests. McRae said the summer months are the busiest at Discovery Grove.
McRae, said he wants to reach out to local groups and would like to do more with local school children. He said they have taken St. Croix Educational Complex students on kayaking trips that include everyone cleaning the beach.
"We want folks to have the most memorable and fun experiences of their life while on St. Croix," McRae said.
McRae said people can book custom built, intimate and small private hiking, snorkeling and kayak trips by calling 1-340-277-2503 or 1-208-340-1246. They can also send him email at tymcraety@gmail.com. More information about Discovery Grove is available by calling McRae at 1-208-340-1246.