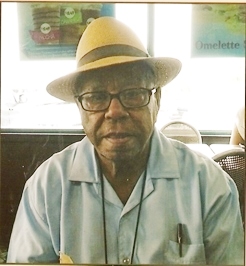 The family of the late Basilio Félix-Rodriguez, also known as "Don Ba," is saddened to announce his passing on Dec. 29 in Puerto Rico. He resided at 10X Work & Rest, Christiansted, St. Croix.
He was preceded in death by his wife, Carmen M. Felix; and his son, Basilio Felix Jr.
He is survived by his daughter, Carmen N. Félix de Osorio; sons: Anastacio "Tato" Félix, José Antonio "Papo" Félix, Rafael B. Félix and Aquiles Félix; grandchildren: Alexandra Osorio Félix, Lixandra Osorio Félix, Kedir Félix, Tahinee M. Félix, José "Joey" Félix, Maribel Félix, Karolyn Félix, Ana María Félix, María del Carmen Félix, Aquila Félix, Shaquon Félix, Krystal Félix, Kareem Félix and Achille Félix; and sister, Carmen Félix.
He is also survived by son-in-law, Aureo Osorio; daughters-in-law: María Socorro Marín Félix, Rosita Garcia-Félix and Beverly Félix; and nephews and nieces: Rogelio "Rogie," Tito, Marcelito, Cristobal "Machin," Gladys, Corporina, Paulina "Guina," Ursulina, Juanita, Shirley "Shelin," Irma, Tin, Eugenia, Adelina, Petrin, Raquel, Nico, Jorge, Ruben, Anita, Jose Manuel "Ché," Juan Félix, Epifanio Félix Jr., Tita, Lucy, Provi, Eloisa, Koko, May, Norvin, Carlito Encarnación, Gloryví, Marie and Becky.
Other survivors include special friends: members of ARMAPAVIE group, Ana Matilde Coto, Carmen Yulin, Benita Solis, Richard Schrader, Honorable Lt. Gov. Gregory Francis, George Ebbesen, Luis Alicea, Garcia family, Manuel Centeno, Pedro de León, Dr. Charles Perez, Vera Falu, Lucy Rodriguez, Ecarnación family and Dr. Vilma Colón; as well as nephews, nieces, cousins, godchildren, and other relatives and friends too numerous to mention.
A funeral service will take place on Thursday, Jan. 9, at Holy Cross Catholic Church. Tributes will begin at 9:30 a.m. and the service at 10:30 a.m. Interment will follow at Kingshill Cemetery.
All arrangements are by James Memorial Funeral Home Inc.