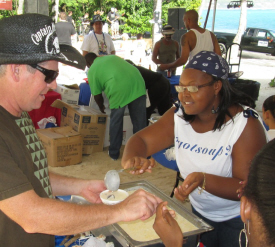 St. Croix's sophisticate set sipped soup seaside Sunday for the Fifth Annual Soup Du Cure contest at Divi Carina Bay Resort, handing Fiona "Mocha Gyul" Stokes, Gwen Steele and the "Mocha's Kitchen" crew the $1,000 top prize for her seafood chowder.
Stokes and crew bested more than 18 entries, including everything from Ukrainian-style borscht to a pureed yellow squash soup with spinach and ground pecans.
The annual competition helps raise money for the Caribbean Education Initiative, a non-profit charity founded and largely funded by perennial NBA All-Star Tim Duncan, a power forward with the San Antonio Spurs, graduate of Wake Forest University and a St. Croix native.
The Mocha's Kitchen crew came prepared, bedecked in matching "#gotsoup?" T-shirts and decorating their table with seashells, toy fish and toy sailboats to create a nautical theme. And their seafood elixir's savory creaminess showed their care and dedication extended to more than appearances.
"We're here because the CEI is such a great organization so we want to support them, and support the youth," said Steele.
Second place and $500 went to Merline Lang and her red pea soup, which had just a hint of sweetness and some delicious dumplings in it. Lang entered several soups, including kallaloo, goat water and fish soup, and has entered and won before.
"Last year she won first place with her kallaloo and tied for second place," said Caribbean Education Initiative Vice President Rashidi Clenance, who emceed the contest.
The Greenside Grille at Carambola Golf Club's Chef George Sittig took third and $250, for his andouille sausage, crab and shrimp gumbo.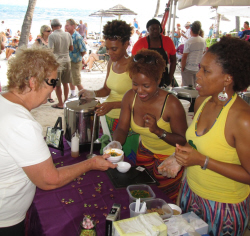 While a panel of judges sampled the soups and picked the top winners, patrons bought $2 soup tickets, using them for whichever soups they wanted. Dean "Ricky" Andrews, with "Ricky D's Licious Eats," won the "People's Choice" award and $250 for having more patrons choose his soup over any other.
"I've got various local seafood: some fish, a little octopus, some scallops and more, with a little roux and cream," Andrews said.
"This is my first time, but I like what Rashidi does in the community, helping the schools. I went to school here and I live here so I like to see that. And cooking is a hobby of mine," he said.
The other winners were:
Exotic category: Verdel Petersen with a seven-seafood chowder with tomato, corn and more;
Fish soup: Bernadette Benjamin
Chicken soup: Restaurant Salud;
Goat Water: Bernadette Benjamin;
Corn soup; The Lezama family;
Vegetarian soup: Kim Jones and Pirate's Tavern;
Bullfoot soup: Bernadette Benjamin.