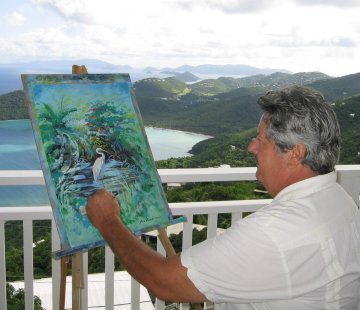 David Eugene Francke, master potter and artist, died in his St. Thomas residence on Sunday, Dec. 1.
David was born in Ann Arbor, Michigan, on May 22, 1945, to parents Donald and Maxine Francke. He lived his life as a true artist with all the challenges and accomplishments that path presented. He lived every day to the fullest. Every day was magical to him.
David studied pottery under master potter Teruo Hara at the Corcoran School of Art in Washington, D.C. In 1970, he and his wife, Rosemarie, opened their first pottery studio in an old stone farm house in rural Virginia. His work was displayed at the Smithsonian Institute for over a decade and was the subject of the first film on pottery making techniques entitled From "Clay to Kiln."
In 1983, he moved to St. Thomas to be closer to his two sons, Dewey and Moby. He quickly fell in love with the island's natural beauty and rich culture, and he began creating unique Caribbean-themed pottery and art work.
For 30 prolific years David never strayed from his artistic path, creating beautiful pieces of pottery and paintings that richly illustrated his love for the island and its people. In his later years, he was frequently seen painting on location at his favorite spots including French Town, Hull Bay and the East End. David's paintings and pottery can be found in numerous homes and businesses throughout the territory, and he recently completed a mural project at Coral World Marine Park.
David is survived by his two sons: Moby and Justin "Dewey" Francke; two grandsons: Grayson and Griffin Francke; former wives: Rosemarie Francke and Celesa "CJ" Lucien; sisters: Michel Herstam and Stephanie Reinhard; brother, Jon Hafey-Francke; and special friends: Peter Church and Susan Wolterbeek. He will be greatly missed by family and his many friends.
A casual memorial celebration will be held from 3-5 p.m. on Saturday, Dec. 7, at French Town Deli. Those attending are asked to bring any photos, paintings or pottery pieces they would like to share in memory of David.