A regular Source feature, Undercurrents explores issues, ideas and events as they develop beneath the surface in the Virgin Islands community.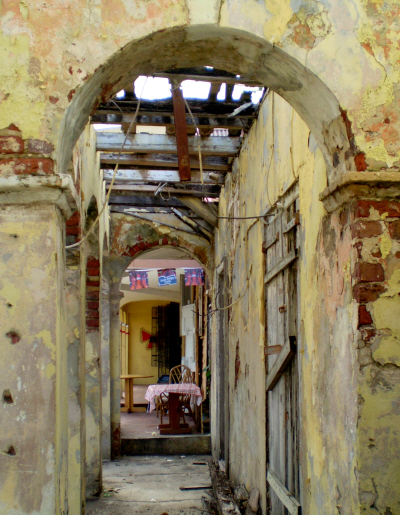 The move to mandate rehabilitation of the territory's derelict properties is getting almost as old as some of the shaky structures. But like the buildings, the idea just won't go away.
Still, hopes that the third time's the charm are beginning to dim. Proposed legislation that died twice before in committee has yet to be reintroduced for consideration by senators of the 30th Legislature. It has been languishing, purportedly awaiting redrafting, since the new Legislature was sworn in last January.
"I'm a little bit concerned because it's been so long in the markup," Sen. Sammuel Sanes said Friday. He added that he was ready to vote for it in the 29th Legislature, when it was proposed by former Sen. Louis Hill.
Sanes said he will co-sponsor the proposal in the 30th Legislature and in fact wanted to be the primary sponsor but was pre-empted by Sen. Myron Jackson.
Attempts Friday and Monday to reach Jackson for comment were unsuccessful.
The proposal establishes incentives for fixing up old properties and penalties for failing to do so. Some critics charged that the version discussed previously was weighted too heavily towards penalties.
Penalties would be controlled by the Department of Planning and Natural Resources' V.I. Historic Preservation Commission. The bill charged the commission with inspecting historic properties and gives it the authority to impose fines of up to $300 a day for derelict residential properties and up to $1,000 a day for derelict commercial properties.
On the incentive side, the proposal as discussed last year called for property tax exemptions for those who invest substantially in renovation. The owner of an owner-occupied residence who invests at least $5,000 would receive a 10-year exemption or an exemption of up to $5,000, whichever was less. For income-producing properties, the cap would be 50 percent of the investment. At the high end of the scale, an owner investing a minimum of $500,000 in his property would be entitled to a 25-year property tax exemption.
The bill also provides for DPNR to give advice and grant money to property owners to help them renovate, although it makes no appropriation of funds for that purpose. It also contains provisions allowing for the demolition of run-down historic properties when owners can demonstrate that they can't afford to rehabilitate them.
A survey conducted through the University of the Virgin Islands and paid for by the V.I. Territorial Association of Realtors found 224 buildings in the territory's three largest cities were so dilapidated that they are uninhabitable in their present condition. The numbers broke down to 112 in Charlotte Amalie, 159 in Christiansted and 35 Frederiksted.
"We've had people murdered in these buildings," said St. Thomas Realtor April Newland. "We've had fire in these buildings."
Not only are they eyesores that devalue neighboring properties and the community as a whole, they are dangerous and attract crime.
Newland has been at the forefront of the push for the legislation and said last week that she's not giving up but that she is getting frustrated. "It just takes so long to get anything done."
St. Thomas attorney David Bornn, head of Downtown Revitalization Inc. and a critic of the bill as drafted the last time around, said last week that he is helping with a new version.
"An updated revision to the Preservation Act is in process and we are seeking the input of all interested stakeholders in the private and public sector," Bornn said.
Those include the government entities of DPNR, the State Historic Preservation Officer, the Historic Commission, the Enterprise Zone Commission, the Department of Property and Procurement, Fire Services, and the Housing Finance Authority, as well as such private sector organizations as the St. Thomas Historical Trust, DRI, the Hotel and Tourism Association, the Chambers of Commerce, VITAR, Garden Street Longpath, Downstreet People's Association, We from Upstreet, the St. Croix Community Foundation, and churches located in town districts. And there may be more, Bornn said.
He estimated a new, perfected draft could be ready in about three months.
"How many go-rounds are we going to have?" Newland asked. The Legislature took extensive testimony – both verbal and written – from a number of stakeholders last year.
"I know what the objections are," she said.
Sensitive to charges that the move is some sort of land grab by real estate agents, Newland said, "We don't have any hidden agenda." Many of the property owners who have allowed their places to fall into ruin are "well-heeled" and financially capable of keeping them up, she said – they just aren't going to bother to do it unless they have to.
The VI TAR report was spearheaded by Wanda Mills-Bocachica, AIA, former director of DPNR; and Stevie Henry, data manager for UVI's Eastern Caribbean Center, who oversaw the field work. The report is available at www.preservevi.org.