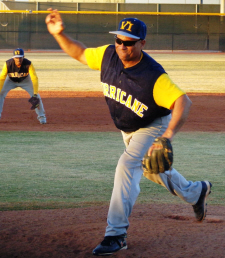 The Virgin Islands 45 Plus Hurricanes shocked the 2013 Men's Senior Baseball League World Series playoffs in Mesa, Ariz., when they swept two of the tournament's elite teams on the strength of 17 strong innings of pitching by Tony "El Guante" Cruz.
Hurricanes 6, Dragons 2
In yet another must-win game for the Hurricanes, Cruz relieved an ailing Gilberto Belardo in the third inning with his team trailing 2-0. He went on to frustrate and demoralize one of the strongest hitting teams in the tournament, blanking them the rest of the way.
Meanwhile, the offense got going in the top of the third when Stevie Parris singled to bring home Eustace Davis, who had earlier doubled, to cut the lead in half at 2-1.
The 'Canes then tied the score in the top of the sixth when Parris again drove in Davis with an RBI single.
The score would stay that way until the top of the seventh when the islanders erupted for four runs to take the lead for good. Cruz Soto and Warren Brooks delivered RBI singles and Davis doubled home two more runs for the final score of 6-2.
Top batters for the Hurricanes were Parris, 2 for 3 with two RBI, Davis 3 for 3 with two RBIs, Brooks, 2 for 3 with one RBI, and "El Guante" Cruz was 2 for 4.
Hurricanes 18, Thunder 4
In probably one of the biggest shockers of the tournament to date, the Hurricanes blew away the powerful 6-0 Colorado Springs Thunder, 18-4.
It was Cruz again who led his team from the mound. After a shaky first inning in which his team allowed the Thunder to score four runs, Cruz settled down to pitch eight innings of shutout baseball. Meanwhile his offense erupted for 18 runs on 24 hits to send the Thunder packing.
The Hurricanes trailed 4-1 until the top of the fourth when they tied the score on an RBI single by Guido Schjang and a two run double Davis. The Hurricanes then proceeded to open "a can" on the Thunder. Frank Thomas continued his torrid hitting with a 5 for 5 day at the plate with three RBIs. He was well supported at the plate by teammates Parris, 4 for 5 with two RBIs, Schjang 2 for 5 with two RBIs, Davis and Enrique Soto, 2 for 3 with two RBIs and Ken Smith was 2 for 4 with two stolen bases.