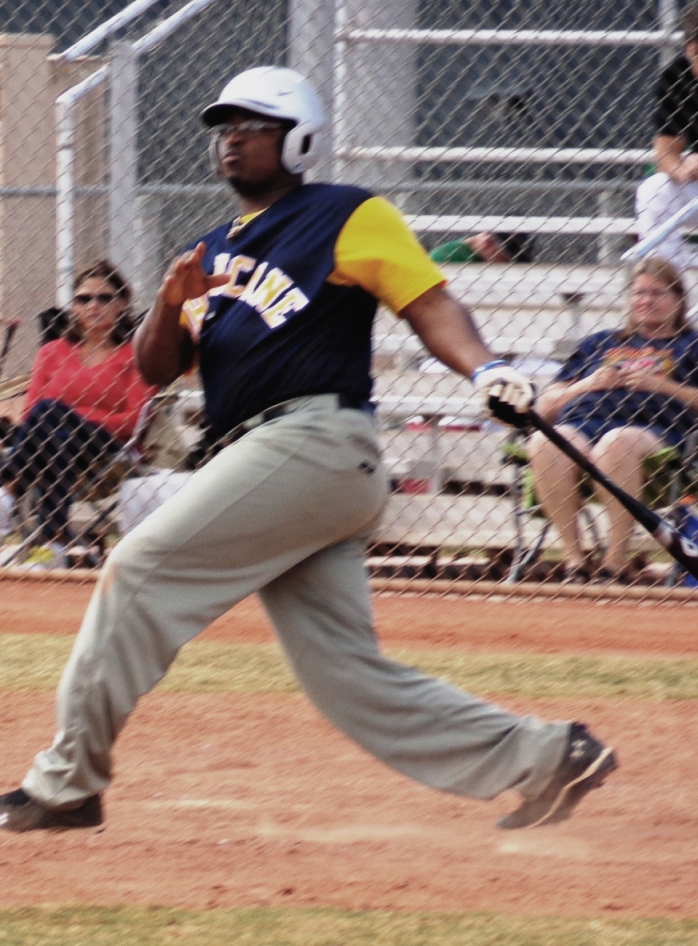 The Virgin Islands 45 Plus Hurricanes lost their first game of the 2013 Men's Senior Baseball League tournament when they were defeated 15-11 by the California Angels. While the Canes' record falls to 2-1, they are still very much in the mix of things.
After the Canes were set down in order in the top of the first inning, they quickly found themselves in a hole at the end of one inning after the Angel roughed up starting pitcher Malcolm McGregor for six runs on six hits to take a lead that they would never relinquish.
Angels starting pitcher Jeff Ireland dominated the Canes over the first four innings, setting them down in order each time. It was not until the top of the fifth that Tony Cruz's sharp single to right broke up the no-hitter. However, the Canes trailed 9-0 at that time.
The islanders began showing some life in the top of the six when they came up with two runs; however, the Angels answered with one in their half of the inning and the Canes trailed 10-2 after six completed innings.
The Angels added four more runs in the bottom of the seventh on several Canes miscues to extend their lead to 14-2 at the end of the seventh.
The Canes began to get to Ireland in the top of the eighth as they came up with two runs to now trail 14-4. The Angels answered with their final run of the contest for a 15-4 lead.
The Canes then really roughed up Ireland in the top of the ninth erupting for seven runs on nine hits, but it was not nearly enough as they fell four runs short, losing 15-11.
The Angels finished with 15 runs on 19 hits and six Hurricanes errors, while the Virgin Islanders finished with 11 runs on 17 hits and one Angels error. McGregor got the lost for the Hurricanes.
Top batters for the Hurricanes were Frank Thomas (2 for 4 with three RBIs), Cruz (3 for 4 with two RBIs), Elroy Hill and Christian Hanley (Both 2 for 4 with two RBIs) and Warren Brooks (2 for 3).