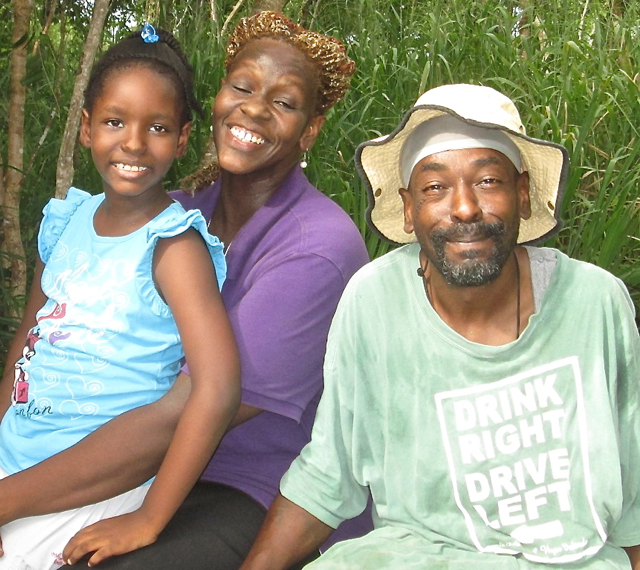 A program at the St. John Community Foundation aims to connect the island's youths as well as adult residents and visitors with organizations that need volunteers.
Called the Join Our Youth – or JOY – Volunteer Network, the program matches skills, interests and time available with the island's volunteer opportunities.
"This is the first time anyone has tried to do this," Community Foundation Director Celia Kalousek said.
The Community Foundation has lined up volunteers to assist senior citizens, to help out at the annual Animal Care Center of St. John Wagapalooza, for Gifft Hill School's Day of Service, and others, Kalousek said.
To make it easier for volunteers and organizations to make the connection, the section of the organization's website that will list opportunities will go live by the end of October.
Three of the Community Foundation volunteers were at the foundation's Community Garden off Gifft Hill Road last week.
"This is my way of giving back to the community," St. John resident Dave Queeley, 46, said, taking a break from creating stone paths at the gardens.
Noting that he had a long history of run-ins with the law, he said he's on the straight and narrow and wants to make amends for his past wrongdoings.
He was at the garden with his family, Ke-ya Daniel, 41, and Jade Rawlins, 8. Jade had spent much of the summer pulling weeds and planting.
"I like getting my hands in the dirt," Jade said.
Daniel too said she wants to help out wherever she can.
According to Kalousek, St. John's small population means that organizations that need volunteers must pull from a small pool of people. Additionally, many residents stay only a few years but are looking for ways to get involved while they're here.
By creating this network, she said the island can prioritize its needs for the good of the community.
The program also comes with training for the organizations, usually non-profits, that need volunteers. Kalousek said that all too often, organizations are short staffed so volunteers become non-paid employees. This means there is usually minimal training for the volunteers, which can result in burn out.
"It causes conflict," Kalousek said.
She estimated that there are 90 organizations providing services on St. John, with about 50 of them falling into the non-profit category.
The program will also enable public high school students to find a good match for the 100 hours of community service the Legislature mandated they need for graduation. There is no legal requirement for private high school students to do community service, but Gifft Hill School has an active program.
While there are already students volunteering at various organizations on St. John, she said the program would increase the opportunities. Further, except for those at Gifft Hill, most St. John high school students head to St. Thomas for high school so they may not be aware of the possibilities on their home island.
"There is not enough direction coming from the public schools," Kalousek said.
Funding for the program comes from a $30,000 grant from the Paul M. Angel Foundation. Kalousek said Angel owns a house on St. John.
"The grant has to be used by the end of the year," she said.
Those interested can reach Kalousek by calling 1-340-693-9410 or going online to www.sjcf.org .