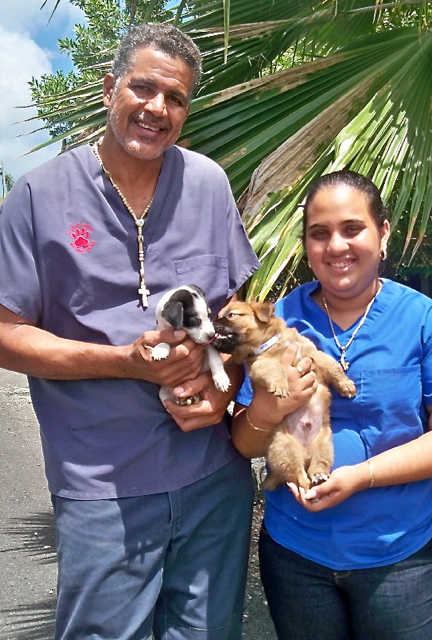 Overpopulation of companion animals is a problem for everyone on St. Croix, according to the folks at Virgin Islands Humane Learning Center and St. Croix Animal Welfare Center, who are working to end the problem.
The organizations hope education will stem the flow of puppies and kittens being dumped at the center.
Therese Donarski, director of HLC, and her team of five give students in pre-kindergarten through the grade 12 information on how to be responsible pet owners. Donarski said her group works cooperatively with other organizations involved in decreasing youth at-risk behavior, ending pet overpopulation and animal suffering, and safeguarding the environment.
"We're promoting kindness, compassion, respect and the responsibility of caring for the least among us," Donarski said.
The HLC team hopes to create a more humane community by strengthening families, decreasing interpersonal violence and improving the safety and quality of life on St. Croix for people and animals.
Caring for animals and understanding an animal's needs can promote justice, kindness and mercy to animals and each other, the group believes. They are educating the community about the connection between animal cruelty and interpersonal violence. They teach safety around animals.
A major focus is on responsible pet ownership and the importance of spaying and neutering.
In 2012 the team visited 35 public and private schools on St. Croix, giving 504 lessons to more than 10,000 students and teachers. Each grade has a different lesson that builds on the information given in the previous year and includes hands-on activities and interactive discussion.
HLC was organized three years ago and is a St. Croix Foundation sponsored project. Donarski did educational outreach at AWC for six years and before that she was with the Women's Coalition.
"Education, that's the key to getting the kids to be responsible pet owners," said Moises Carmona, animal control coordinator at AWC. Carmona, employed at AWC for 16 years, also does educational outreach with HLC.
"Going to the schools and giving kids information is eventually making a change. The kids come to the shelter and mention lessons they learned about being responsible," Carmona said.
Carmona said there has been a slight increase in the number of animals taken in and being cared for at the center this year. It was at a plateau with all the local spay and neuter programs of the last few years taking affect.
Marsden Burke, AWC operations manager and surgical technologist, said the increase is probably due to the closing of Hovensa.
"It's been a domino effect with other related businesses closing," Burke says. "People have lost jobs and it's a decision they have to make – whether to feed their family or take care of their animals."
Carmona said the center take in about 4,000 animals a year. Shanice Seeram, adoptions coordinator, said 196 dogs and cats have been adopted this year.
Burke said the resources for operations are drying up.
"People don't realize how limited our resources are," Burke said. There are 12 people on payroll. " We're striving to provide the best humane treatments made possible with donations," Burke added. "Our volunteers are a key component in keeping the center going."
Dr. Laura Bailey donates her time doing spaying and neutering at the center. And Dr. Kellie Heckman gives her services to the The FiXiT Foundation, an organization dedicated to ending pet euthanasia due to overpopulation.
Right now, through FIXIT, people can get their animals spayed or neutered for free at any veterinary clinic on island.
Donarski said a lot of people don't realize that the center is just holding on by the generosity of caring people.
According to Mike Meluskey, president of the board of directors, AWC is going through some tough times. He said donations are down, government support is down, sales at the AWC Flea Market are down. And the stipend from the government covers less than one fifth of expenses.
"We need board members who have experience in organizing fund raiser events," Meluskey said. "It takes $500,000 per year to run the AWC. Without sufficient funding, the AWC would not be able to rescue and adopt animals on St. Croix. If the AWC does not get funding and donations, all animals that come into the shelter are at risk of being euthanized because the AWC would not have money for payroll, dog food and other essentials."
He said they do get help from the community and the volunteers at their main funding sources, the flea market and the Blue Mutt shop in Christiansted.
"AWC gets a lot of negative publicity because they do have to euthanize so many animals because of lack of space and workers," Meluskey said. "It takes a lot of money to run an animal shelter."
Without the AWC, he said, thousands of animals would be left suffering on the streets of St. Croix.
The center continues to make payments on the Castle Coakley Great House which was purchased 10 years ago by a board that didn't plan how to pay for it. The property and house once owned by the Skeoch family has been on the market for a few years and is priced at $500,000.
"We want the people of St. Croix to put the shelter out of business by having their animals spayed or neutered, not by having us run out of money," Meluskey said.
Founded in 1973, the non profit St. Croix Animal Welfare Center promotes the humane treatment of animals in the St Croix community through education, encouragement and enforcement. Readers can learn more about the group's programs and services by visiting its website at www.StCroixAWC.org. Those interested can also learn more about adoption or make a donation call 1-340-778-1650.
More information about the HLC is available online at www.vihumanelearningcenter.weebly.com or by calling 1-340-690-5403.
"It's up to everyone to spay and neuter their pets," Donarski said. "We all have to stop creating animals. The shelter is there for emergencies, it's not a dumping ground. People need to hear this across all demographics. Things have to change."