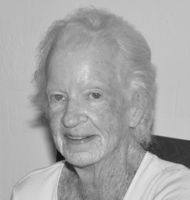 June Bell Barlas, better known as June Bell, died on Sept. 12 at Schneider Regional Medical Center. She was 80 years old.
She is survived by her sons: Andrew Barlas and Morgan Barlas; daughter-in-law, Lori Barlas; grandsons: Andrew Barlas Jr. and Benjamin Barlas; and many other family members too numerous to mention.
A gathering of friends and family is being planned to celebrate the life of June Bell Barlas. An announcement will be made shortly.
Funeral arrangements are entrusted to Davis Funeral Home, 774-1464.