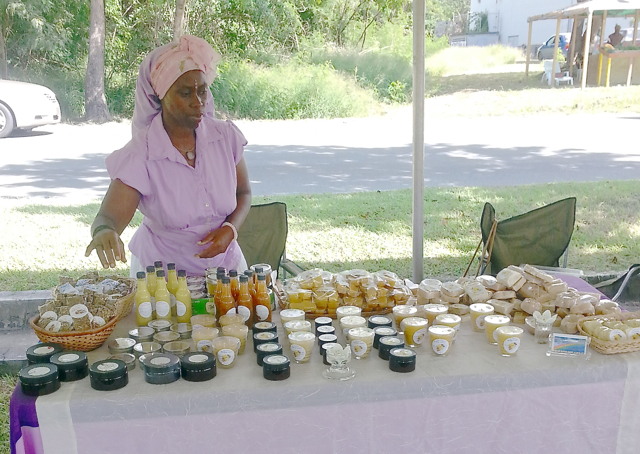 Honey had the crowd abuzz during the annual Beekeepers' Buzzaar event Saturday afternoon in the Sunshine Mall's parking lot.
The third annual Beekeepers' Buzzaar, sponsored by the Virgin Islands Department of Agriculture, allowed local beekeepers to sell their honey and honey products while highlighting the importance of the beekeeping industry in the territory.
Errol Chichester, VIDOA deputy commissioner, said the event celebrated National Honey Month, which is observed throughout the nation in September.
He said the event helps bring awareness of the benefits of honey and honey items.
Four years ago Department of Agriculture wrote a grant to promote the art of beekeeping. The Virgin Fresh Beekeeping Project was funded by a USDA Agricultural Marketing Service grant.
Chichester said without bees, a quarter of honey food supply would not be possible in the V.I. Some foods are entirely dependent on honeybees for pollination.
Honey mustard, beeswax, bee pollen and honey salad dressing were on display as the crowd mingled and sampled the different products provided by six beekeepers. They also bought products and got helpful information about beekeeping.
J'len Spouse came to the event after hearing about it on the radio.
"It's something different; I think we need more positive events like this," Spouse said.
Violet Drew said she started making honey products three years ago. With the wax she collects she makes such products as candles, lotion and facial soaps.
Beekeeper Hayba Warner has been collecting and selling pure honey from his 50 hives for two years. He said his beekeeping process takes a lot of "extracting and maintaining."
Wanda Wright, beekeeper with The W-right Apiary LLC, came out with her Crucian mead – an alcoholic beverage made from honey – and honey mustard salad dressing. Wright said her mead is locally made and her mustard is made from V.I. wild flower honey and raw honey vinegar.
"This type of event helps us in the learning and sharing process," Wright said.
She said making Crucian mead and honey mustard is a "delicate process."
Some of the sponsors included Sunshine Mall, V.I Department of Tourism, the Virgin Islands Small Business Development Center and the University of the Virgin Islands Cooperative Extension Service.