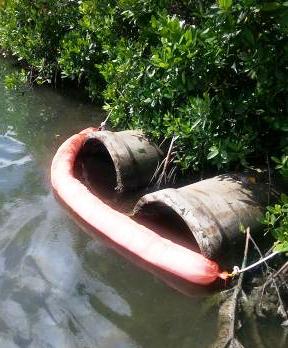 Multiple agencies are working to keep a Tortola oil spill out of the ocean, the BVI government said in a press release issued Friday.
"If this got out of Road Harbor and into the Narrows, there is a possibility that this could hit our north shore if wind and tide conditions were right," said Rafe Boulon, retired chief of resource management at V.I. National Park, of the probability of the oil spill becoming a problem for St. John.
BVI Disaster Management Director Sharleen DaBreo said the spill contains significant amounts of sewage sludge, which introduces new contaminants to the oil. The press release indicates the oil also contains other contaminants that are not identified.
DaBreo said, "We have prevented it from entering the sea so far but it is a highly toxic area and the officers are working under significantly hazardous conditions."
The oil spill surfaced Thursday at sewage pump station near the Road Town roundabout. From the pump station it leaked into the drainage system and flowed outwards toward the Crafts Alive Village in Road Town. Immediate efforts were made to contain the oil with the use of sand as a barrier to prevent the highly contaminated substance from entering the sea, the press release indicated.
Crews contained the oil within the drain and then work Friday morning focused on removing the drain covers. The next phase of work will entail the actual cleanup.
Leakage was also detected Friday morning near Village Cay in Road Town. Crews placed an absorbent boom around the outflow pipes to prevent the oil from escaping into the sea, the press release said.
Evangeline Inniss, Disaster Management's deputy director, said measures have also been taken to ensure public safety.
"We have cordoned off the area to ensure that it is secured and prevent persons from stumbling into the highly contaminated water," Innis said.
BVI Fire and Rescue Services, Water and Sewerage Department, Conservation and Fisheries Department, and the Ministry of Communication and Works are all involved in the cleanup.