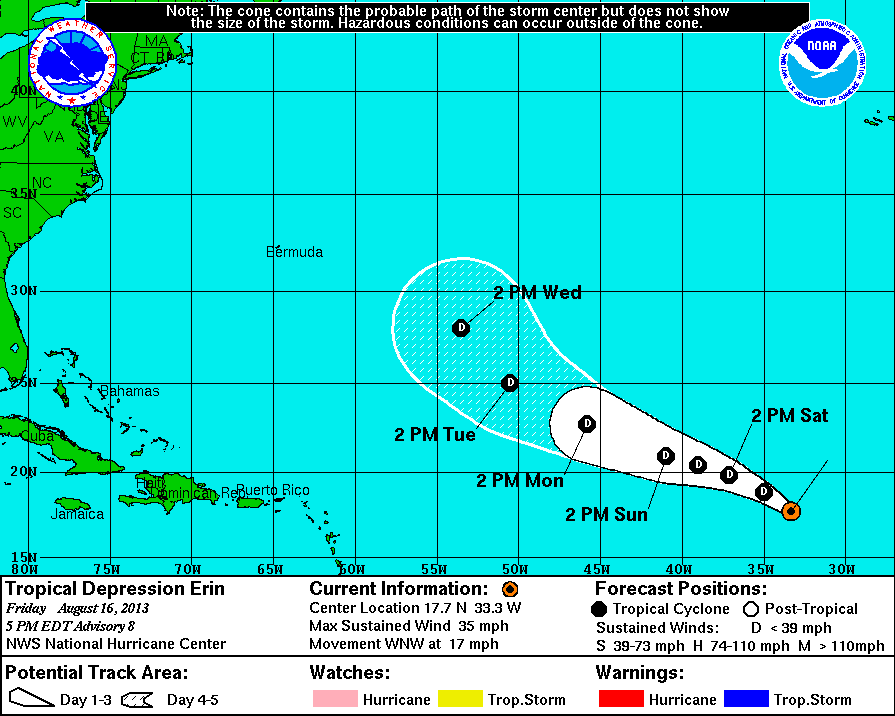 With Tropical Depression Erin just a tad south of the 18.2 degrees north latitude of St. Thomas and St. John and St. Croix's 17.4 degrees north latitude, forecasters believe the Virgin Islands will see, at most, some swells and 3- to 5-foot seas, meteorologist David Sanchez at the National Weather Service in San Juan said Friday.
"It's not expected to be something significant," Sanchez said, noting the swells would arrive starting Wednesday.
Sanchez said at the storm's closest point, it will be 1,000 miles northeast of St. John. Erin was downgraded to a depression from a tropical storm at the 11 a.m. update Friday.
As of the 5 p.m. update Friday, Erin had winds of 35 mph. The depression was moving west-northwest at 17 mph. The barometric pressure stood at 2008 millibars.
The storm was located at 17.7 degrees north latitude and 33.3 degrees west longitude, putting it about 2,000 miles from the Virgin Islands.
Erin is likely just one of many tropical systems to head off Africa toward the Virgin Islands as hurricane season moves into its peak. Sanchez said the peak runs from Aug. 20 to Sept. 15.
Sept. 15 is a date many residents won't forget. In 1995, Hurricane Marilyn hit the territory on Sept. 15 and 16. They also will remember Sept. 17 and 18, 1989, as the date Hurricane Hugo caused massive destruction. Those are the two worst hurricanes in recent memory to hit the Virgin Islands.