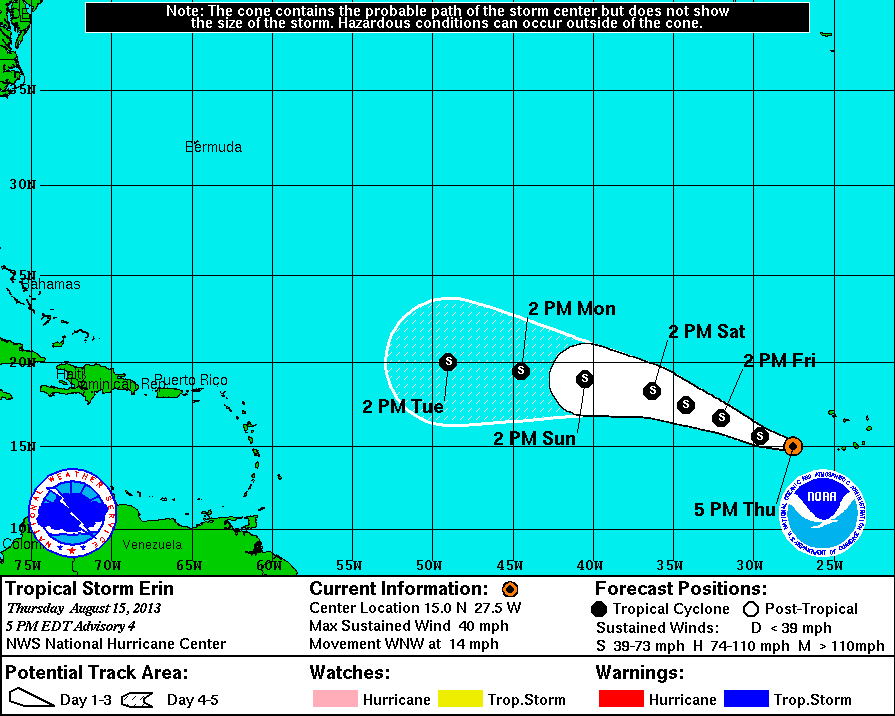 Tropical Storm Erin went from an area of disturbed weather to a tropical depression to a tropical storm all in just more than a day. While it's far too early to say for certain the storm's impact on the Virgin Islands, forecasters currently think the storm will be well north of the territory by Tuesday and cause no problems for residents.
"But anything can happen," meteorologist Robert Mitchell at the National Weather Service is San Juan cautioned Thursday.
He said Erin is expected to strengthen during the next 72 hours because it will be in a favorable environment but, after that, the storm will hit drier air and likely weaken.
"Models have it less than a tropical storm," he said.
Mitchell said an upper level trough will help steer Erin to the east and north, keeping it away from the territory.
As of the 5 p.m. update from the National Hurricane Center, Erin had winds of 40 mph and was moving west-northwest at 14 mph. Tropical storm force winds extend outward up to 35 miles from the center.
It was centered at 15 degrees north latitude and 27.5 degrees west longitude. Mitchell said this puts it more than 2,000 miles from the northern Leeward Islands.
The barometric pressure stands at 1006 millibars.
In addition to urging residents to keep an eye on Erin, Mitchell said they can expect rain and thunderstorms Sunday night into Monday as easterly wave passes through the area.
Erin's formation gives notice that hurricane season is ramping up. While it peaks in mid-September, the frequency of storms begins to increase around this time of the year.