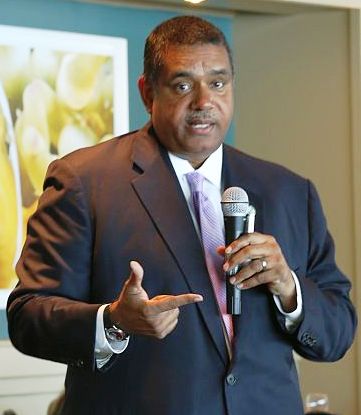 While saying that he respected the Senate's decision Wednesday to kill an agreement that would have allowed for the quick sale of St. Croix's shuttered Hovensa refinery, Gov. John deJongh Jr. explained Thursday that getting the deal approved could have helped put the territory on more solid financial footing.
Speaking at a meeting of the Rotary Club of St. Thomas, deJongh said that the government has been working on several economic initiatives – from the construction of its broadband network to the completion of more than $75 million in port projects – that would help pull the territory out of the financial slump it's been in since the onset of the global recession in 2008.
While Hovensa was just a piece of the puzzle, having the Senate back the agreement would have helped pull everything together and patch a funding hole of more than $100 million that opened after the refinery closed on St. Croix, the governor said. Now, the loss of Hovensa – and the cash, from taxes to contributions, that was directly infused in to the economy – has to be juggled alongside a $1.8 billion unfunded pension liability and a $20 million budget shortfall for Fiscal Year 2014 (along with an even bigger one for FY15) that still has to be accounted for, deJongh added.
"When we lost that facility, we lost $580 million of direct economic benefit to our community territorywide," the governor said. "We lost over $100 million in tax revenues directly … and 12 percent of income in the private sector was wiped out completely by the loss of that refinery. So our initiative, more than anything else, was to look for the path that would result in a sale."
Expressing disappointment in the Senate's vote – which came down Wednesday with 11 voting against the agreement and three voting to ratify, with one absent – deJongh said the deal he had hammered out with Hovensa called for the sale of the facility within 14 months. If the agreement had been approved, Hovensa would have had 14 days to retain an investment banker that would have had until April of 2014 to get the sale process going.
That third party would have reached out to all refiners, but would have also opened up the bidding to anyone that put in a proposal to take over the plant, deJongh said. Using the facility for what it was intended – an oil refinery – is clearly the best choice, but even a proposal turning it into a water park or hotel would have been allowed, he said.
"What this agreement did, more than anything else, is allow us to set a timetable for the sale of the facility in a manner that was concerted, a manner that was organized and, more than anything, in a manner that allowed us to do it when we wanted it to be done, which was sooner rather than later," deJongh said.
But instead of giving their approval, senators ended up passing a resolution that simply called for Hovensa to be sold – no time frame for the sale process or details about how involved the government would be were included. The Senate's reasons for rejecting the deal – from concerns over $7 million in deferred property taxes to health issues relating to the refinery's emissions that deJongh said is currently being addressed in court – were also flawed, he added.
"We gave up nothing in the agreement whatsoever," deJongh said. "Items talked about, such as the health or deferment issues, or concerns about whether we're certain we're getting the best deal – we understand there was a breach of a contract. But to my way of thinking, I would rather not have to litigate if I could compromise toward some sort of solution that is in the best interest of everyone in the community."
The vote, however, leaves little room for discussion. DeJongh told Rotary members that he now has to enforce all provisions of the last concession agreement with Hovensa, which could force a lawsuit.
"Hovensa and their owners will, in turn, make their determination as to what the best course of action is – we will then decide how we can best work our way through that," the governor said. "But I am hopeful that, once we get to the end of this, that we're able to put that 1,800 acres to some sort of use."
"There have a been a number of refineries that have closed in the U.S. over the past 12 months – two of them are back open, one is still closed. We have the opportunity to open this one and, hopefully, irrespective of the decision that was made last night, I hope someone will make that decision."