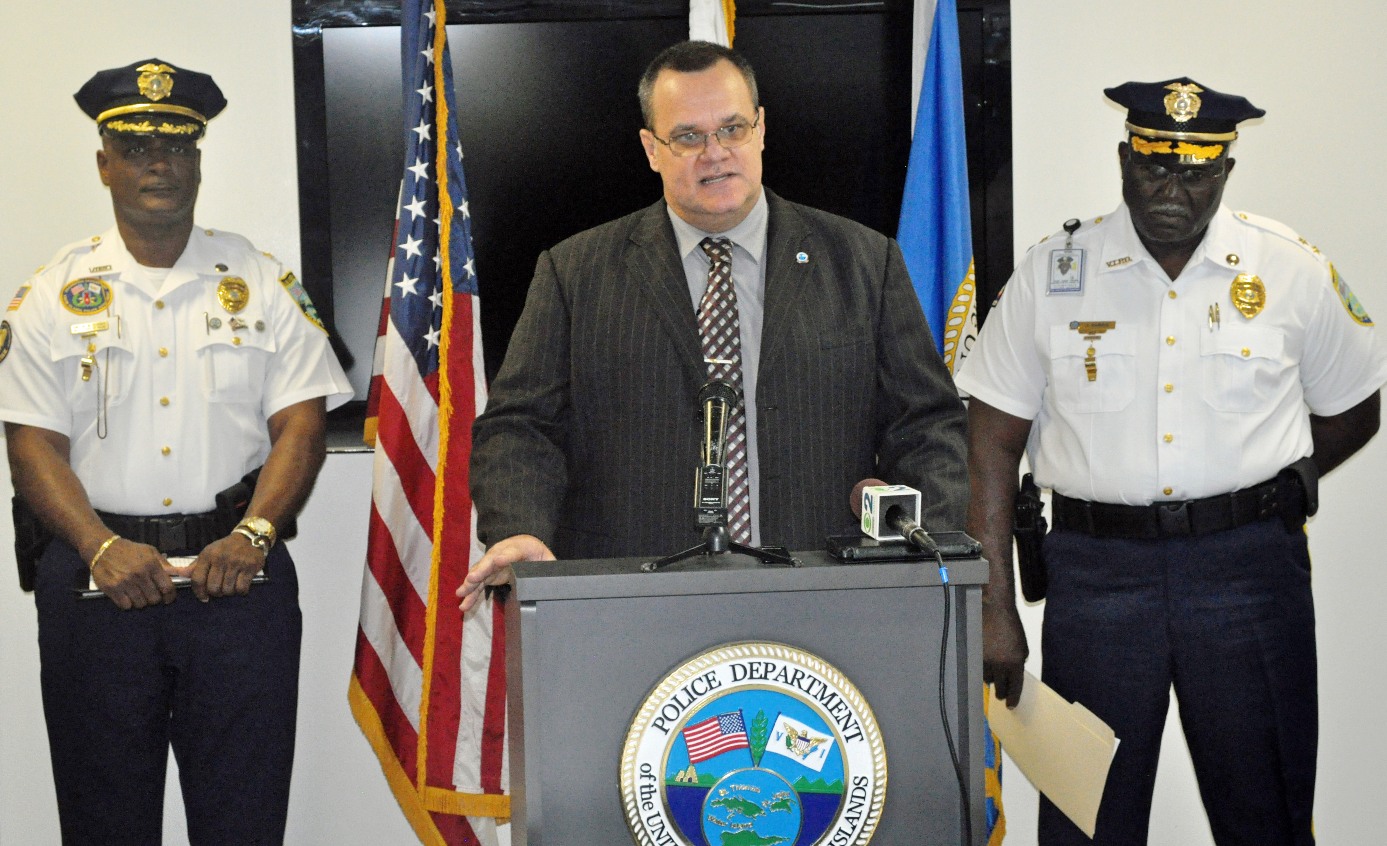 The official start to the national campaign is still a week away, but the Virgin Islands Police Department decided to get the word out early Thursday. Come Aug. 16 and up through Labor Day, the department will be out in force participating in the "Drive Sober or Get Pulled Over" nationwide effort to reduce drunken driving.
The nationwide crackdown which traditionally takes place around the Labor Day, will include high-visibility law enforcement, high-profile events and nationally paid advertising.
"This (campaign) is a testament to our commitment to public safety in our community," said Police Commissioner Rodney Querrard Sr. "Our active and aggressive support to this effort will make a difference in saving lives on our local roads and highways," he said.
So far this fiscal year, there has only been one driving under the influence related fatality in the territory, occurring on St. Croix. For fiscal year 2012, there were four territorywide. Fiscal year 2011 notched zero, 2010 had one, 2009 had three and there was only one in 2008.
But DUI-related crashes are more than likely going to rise this year, with 76 being recorded in the territory through the first three quarters of the current fiscal year. Last fiscal year the territory had 86 in total.
In terms of DUI arrests, St. Croix already has 62 in the current fiscal year while last fiscal year it only had 64 in total. But that 64 in 2012 was down significantly from 2011, when St. Croix recorded 133 arrests. Last year saw St. Thomas and St. John record the highest number of arrests in the last five years with 125. So far this year, the two islands have recorded 85 DUI-related arrests.
If you're averaging more than one case a month, it's a lot," said St. Thomas Deputy Police Chief Dwayne DeGraff.
DeGraff continued, saying the department is not "giving any breaks" for drinking and driving. "It isn't going to be like the tint clinic where we give you breaks, give you time to fix it. If you're over the limit (of having a blood alcohol concentration of 0.08 or higher), you're under arrest," DeGraff said. "When it comes to driving impaired, we are being hard and insensitive."
DeGraff said the crackdown would include the department having strategically placed traffic points around the islands during the campaign, and that officers would be stopping cars and checking drivers. He added that national campaigns like this are special, but not for the reason one might think.
"I love campaigns like this not because I like locking Virgin Islanders up," DeGraff said, "But rather because I like saving lives."
Querrard said the territory can't afford to lose one life because of the negligence of someone on the roadway.
"The victim could be one of us," he said. "I know the laws in the Virgin Islands are a little more lax and lenient than they are stateside with having alcohol in the car and so on, but we take this very serious. If someone is intoxicated, they should not be on the roadway."
Both DeGraff and Querrard urged friends to take keys away from friends who are inebriated, to use designated drivers who consume nonalcoholic beverages only, and to have the phone numbers of available taxis on you if you're headed out drinking.
As long as the fight against drunken driving continues, Querrard said the VIPD will be ready for it.
"It's a war well-worth fighting because drunk driving continues to be one of the most deadly and harmful crimes in America and the territory today," he said. "Each year drunk drivers and motorcycle riders are involved in crashes that take the lives of thousands of innocent, men, women and children."
For that reason, the Police Department will be aggressively looking for drunken drivers during the crackdown, and will arrest anyone caught driving while drunk. No warnings, no excuses.
"Research has shown that high-visibility enforcement like this campaign reduces drunken driving fatalities by as much as 20 percent," Querrard said. "By joining this nationwide effort, we will make the Virgin Islands' roadways safer for everyone throughout the Labor Day period."